Our Navy Magazine 15 January 1943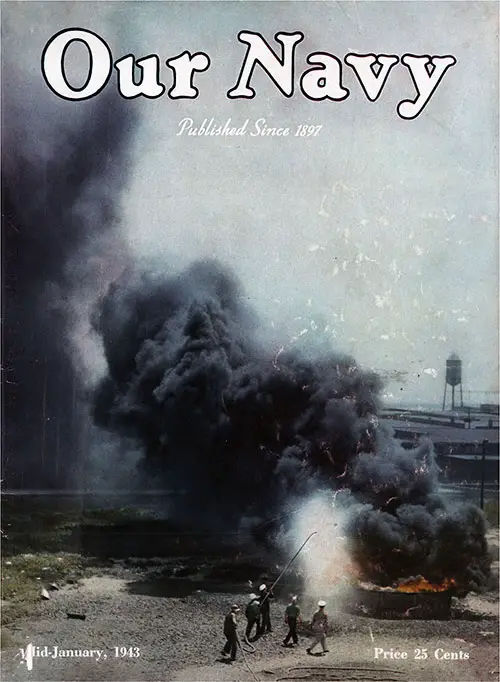 Front Cover, 15 January 1943 Issue of Our Navy Magazine. GGA Image ID # 135692bd07
ON THE COVER
The picture on the cover of this issue is reproduced from a photograph in full color by A. Eriss. It shows our new Navy Fire Fighters on the job . . . Incidentally we inadvertently omitted the credit line for our January 1st cover. Credit should have been given to Official Navy Photos.
Table of Contents : * THE LOG *
Traditions of the Navy
By C. W. Windas
Our Naval Views and Comments
By The Editor
Is the Battleship Obsolete?
By Platt W. Dockery
Knots to You
By Sidney Bindler
What's in a Name
By Richard A. Shaffer
Salty Rhymes
Scuttlebutt Scandals
By Bozo
Foreign Naval News
By Jack Blumenfield
Fire!
Jiggers, de Permanent Shore Patrol!
By Letitia Lindsay
Yorktowns of the Past
By Harold L. Monroe
The Baited Trap
By Joseph H. Weston
I'll Bet Mine's Worse
By Donald C. Carter
Round-Up on the War
By Fletcher Pratt
Flash!
By Lillian Thomas
Salt Shakers
By Walt Munson
Bulletin Board of Naval Interest
Awards, Commendations and Promotions
Personnel Information
The First Airplane Hits the Deck
By Robert Clark
Books Worth Reading
Notes of Interest
Merchant Vessel Sinks Raider
The Old Sailor Named 'Em
By Harvey L. Miller
Joshua Barney
By Paul Twitchell
Don't Ration Your Letters
By Clyde Lee Jenkins
Lay Aft on the Fantail
The Skipper and the Boot
By Jack Watson
Written By and For All Navymen.
ACTING EDITOR: Gerald Mygatt
ASSOCIATE EDITORS:
Myron Eddy
C. M. Hatcher
R. C. Fay
STAFF PHOTOGRAPHER
CONTRIBUTING EDITORS
A. R. Bosworth
J. E. Jones
Walt Munson
Lillian Thomas
Harry Dwyer
Member Audit Bureau of Circulations
Published the 1st and 15th of each month by OUR NAVY, INC., Owen Watson, president and publisher; Paul R. Watson, treasurer. Office of publication, 210 Orchard Street, East Rutherford, N. J. Editorial and Executive offices, 1 Hanson Place, Brooklyn, N. Y.
Entered as second class matter at the post office, Rutherford, New Jersey, under the act of March 3, 1879. Single copies 25 cents. One year subscription (24 issues) $5.00. Subscribers should notify promptly of change of address; both old and new addresses should be given. Contributions to OUR NAVY'S editorial columns should be addressed to 1 Hanson Place, Brooklyn, N. Y.
Material intended for the 1st of the month issue should he in the hands of the Editor by the 1st of the month preceding date of issue: material for the 15th of the month issue by the 15th of the month preceding.
Assertions or opinions of contributors are those of the individual and do not reflect the official views of the Navy Department or the Government.
Entire contents copyrighted 1942 by OUR NAVY, INC.
More Net Paid Circulation in the Navy than Any Other Publication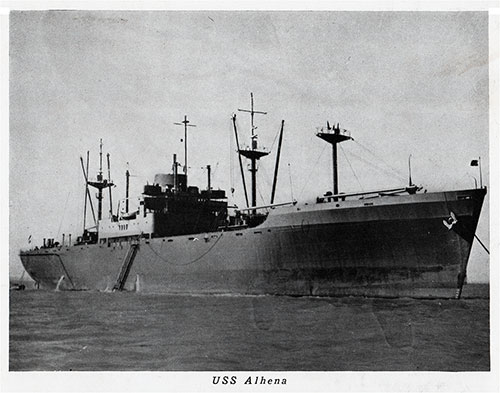 USS Alhena (AKA-9) was an attack cargo ship named after Alhena, a star in the constellation Gemini. She served as a commissioned ship for 5 years and 4 months. GGA Image ID # 1356a66461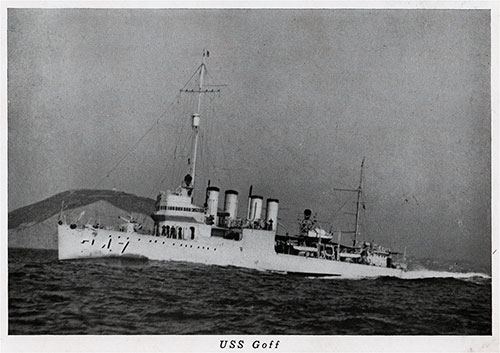 USS Goff (DD-247) was a Clemson-class destroyer in the United States Navy during World War II. She was named for Secretary of the Navy Nathan Goff, Jr. GGA Image ID # 13578aea08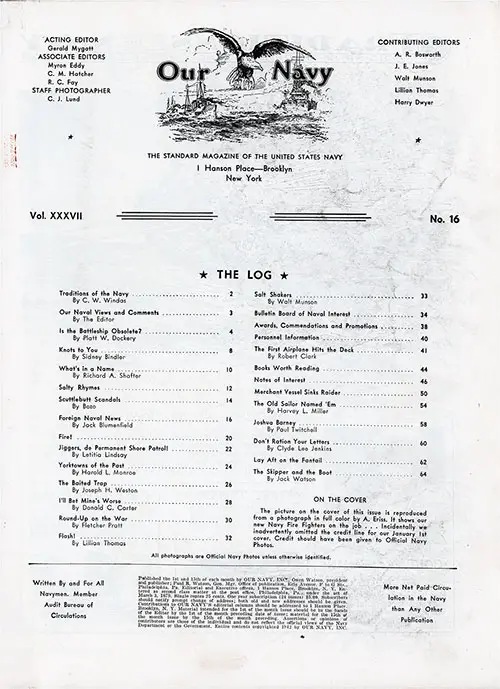 Table of Contents, 15 January 1943 Issue of Our Navy Magazine. GGA Image ID # 1357cf60bb