Our Navy Magazine 15 June 1959 Controversial Submarine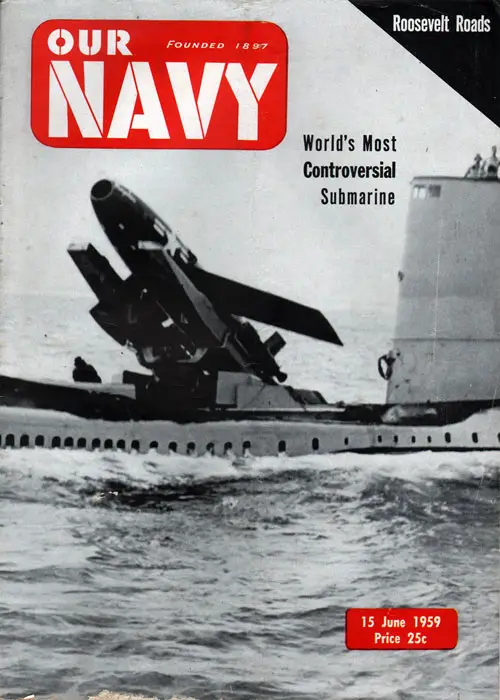 The Voice of All Navymen
15 June, 1959
Vol. 54 No. 2
OUR COVER: This is not the world's most controversial submarine. For that story, see page 23. This is the Growler (SSG-577) from which the Regulus I missile was fired successfully just 3,000 yards off the Roosevelt Roads Naval Station. For a complete rundown of the important role this base is playing in missile readiness, see page 21.
NEWS SECTION
Washington Bulletin
by Harold Helfer 3
Latest from the Pentagon and Capitol Hill.
Bulletin Bluejackets Interest
by Our Navy Reporters 11
With bluejacket, ashore and afloat and from coast to coast.
Navy Sports Through the Long Glass
by Fred Thornberry 30
Who won what, when, and when
ARTICLES
Roosevelt Roads
by E. S. Welch, J02 21
It may become most important bastion on the Atlantic Coast.
Goodbye East Main
by Paul B. Anderson, JOC 22
A. beat up old chief takes a last look at Navy's famous street.
The World's Most Controversial Submarine
by Norman C. Polmar 23
The inside dope on the USS Triton.
Fantasy to Fact
by Harold Helfer 27
There's a crewless craft in your future.
FICTION
Cinderella-San and The Glass Getas
by James W. Hanker 28
A modern fable.
DEPARTMENTS
Broadway Scuttlebutt 29
Speaking of Cars 31
Our Reel Navy 32
Platter Periscope 34
Swaps 43
Sound Off! 44
Notes of Interest              45
Editorial 48
Editor: Frank Uhlig, Jr.
Assistant Editor: Dean Campbell
Address all material to: Our Navy, Inc., 1 Hanson Place, Brooklyn 17, N. Y.
Contributing Editors: Harry Dwyer (Sports), Walt Munson, Charles M.
Hatcher, Harold Helfer (Washington), Vic Rendina
is published the 1st and 15th of each month by Our Navy, Inc., ••••••• •••• Owen Watson, President; Paul R. Watson, General Manager. Office of Publication, Editorial and Executive Office, 1 Hanson Place, Brooklyn 17, N. Y. Entered as second class matter Jan 28, 1958, at the Post Office at Brooklyn, N. Y., under the act of March 3, 1879, with an additional entry at New York Office. Single copies 25 cents. One year's subscription (24 issues) $5.00, six months;12 issues) $3.00. Although every attempt will be made to avoid losses, OUR NAVY is not responsible for unsolicited manuscripts.
All material paid for at standard rates.
All photographs are official Department of Defense or Our Navy photos unless otherwise credited.
All opinions expressed are those of the editors or contributors, and are not necessarily the official vmember the Navy Department or the U. S. Government.
Member of Audit Bureau of Circulation. Circulation Manager: Chris J. Lund.
Entire contents copyrighted, 1959, by OUR NAVY, Inc.