Our Navy Magazine - 1 August 1944 - The Rough Riders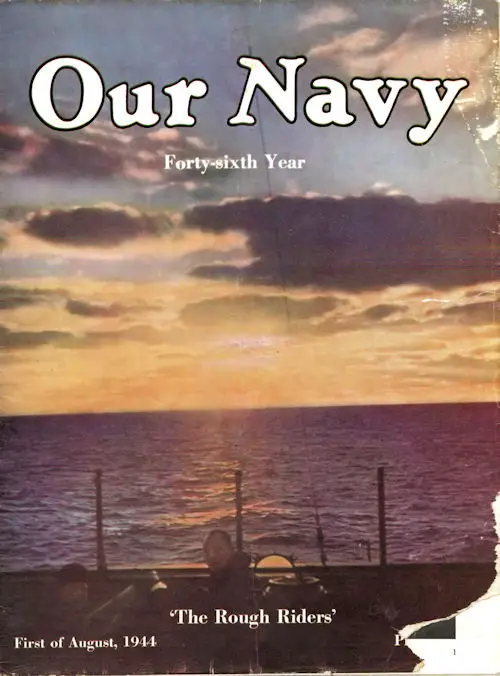 Vol. XXXIX, No. 5
In This Issue - From The Publisher
Our cover is definitely at odds with the title of the lead story which it is supposed to illustrate. This stretch of serene sea with the portion of a DEs bridge gives no indication of the actions of a destroyer escort once the sea kicks up a big—and in the Atlantic it seldom does anything else.
The DE crewmen have made no claim to riding the roughest thing afloat. They are satisfied that their craft does nothing more than roll thirty degrees, pitch, twist, jump, lurch, careen, and stand on its head. If the PCs and SCs introduce gyrations above and beyond that—then solicitations are in order. But that the little DEs are hell-riding, tough, and efficient, nobody will deny. They and their crews opened a "Second Front" long before D-day in Normandy.
They stepped into the full fury of the U-boat war, a war that involved several hundred thousand men, and that was as important to the outcome of the main issue as any campaign or drive on land. Of course they were not alone in this campaign.
There were the Baby Flattops, long range bombers, and large destroyers fighting with them. But the DEs can take a large measure of the credit for halting the dreadful carnage being wrought by the U-boat, and of turning the destruction in the other direction. That campaigning has been won. Steve Thompson, New York reporter, takes you aboard one of these DEs in "The Rough Riders."
Jay W. Hedden knows his way around when it comes to writing fiction. He can put words on paper and has a professional polish that does him great credit. His first story appeared in O. N. back in November, 1941, a three part serial called "Death Keeps a Notebook."
Once on the beam with murder, he followed with a couple of other "whodunnits." Then the pattern is clear. We heard nothing from him from 1942 until now—and it can be presumed the war has kept him pretty busy. At least he has climbed up the ladder from SF3c to SF1c, the rate he holds today.
He joined the Navy in 1939, and in the peaceful years before the war was intent on making a career of writing. His present effort, "My Heart Tells Me," shows that even war has not entirely sidetracked his ambition. His yarn on page 8 is a believable and smooth piece of writing. Hedden should go places.
On page 12 we have given a brief account of today's Pacific war, which is the concern of the most powerful Naval unit in the history of sea warfare—Task Force 58. Unfortunately, security demands that most of the facts in connection with this huge armada must be hidden until the dap fleet is brought to bay and defeated. That event does not appear too far off.
Table of Contents : * THE LOG *
The Rough Riders : The Bucking Little DEs Drove the U-Boat from the Convoy Routes
By Stephen G. Thompson
My Heart Tells Me: He Was In Love With A Girl Who Had More Lovers Than Stars In The Sky
By Jay W. Hedden, Illustrated by Howard T. Knapp
Interlude At Tufula Cove
By Hugh G. Oliver
Task Force 58 : The Most Powerful Naval Unit In The History Of The Sea Rules The Pacific
Salty Rhymes
Letter for a Pal
By Ervin L. Steeley
Yankee Doodle Drummer Boy : George Washington's Drum Goes Back To War With A 1944 Bluejacket
By Edward Pinkowski
Weather In Invasions : There is No Guesswork By The Weatherman Today
In The Wake Of Invasion : Three Images From The War
Last of the Seabees : A CB Misses Too Many Transports -- Result, A Fantasy
By George Monroe Myers
Tough Little Tug Boat : The USS Choctaw Proves That War Is Not Always Fought With Bombs And Guns
By John B. Penfold
Foreign Naval News
By Walton L. Robinson
USS Nevada
By Richard Shafter
What's in a Name?
Round Up of the War
By Fletcher Pratt
Naval Cancels and Cachets
By Marshall R. Hall
Salt Shakers
By Walt Munson
Bulletin Board of Naval Interest

Launchings
P. O. Ratings To Be Temporary
Ship Losses
WAVE's Bill Favorably Reported
Warrants To Be Promoted En Bloc
Eligibility For Area Ribbons
Navy Medicos Stop Epidemic
Brazilian Troups Soon To Go Overseas
New Germ Killer
Battle Dress Replacements
Too Many SMITHs
New Undersea Camera
Competitors Wanted
Things the Third Reich Germans Don't Understand
Sailor Sees Invasion
Pistol-Shot Gun .45 Cal.
Not A Bad Idea
Athlete Becomes An Ace

Awards, Commendations and Promotions

Ship Named For Navy Hero : USS Muir, DE - Lt. Kenneth Muir
Letters Of Commendation
Navy And Marine Corps Medals
More Letters Of Commendation
Medal Of Honor To Lt. Nathan G. Gordon
CSp Robert Halperin Wins Navy Cross
Silver Stars Awarded
Air Medal To Cmdr. William A. Moffett, Jr.
Distinguished Flying Cross Awards

Personnel Information

Official Casualty List (From May 1 to May 31, 1944) - Listed by State
Family Inquest : Next Of Kin Requests Your Help
Contacting Shipmates
Books In Review

Primer of Navigation, Second Edition, by George W. Mixter
Then There Was One by Eugene Burns
Sailor's Star by Fanny Heaslip Lea
Fathoms Deep by Michael Dawson
Stick and Rudder by Wolfgang Langewiesche

20 Months At Hard Labor : The 120th Seabees Return To The States
Calling All Solomon Islands Chess Players
by Emmet Maum
Navy Soil Engineers
The Last of LST 348
Your Beauty Parade

Alabama's Ramona Vincent
Wyoming's Shirley Ellbogan
California's June Nunn
Kansas's Virginia Baker

Notes of Interest
Sparks from the Sports Wheel
By Harry Dwyer
Lay Aft on the Fantail
Traditions of the Navy
The Skipper and the Boot
All photographs are Official Navy Photos unless otherwise identified.
Published the 1st and 15th of each month by OUR NAVY, INC., Owen Watson, president; Paul R. Watson, Gem Mgr. Office of publication, Editorial and Executive offices, 1 Hanson Place, Brooklyn, N. Y.
EDITOR : Bruce Baylor
ASST. EDITOR : R. C. Fay
ASSOCIATE EDITORS: C. M. Hatcher, John B. Penfold
STAFF PHOTOGRAPHER : C. J. Lund
CONTRIBUTING EDITORS
A. R. Bosworth
Walt Munson
Walton Robinson
Lillian Thomas
Harry Dwyer
Ernest G. Vetter
Cedric W. Windas
Manning Hall
I Hanson Place, Brooklyn, New York
Entered as second class matter September 28, 1943, at the post office at Brooklyn, New York, under the act of March 3, 1878, with an additional entry at Philadelphia, Penna. Single espies 15 cents.
One year subscription (14 issues) $5.00. Subscribers should notify prompt change of address; boils old and new addresses should be given.
Contributions to OUR NAVY's editorial column should be addressed to 1 Hanson Place, Brooklyn, N. Y. Material intended for the 1st of the month should be in the hands of the Editor by the 1st of the month preceding date of issue; material for the 15th of the month issue by the 15th of the mantis preceding.
Assertions or opinions of contributors are those of the individual and do not reflect the official views of the Navy Department or the Government. Entire contents copyrighted 1944 by OUR NAVY, INC.
More Net Paid Circulation in the Navy than Any Other Publication
Written By and For All Navymen. Member Audit Bureau of Circulations