Our Navy Magazine 1 October 1959 The Starlet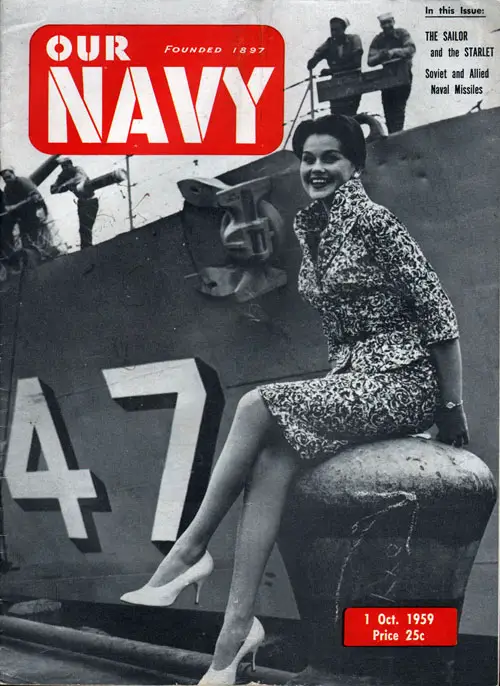 The Voice of all Navymen
1 October 1959
Vol. 54 No. 9
OUR COVER: Miss Andy Tilton, Director of Professional Models Inc. in Garden City, New York poses while visiting the USS Albert T. Harris (DE-447). The Harris is one of the Reserve ASW ships in New York. See page 16 for a more informal picture of Miss Tilton.
NEWS SECTION
Washington Bulletin
by Harold Helfer 3
Latest from the Pentagon and Capitol Hill.
Bulletin Board of Naval Interest
by Our Navy Reporters 9
With bluejackets ashore and afloat.
Navy Sports Through the Long Glass
by Fred Thornberry 30
Who won what, when, where.
ARTICLES
The Sailor and The Starlet
by Dave Davidson 23
A tnie story from Hollywood and the USS Midway.
There's No Such Thing
by Joseph D. Harrington 24
You can't get something for nothing.
The Navy's Top Tour Director
by Paul B. Anderson 26
Profile of Chief Bill Warren of Norfolk.
Russian and Other Naval Missiles
by Desmond Weffern 28
A close look at the new naval weapons of others.
A Mighty Fine Club
by Judson Stephens 29
That is at Dallas, Pardner.
DEPARTMENTS
Speaking of Cars 31
Notes of Interest 46
Swaps 47
Editorial 48
All photographs are official Department of Defense or Our Navy photos unless otherwise credited. All opinions expressed are those of the editors or contributors, and are not necessarily the official views of the Navy Department or the U. S. Government.
Member of Audit Bureau of Circulation.
Entire contents copyrighted, 1959, by OUR NAVY, Inc.