Our Navy Magazine - January 1970 - USS Iwo Jima (LPH-2)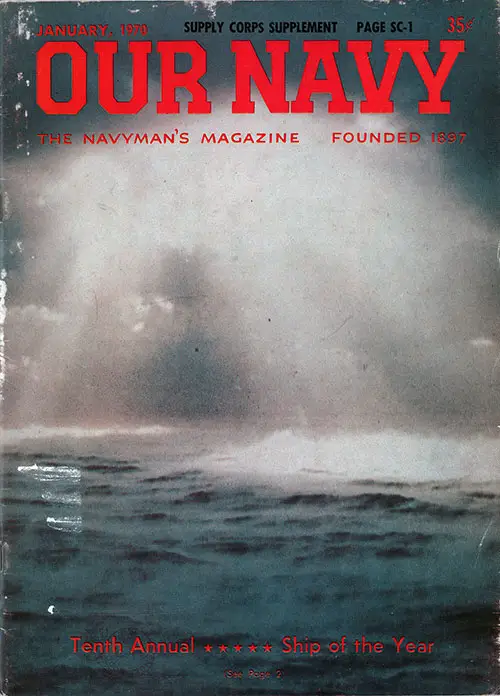 Front Cover, An Unusual Seascape. a U.S. Navy Photograph Provided by the Chief of Naval Information. Photographer, Date, and Locale Not Identified. Our Navy Magazine, Vol. 65, No. 1, January 1970. GGA Image ID # 170d1180c3
The January 1970 issue of Our Navy is devoted to the Ship of the Year for 1969, the USS Iwo Jima (LPH-2). Other featured articles include Shopping at Sea Is Tough Work, Interview of Vice Admiral Charles K. Duncan, USN, and The Survivors.
January Features
OUR NAVY's "Ship of the Year'' Award
USS IWO JIMA (LPH-2)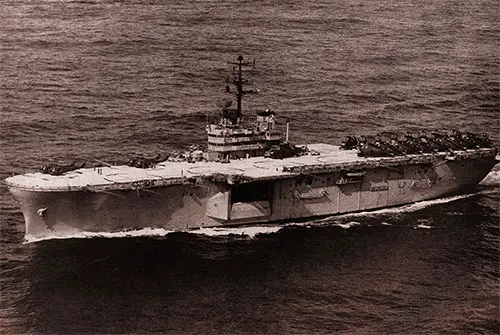 The USS Iwo Jima (LPH-2), Our Navy's "Ship of the Year" for 1969. Iwo Jima, commanded since 4 February 1969 by Captain Martin M. Casey, USN (his immediate predecessor was Capt. J. T. Shepherd), was nominated for Ship of the Year by Vice Admiral William F. Bringle, USN, Commander Seventh Fleet. Official U.S. Navy Photograph. GGA Image ID # 170d493aba
Portrait Of Someone I Once Knew
By Hankus Anthony
Taps For The Wickies
By Harold Waters
Destroyers—"Backbone of the Fleet"
By James J. Falk
Your Science IQ—Lost Treasure
By L. Mack Menser
Shopping at Sea Is Tough Work
Story by JO2 Ed Leatherwood; Photos by PH2 Boris Farley
The Well
By Ron Jacobson
Covers & Cancels
By Desmond D. Yagyi
Exclusive Interview—VADM Charles K. Duncan
By Harold Helfer ‭
The Survivors
By James E. Wise
Those Gullible Gulls
By Sid Sand
Unusual Facts of Naval History Those Bosom Mates
By Joseph C. Salak
News Department
Pentagon Report
Atlantic Report
Pacific Report
Yard Report
Washington Briefs
Inland Report
Regular Features
Liberty Port-Washington, D.C.
Shipmate Of The Month - Suzi Olsen
Crossword Puzzle
Pass The Word
LAFF Lines
Book Report
Editorial
Picture Of The Month
Other Articles
Happiness Is A Navy Homecoming
Photos by PH2 Wayne W. Massic
Fun In Antartica
Our Navy is published monthly by Our Navy, Inc., Owen Watson, President; Paul Watson, Publisher and Advertising Manager; Chris J. Lund, Circulation Manager; Office of Publication, Editorial, Advertising and Executive Office, 1 Hanson Place, Brooklyn, N. Y. 11217, telephone: ST 3-4540. Second Class postage paid at Brooklyn, N. Y., and at additional mailing offices. Single copies 35 cents. One year's subscription (12 issues) $4.00 ($6.00 foreign)). Although every attempt will be made to avoid losses, OUR NAVY is not responsible for unsolicited manuscripts. All material paid for at standard rates. All photographs are official Department of Defense or Our Navy photos unless otherwise credited. All opinions are those of the editors or contributors, and are not necessarily the official views of the Navy Department or the U.S. Government. Member of ABC.