Norwegian Tapestries - Aase Bay Sjøvold - 8270030317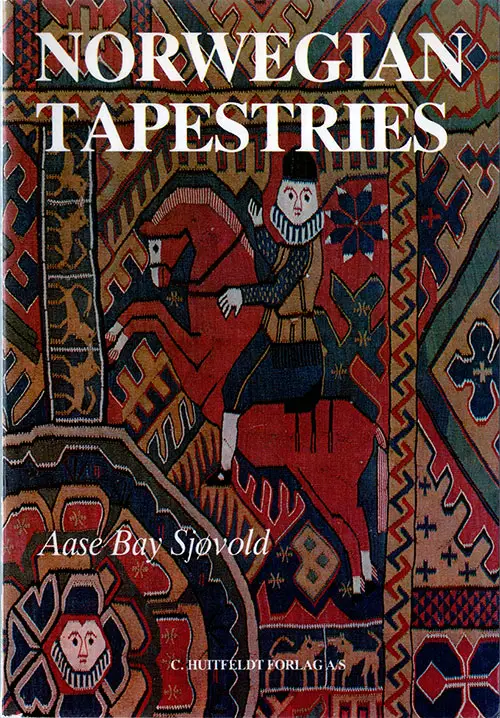 Aase Bay Sjøvold, Norwegian Tapestries, Translated by Elizabeth Seeberg © 1976 C. Huttfeldt Forlag A/S, Oslo, Norge, Soft Cover, 88 Pages, 82-7003-031-7. 
Contents:
The Baldishol Tapestry
European Background
Tapestry Weaving in Telemark
Bridal Tapestries
New Times -- New Customs
About materials and Pigments
About Techniques
Bibliography
From the Back Cover
Norway possesses a rich and singular treasure in her tapestries. The most important collection of tapestries is to be found in the Museum of Applied Art in Oslo. Here you can see the unique Baldishol tapestry, and fine examples of the professionally woven tapestries which came to Norway after the Reformation, as well as of all the splendid tapestries which were woven in Norway in the 17th and 18th centuries. They form an inestimable part of Norways cultural heritage.
Strangely enough, this book is the first handy, popular book on the subject. As head of the textile department at the Museum of Applied Art in Oslo and as a specialist on Norwegian tapestries, Aase Bay Sjøvold is well qualified to tell us about the tapestries, their historical background, their use and their motifs in the light of the latest knowledge on the subject.
Library of Congress Catalog Listing
LC control no.:
84160158
Type of material:
Book (Print, Microform, Electronic, etc.)
Personal name:
Bay Sjøvold, Aase.
Uniform title:
Norsk billedvev. English
Main title:
Norwegian tapestries / Aase Bay Sjøvold; translated from the Norwegian by Elizabeth Seeberg.
Published/Created:
Oslo : C. Huitfeldt Forlag, [1982] c1976.
Description:
88 p. : ill; 20 cm.
ISBN:
8270030317 (pbk.) : kr56.00
Notes:
Translation of: Norsk billedvev. Oslo : Huitfeldt, c1976.
Bibliography: p. 58.
Subjects:
Tapestry --Norway.
Series:
Looking at applied art in Norway
Vi ser paÌŠ kunsthandverk i Norge; 5.
LC classification:
NK3060.A1 B3913 1982
Dewey class no.:
746.39481
Language code:
engnor
Geographic area code:
e-no---