Norway to America: A History of the Migration - 0816608423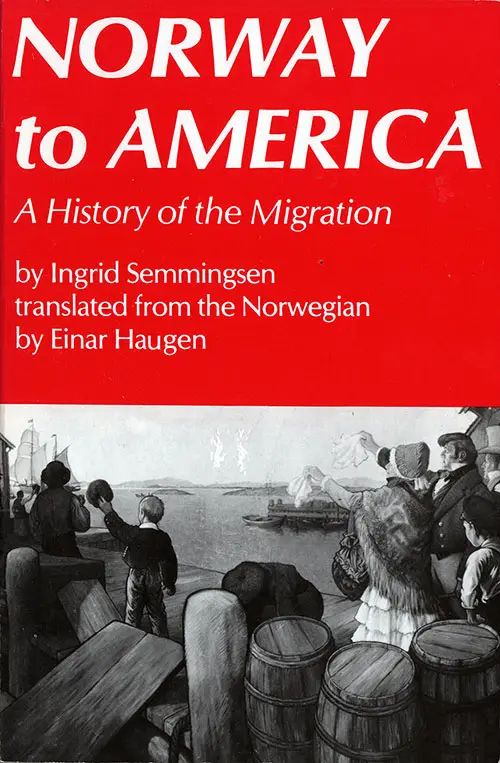 Ingrid Semmingsen, Norway to America: A History of the Migration, Translation of: Drøm og dåd, Translated by Einar Haugen, © 1975/1991 University of Minnesota Press, Minneapolis, Minnesota, Soft cover, 213 Pages, 0-8166-1000-2, 973.04'3982.
Contents
Preface v
Migration 3
The Sloop Restoration, 1825 10
Pioneers 20
Exodus, 1836-65 32
Land of Freedom and Opportunity, the 1850s
The Long Journey 53
Years of Trial and Triumph 65
A Pioneer Society 74
Encountering Americans 86
The Big Families 98
Change and Unrest 1865-1915 106
The Fabulous Land 121
Norway in America 132
Politics and Organizations 144
The Immigrants Become Americans 152
The Emigrants and the Homeland 162
Notes 173
Selected Bibliography 193
Index 203
From the Back Cover
Ingrid Semmingsen tells the story of the migration as it affected both countries and investigates the reasons for "America Fever." The story ends with a discussion of the ways in which Norwegian-Americans retain their ties to Norway. The book was first published in Norway as Drom og Dåd (Dream and Deed), in observance of the 150th anniversary of the departure of the first emigrant ship for America.
"Semmingsen provides an account of the movement rich in human and illustrative detail. ... a work of superior quality and merit, presenting in one brief volume a comprehensive treatment of Norwegian migration and settlement that will appeal with equal strength to the critical scholar and the interested layman alike."— American Historical Review
Ingrid Semmingsen is a professor of history at the University of Oslo and the author of a two-volume study of Norwegian emigration to America, Veien mot Vest (The Way West). Translator Einar Haugen is a professor emeritus of Scandinavian and linguistics at Harvard University.
Library of Congress Catalog Listing
LC control no.:
78003201
Type of material:
Book (Print, Microform, Electronic, etc.)
Personal name:
Semmingsen, Ingrid, 1910-
Uniform title:
Drøm og dåd. English
Main title:
Norway to America : a history of the migration / by Ingrid Semmingsen; translated by Einar Haugen.
Published/Created:
Minneapolis : University of Minnesota Press, c1978.
Description:
vii, 213 p., [6] leaves of plates : ill.; 24 cm.
ISBN:
0816608423 : $12.95
Notes:
Translation of Drøm og dåd.
Includes index.
Bibliography: p. [193]-199.
Subjects:
Norwegian Americans --History.
LC classification:
E184.S2 S4313
Dewey class no.:
973/.04/3982
Language code:
engnor
Geographic area code:
n-us---