Gløtt av Norge (Glimpses of Norway) - 1951 Edition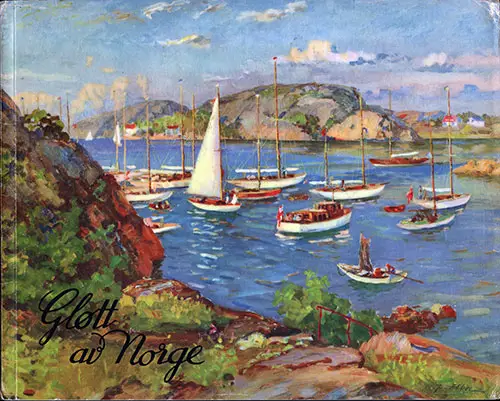 et Kikt i Bilder 1951
Gløtt av Norge (Glimpses of Norway) et Kikt i Bilder 1951, © 1951, Grøndahl & Søns Boktrykkeri, Oslo, Norge, Soft cover, 46 Pages. 
Photographs of Norway with brief descriptions of each photo in Norwegian, French and English.
Featured Photographs
M.S. Oslofjord, the Flagship of the Norwegian America Line, Bound for New York
View of Downtown Oslo Skyline
Woman in Traditional Costume From Setesdalen - Her Best Sunday Dress
Skiers Near the Hardanger Glacier
Photo of Downhill Skiing
The S.S. Midnatsol in Mefjorden, Finnmark
School Children Parading Before the Royal Castle, Celebrating the17th of May - The Norwegian Constitution Day
H. M. King Haakon VII among School Children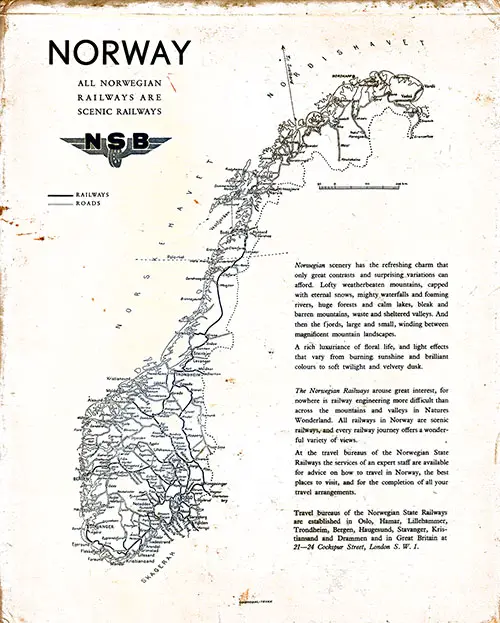 From the Back Cover
Norwegian scenery has the refreshing charm that only great contrasts and surprising variations can afford. Lofty weather-beaten mountains, capped with eternal snows, mighty waterfalls and foaming rivers, huge forests and calm lakes, bleak and barren mountains, waste and sheltered valleys.
And then the fjords, large and small, winding between magnificent mountain landscapes.
A rich luxuriance of floral life, and light effects that vary from burning sunshine and brilliant colors to soft twilight and velvety dusk.
The Norwegian Railways arouse great interest, for nowhere is railway engineering more difficult than across the mountains and valleys in Natures Wonderland. All railways in Norway are scenic railways, and every railway journey offers a wonderful variety of views.
At the travel bureaus of the Norwegian State Railways the services of an expert staff are available for advice on how to travel in Norway, the best places to visit, and for the completion of all your travel arrangements.
Library of Congress Catalog Listing
LC control no.:
50022578
Type of material:
Serial (Periodical, Newspaper, etc.)
Main title:
Gløtt av Norge. Glimpses of Norway.
Published/Created:
Oslo, N. W. Damm [n.d.]
Description:
v. illus. 27 cm.
Current frequency:
Unknown
Notes:
Serial.
PREMARC/SERLOC merged record
Subjects:
Norway --Pictorial works.
LC classification:
DL413 .G56
Geographic area code:
e-no---