Christmas Time and Juletid - 0966169905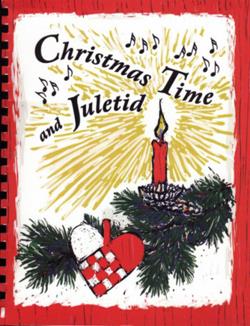 Christine Anderson, Theresa Appelö Bakken, Noel Wannebo Brazzichesi, Christmas Time and Juletid, Illustrations by Rosemary Antel, Music by Paul Allen and Darrel Eide © 1997 Leikarringen of Leif Erikson Lodge No. 1, Seattle, Washington, Spiral Bound, Soft Cover, 251 Pages, 0-9661699-0-5. 
Norwegian and Norwegian-American Christmas customs are combined in a book partially funded by the Sons of Norway Foundation. 
The history of Christmas and Jul is explored along with the days from September leading up to Christmas and through Saint Knut's Day or Tjuendedagen on January 13th.
Library of Congress Catalog Listing
LC control no.:
97092750
Type of material:
Book (Print, Microform, Electronic, etc.)
Personal name:
Anderson, Christine M.
Main title:
Christmas time and juletid : traditions from the United States and Norway with songs, food, decorations, and stories for the season / written and edited by Christine Anderson, Theresa Appelö Bakken, Noel Wannebo Bruzzichesi; illustrations by Rosemary Antel; music by Paul Allen and Darrel Eide.
Edition:
1st ed.
Published/Created:
Seattle, Wash. : Leikarringen of Leif Erikson Lodge No. 1, 1997.
Related names:
Bakken, Theresa Appelö.
Bruzzichesi, Noel Wannebo.
Description:
xii, 251 p. : ill., music; 28 cm.
ISBN:
0966169905
Notes:
"This book ... [highlights] Norwegian traditions and the traditions of the Pacific Northwest as represented by ... people in the United States who claim Norwegian ancestry"--P. 2.
Includes index.
Words to the carols in English and Norwegian.
Subjects:
Christmas --Norway.
Christmas --United States.
Carols, Norwegian --United States.
Carols, English --United States.
Christmas cooking --Norway.
Cooking, Norwegian.
Norwegian Americans --Social life and customs.
LC classification:
GT4987.59 .A63 1997
Dewey class no.:
394.2663/09481
Language code:
engnor
Other system no.:
(OCoLC)38927444
Geographic area code:
e-no--- n-us---
Quality code:
lccopycat