A Chronicler of Immigrant Life - 1982
Svein Nilsson's Articles in Billed-Magazin, 1868-1870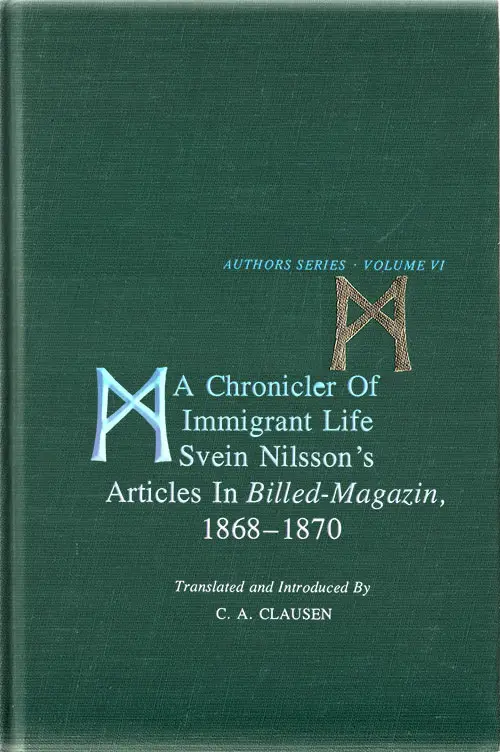 Synopsis: As Editor of Billed-Magazin 1868-1870, the first illustrated monthly in the Norwegian language published in America, Svein Nilsson wrote a series of articles about the arrival of the early Norwegian immigrants and their pioneer settlements in the Midwest. 
These articles constitute an important landmark in Norwegian-American historical research: they have been consulted by scholars and by lay people interested in the period and have had a significant impact on later historical literature.
Based as the articles are on personal interviews with the immigrants themselves, they provide a highly individual and human dimension to the story -- they are the oral history of their day -- but Nilsson's interest encompassed the historical background as well as the possibilities for advancement in the new environment, and in his hands the accounts become sober and balanced records of the historical situation during the founding phase of immigration which lasted until shortly after the Civil War.
Library of Congress Catalog Listing
LC control no.:
82154795
Type of material:
Book (Print, Microform, Electronic, etc.)
Personal name:
Nilsson, Svein, 1826-1908.
Main title:
A chronicler of immigrant life : Svein Nilsson's articles in Billed-magazin, 1868-1870 / translated and introduced by C. A. Clausen.
Published/Created:
Northfield, Minn. : Norwegian-American Historical Association, 1982.
Related names:
Clausen, Clarence Arthur, 1896-
Norwegian-American Historical Association.
Description:
vii, 171 p. : ill.; 24 cm.
ISBN:
0877320675
Notes:
Translation from the Dano-Norwegian of the series De skandinaviske setlementer i Amerika.
Includes bibliographical references and index.
Subjects:
Norwegian Americans --Wisconsin --History.
Wisconsin --History, Local.
Series:
Authors series; v. 6
Authors series (Norwegian-American Historical Association); v. 6.
LC classification:
F590.S2 N5413 1982
Dewey class no.:
977.5/ 

  

      

   0043982      
Language code:
engnor
Geographic area code:
n-us-wi