Norwegian Folk Tales - 0394710541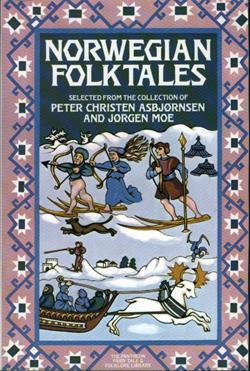 Peter Christen Asbjørnsen and Jørgen Moe, Norwegian Folk Tales, © 1982 Pantheon Books, New York, Soft Cover, 189 Pages, 0-594-71054-1, 598.2'1'09481, 82006401. 
A collection of 35 short stories of the folktales of Norway.
From the Publisher: Collected here in a contemporary translation. With these tales we meet witches, trolls and ogres, sly foxes and mysterious bears, beautiful princesses and country lads turned heroes. Includes illustrations.
Library of Congress Catalog Listing
LC control no.:
82006401
Type of material:
Book (Print, Microform, Electronic, etc.)
Personal name:
Asbjørnsen, Peter Christen, 1812-1885.
Uniform title:
Norske folke-eventyr. English. Selections
Main title:
Norwegian folk tales : from the collection of Peter Christen Asbjørnsen, Jørgen Moe / illustrated by Erik Werenskiold, Theodor Kittelsen; translated by Pat Shaw, Carl Norman.
Edition:
1st American pbk. ed.
Published/Created:
New York : Pantheon Books, [1982]
Related names:
Moe, Jørgen Engebretsen, 1813-1882.
Iversen, Pat Shaw.
Norman, Carl.
Description:
188 p. : ill.; 24 cm.
ISBN:
0394710541 (pbk.) : $5.95
Notes:
Translation of: Norske folke-eventyr.
Reprint. Originally published: Oslo : Dreyers Forlag, 1960.
Subjects:
Fairy tales --Norway.
Series:
The Pantheon fairy tale and folklore library
Pantheon fairy tale & folklore library.
LC classification:
PT8661 .A8 1982
Dewey class no.:
398.2/1/09481
Language code:
engnor
Geographic area code:
e-no---