Norway and Its Fjords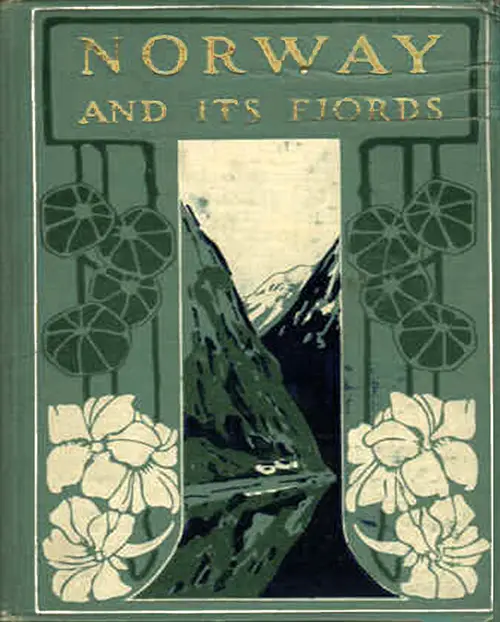 Front Cover, M. A. Wyllie, Norway and Its Fjords, © 1907, James Pott & Co, New York, Hardcover, 315 Pages.
In this book the reader is carried, as it were, on a pleasant cruise from Christiana Fjord to the North Cape, streaming in and out of the beautiful inlets with which the coast of Norway is intersected, chatting on the way on every subject of interest.
Norway and Its Fjords is one of the literary guidebooks which, in recent years, have been prepared by persons of culture and observative powers to supplement the mechanical information contained in the Baedeker series and their like. With it in hand, one can wander around the Norwegian fjords and be prepared with appropriate sentiments and descriptions for every scene. The colored illustrations of fiords and other places are well done, and there are many photographs.
Contents:
The charm of the open sea
Christiania
Laurvik
The wondrous, beautiful Hardanger
National dances
Bergen on the By Fjord
Bergen
The Sogne and Naero Fjords
Loen, Merok, Naes, and molde
Trondhjem and its Kings
Torghatten
Hammerfest and North Cape
Eozoon
Spitzbergen
Library of Congress Catalog Listing
| | |
| --- | --- |
| LC control no.: | 08009536 |
| Type of material: | Book (Print, Microform, Electronic, etc.) |
| Personal name: | Wyllie, M. A. |
| Main title: | Norway and its fjords, |
| Published/Created: | London, Methuen & co.; New York, J. Pott & co., 1907. |
| Related names: | Wyllie, William Lionel, 1851- [from old catalog] illus. |
| Description: | xii, 315, [1] p. 33 illus. on 32 pl. (16 col., incl. front.) 20 cm. |
| Subjects: | Norway --Description and travel. [from old catalog] |
| LC classification: | DL418 .W9 |
| Geographic area code: | e-no--- |