The Promise Fulfilled: A Portrait of Norwegian Americans Today - 0816628327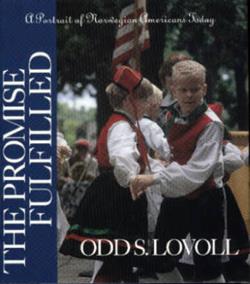 Odd Sverre Lovoll, The Promise Fulfilled: A Portrait of Norwegian Americans Today, © 1998 Regents of the University of Minnesota. Published by University of Minnesota Press, Minneapolis, Minnesota, Hardcover, 299 Pages, 0-8166-2832-7.
From the Publisher
"Odd Lovoll provides fascinating and important insights about the distinctive presence in American life of Norwegian immigrants and their ancestors. Then again, I might be biased." --Walter F. Mondale, Norwegian American and former U.S. Vice President
Continuing the story begun in the best-selling The Promise of America, prominent historian Odd S. Lovoll details where Norwegian Americans live and to what extent their dreams and expectations of life in the United States have been achieved. From traditional lutefisk dinners to civic activism, Lovoll uncovers the festive spirit of contemporary Norwegian-American culture.
This vibrant ethnic community maintains ties through genealogy, family reunions, and a shared culinary and arts and crafts heritage. Lovoll's lucid, engaging, and nuanced history is essential reading--and a popular gift--for anyone interested in Scandinavian culture.
"The Promise Fulfilled is a fascinating and enlightening read from cover to cover." --Norseman
Odd S. Lovoll immigrated to the United States from Norway in 1946. He is professor emeritus of history at St. Olaf College and the author of The Promise of America: A History of the Norwegian-American People, revised edition (Minnesota, 1999).

Library of Congress Catalog Listing
LC control no.:
98004000
Type of material:
Book (Print, Microform, Electronic, etc.)
Personal name:
Lovoll, Odd Sverre.
Main title:
The promise fulfilled : a portrait of Norwegian Americans today / Odd S. Lovoll.
Portion of title:
Portrait of Norwegian Americans today
Published/Created:
Minneapolis : University of Minnesota Press, c1998.
Related names:
Norwegian-American Historical Association.
Description:
xv, 299 p. : ill., map; 24 cm.
ISBN:
0816628327 (alk. paper)
0816628335 (pbk. : alk. paper)
Notes:
"Published in cooperation with the Norwegian-American Historical Association."
Includes bibliographical references (p. 263-286) and index.
Subjects:
Norwegian Americans --Ethnic identity.
Norwegian Americans --History.
Norwegian Americans --Interviews.
LC classification:
E184.S2 L686 1998