Trondheim Jubileumsbok 997 - 1997 - 8291192022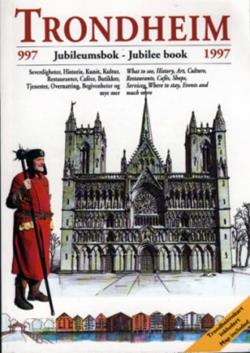 Trondheim Jubileumsbok 997 - 1997, © 1996 Næringsforlaget, Trondheim, Norge, Paperback, 256 Pages + Map of Trondheim Insert, 978-82-91192-02-2. Photographs and Text in Norsk and English.
Synopsis
A thousand years leave their marks on a city. Trondheim has deep historical roots and a lot to offer. The first part of this book presents both past events and present attractions. It offers you glimpses of the city's development and architecture, its art and culture, sports and outdoor activities, music and entertainment. Part two is a practical guide to modern-day Trondheim from A-Z.  It presents all the city's hotels, as well as restaurants, cafes, organizations and shops.
Library of Congress Catalog Listing
LC control no.:
98157510
Type of material:
Book (Print, Microform, Electronic, etc.)
Main title:
Trondheim 997-1997 : jubileumsbok : severdigheter, historie, kunst, kultur, restauranter, caféer, butikker, tjenester, overnatting, begivenheter og mye mer / [medarbeidere, Morten Andersen et al.] = Trondheim 997-1997 : jubilee book : what to see, history, art, culture, restaurants, cafés, shops, services, where to stay, events and much more / [contributors, Morten Andersen et al.].
Spine title:
Trondheim jubileumsbok
Published/Created:
Trondheim : Næringsforlaget, [1997]
Related names:
Andersen, Morten.
Description:
256 p. : col. ill., col. maps; 21 cm.
ISBN:
8291192022
Notes:
Title from cover.
Includes index.
Parallel text in English.
Subjects:
Trondheim (Norway) --Guidebooks.
LC classification:
DL596.T9 T75 1997
Language code:
nor eng
Geographic area code:
e-no---