In Their Own Words: Letters from Norwegian Immigrants - 0816618585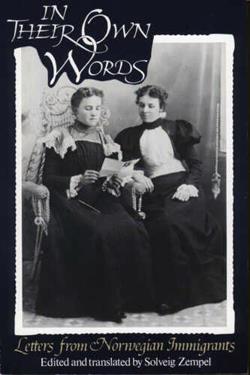 Solveig Zempel, Ed. & Translator, In Their Own Words: Letters from Norwegian Immigrants, © 1991 University of Minnesota Press, Minneapolis, Minnesota, Soft cover, 225 Pages, 0-8166-1858-5, 305.83'982073'09034--dc20.
From the Publisher
These translations of letters home by nine Norwegian immigrants detail their perception of America and their adjustment to its lifestyle between 1870 and 1945.
From the Back Cover
For most Norwegians in the nineteenth century, America was a remote and exotic place until the first immigrants began to write home.
Their letters were among the most valuable, accessible, and reliable sources of information about the new world and the journey to it. For many immigrants, writing letters home was their most cherished opportunity to communicate their thoughts and feelings in their native language.
Through vivid translations of letters written to family and friends between 1870 and 1945, In Their Own Words traces the stories of nine Norwegian immigrants: farmer, fisherman, gold miner, politician, unmarried mother, housewife, businessman, railroad worker, contractor. Their common bond was the experience of immigration and acculturation, but their individual experiences were manifested in a wide variety of forms.
Solveig Zempel has thoughtfully selected and translated letters rich in personal description and observation to present each writer's subjective view of historical events. Often focusing on the minutiae of daily life and the feelings of the individual immigrant, the letters form a complex, intimate, and colorful mosaic of the immigrant world.
Solveig Zempel is chair of the Norwegian Department at St. Olaf College in Northfield, Minnesota.
Library of Congress Catalog Listing
LC control no.:
90011012
Type of material:
Book (Print, Microform, Electronic, etc.)
Main title:
In their own words : letters from Norwegian immigrants / edited, translated and introduced by Solveig Zempel.
Published/Created:
Minneapolis : University of Minnesota Press in cooperation with the Norwegian-American Historical Association, c1991.
Related names:
Zempel, Solveig.
Description:
xviii, 225 p. : ill., maps; 24 cm.
ISBN-10:
0816618585 (acid-free paper)
0816618593 (pbk. : acid-free paper)
ISBN-13:
978-0816618590
Notes:
Includes bibliographical references (p. 215-217) and index.
Subjects:
Norwegian Americans --Correspondence.
LC classification:
E184.S2 I5 1990
Dewey class no.:
305.83/982073/09034
Language code:
eng nor
Geographic area code:
n-us---
For additional information: http://www.naha.stolaf.edu/pubs/current/itow.htm