The Land and People of Norway - 0060205733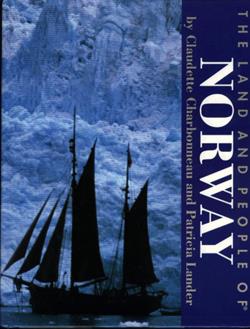 Author: Claudette Charbonneau and Patricia Lander
Title: The Land and People of Norway
Edition: First Edition
Format: Hardcover
Pages: 240 Pages
ISBN: 0-06-020573-3
DCN: 948.1-dc20
Publisher: HarperCollins
Location: New York
Pub. Date: © 1992
Language: English
Subjects: Norway--Juvenile literature
Description:
Notes:
Size:
Dust Jacket: Yes
List Price: US$18.00
Summary: Introduces the history, geography, people, culture, government, and economy of Norway.
Synopsis: Examines the Scandinavian country's geography, society, politics, culture, and traditions, placing them within the context of Norway's history.
Contents:
Norway: top of Europe
The people of Norway
The West
The East and Southernmost Norway
Mid and North Norway
The Age of the Vikings (793-1066)
Founding the Kingdom
The Saga Kings
Four Hundred Years' Night
Reestablishing nationhood
World Wars I and II
Democratic traditions
Government and international relations
Holidays
Literature, art, and music
Sports and exploration
Debating the future
Library of Congress Card Catalog
LC control no.:
91035029
Type of material:
Book (Print, Microform, Electronic, etc.)
Personal name:
Charbonneau, Claudette, 1936-
Main title:
The land and people of Norway / by Claudette Charbonneau and Patricia Slade Lander; special photographs by Ola Røe.
Published/Created:
New York, NY: HarperCollins, c1992.
Related names:
Lander, Patricia Slade.
Description:
xv, 240 p. : ill., maps; 24 cm.
ISBN-10:
0060205733
0060205830 (lib. bdg.)
ISBN-13:
978-0060205836
Summary:
Introduces the history, geography, people, culture, government, and economy of Norway.
Notes:
Filmography: p. 228.
Includes bibliographical references (p. 223-227) and index.
Subjects:
Norway --Juvenile literature.
Norway.
Series:
Portraits of the nations
LC classification:
DL409 .C43 1992
Dewey class no.:
948.1
Geographic area code:
e-no---
Quality code:
lcac