Growing Up in Norway 800 to 1990 - (1992)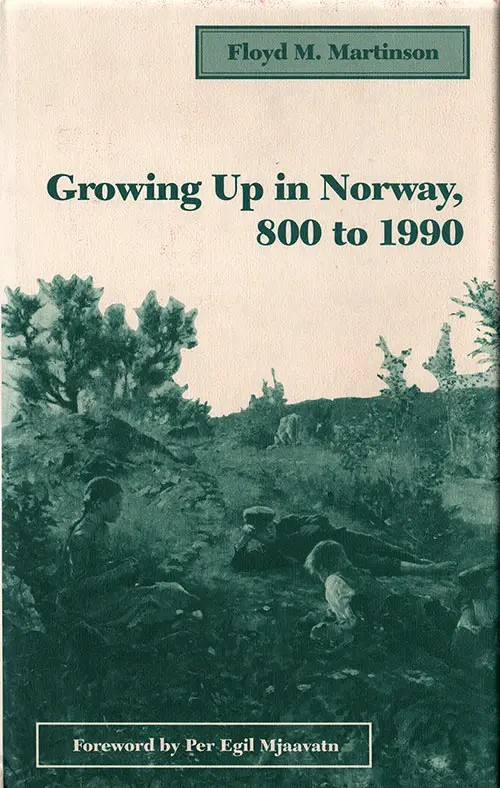 Floyd M. Martinson, Growing Up in Norway, 800 to 1990, © 1992 Southern Illinois University Press, Carbondale and Edwardsville, Illinois, Hardcover, 246 Pages, 0-8093-1778-8, 035.23'09481--dc20.
From the Publisher
Floyd M. Martinson's book is an ethnographic study of the daily life of children in Norway from the ninth century to the last decade of the twentieth century.
Martinson focuses on the ways in which the care and supervision of children, which at one time was the responsibility solely of the family, has become a public concern.
Martinson discusses five perspectives that have influenced the lives of Norwegian children through the generations: as the private property of their family, as participants in the economic and social life of family and community, as inherently evil creatures, as incomplete adults in the process of becoming adults, and as citizens with freedoms and rights.
The last view, the currently prevalent one, has initiated changes, some of which are unique to Norway. In the 1980s, two social agencies for children were established: a national office of the Commissioner of Children (a child ombud whose duty it is to attend to the needs and concerns of children) and the National Center for Child Research, which is responsible for stimulating research on child life and disseminating information to child-serving organizations and to the general public.
This extraordinary book is not only for the scholar or individual interested in Scandinavian, or specifically Norwegian, culture and history. It will interest all who value the lives of children, their impact upon a culture, and a society's regard and treatment of them.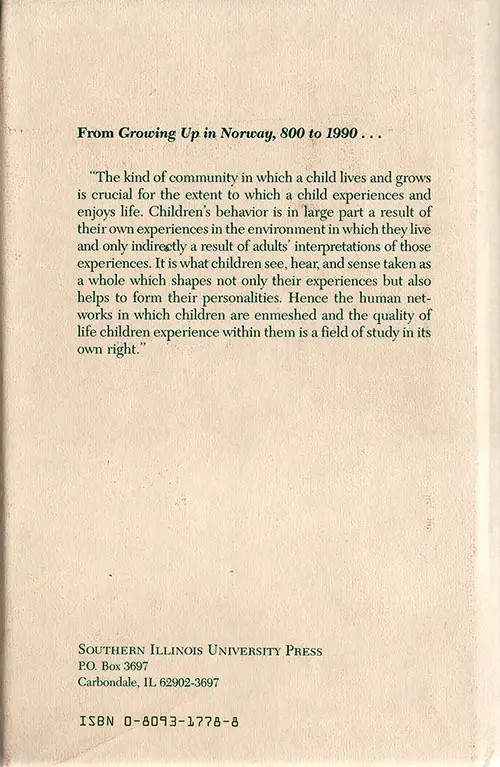 From the Back Cover
From Growing Up in Norway, 800 to 1990 . . .
"The kind of community in which a child lives and grows is crucial for the extent to which a child experiences and enjoys life. Children s behavior is in large part a result of their own experiences in the environment in which they live and only indirectly a result of adults' interpretations of those experiences. It is what children see, hear, and sense taken as a whole which shapes not only their experiences but also helps to form their personalities. Hence the human networks in which children are enmeshed and the quality of life children experience within them is a field of study in its own right."
Library of Congress Catalog Listing
LC control no.:
91020167
Type of material:
Book (Print, Microform, Electronic, etc.)
Personal name:
Martinson, Floyd Mansfield, 1916-
Main title:
Growing up in Norway, 800 to 1990 / Floyd M. Martinson; with a foreword by Per Egil Mjaavatn.
Published/Created:
Carbondale : Southern Illinois University Press, c1992.
Description:
xiii, 246 p.; 23 cm.
ISBN-10:
0809317788 (alk. paper)
ISBN-13:
978-0809317783
Notes:
Includes bibliographical references (p. 227-238) and index.
Subjects:
Children --Norway.
Children's rights --Norway.
LC classification:
HQ792.N7 M37 1992
Dewey class no.:
035.23/09481
Geographic area code:
e-no---