Norwegian-American Studies, Volume 27 - 087732057X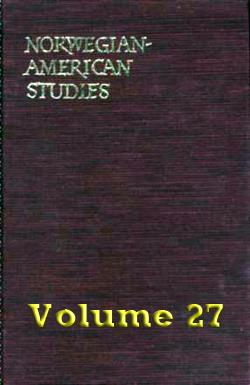 Norwegian-American Historical Association
Volume 27 in this series features articles on Marcus Hansen, Puritanism and Scandinavian Immigrant Temperance Movements, Decorah-Posten: The Story of an Immigrant Newspaper, and Wisconsin Scandinavians and Progressivism, 1900-1950.
Author:
Title: Norwegian-American Historical Association, Norwegian-American Studies, Volume 27
Edition:
Format: Hardcover
Pages: 323
ISBN: 0-87732-057-X
DCN: 325.11
Publisher: North Central Publishing Company
Location: St. Paul, Minnesota
Pub. Date: © 1977
Language: English
Subjects:
Description:
Notes: Dedicated to the Memory of Ole Edvart Rølvaag, Sensitive Interpreter of the Immigrant Experience
Size:
Dust Jacket: No
List Price:
Synopsis: Extracts from the archives of the Norwegian-American Historical Association relating to Immigration, Norwegians in America and Norwegian-Americans.
Table of Contents
Clausen, C. A. (ed. and tr.), ''Hegra Before and After the Emigration Era, by Jon Leirfall," 27:3
Hale, Frederick, "Marcus Hansen, Puritanism and Scandinavian Immigrant Temperance Movements," 27:18
Qualey, Carlton C. (ed. and tr.), "Three America Letters to Lesja," 27:41
Paulson, Kristoffer F., ''Berdahl Family History and Rølvaag's Immigrant Trilogy," 27:55
Lovoll, Odd Sverre, "Decorah-Posten: The Story of an Immigrant Newspaper," 27:77
Haugen, Einar (tr.), "Symra: A Memoir," 27:101
Morstad, A. E., "Erik Morstad's Missionary Work among Wisconsin Indians," 27:111
Seljaas, Helge, "Polygamy among the Norwegian Mormons," 27:151
Brye, David L., "Wisconsin Scandinavians and Progressivism, 1900-1950," 27:163
Chrislock, Carl H., "Name Change and the Church, 1918-1920," 27:194
Leiren, Terje I., "American Press Opinion and Norwegian Independence, 1905," 27:224
Canuteson, Richard, "The Kendall Settlement Survived," 27:243
Nelson, Rodney, "Breidablik," 26:229; "The Popcorn Man," 27:256
Vecoli, Rudolph J., ''An Outsider's View of the Association," 27:272
Clausen, C. A. (ed. and tr.), "Some Recent Publications," 27:280
Jacobson, Charlotte (comp.), ''From the Archives," 27:298