Ekte Norsk Jul: Traditional Norwegian Christmas Foods

- 1993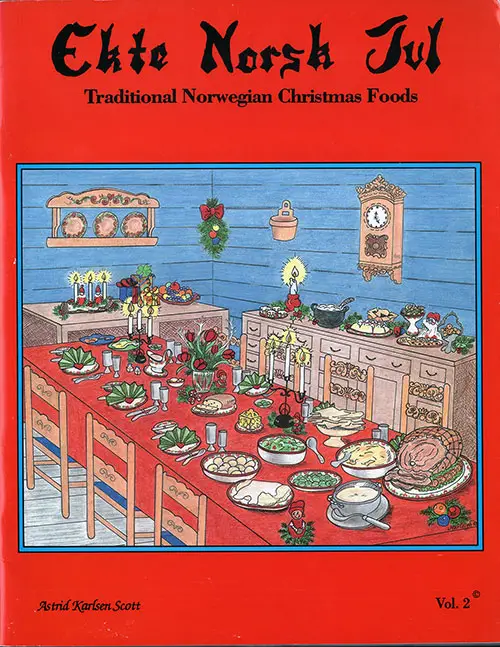 Astrid Karlsen Scott, Ekte Norsk Jul (Traditional Norwegian Christmas Foods), Illustrated by Marleigh © 1993 Nordic Adventures, Olympia, Washington, Soft Cover, 71 Pages, 0-9634339-2-X. 
From the Publisher
Create and enjoy Norway's Christmas traditions. Celebrate Advent through Christmas Eve. Histories of Christmas' past and fun stories of the nisse (Christmas elf), patterns for tree and table decorations, and memories of Astrid's Christmas's spent in Norway. A must book for those who love traditions. Numerous art drawings.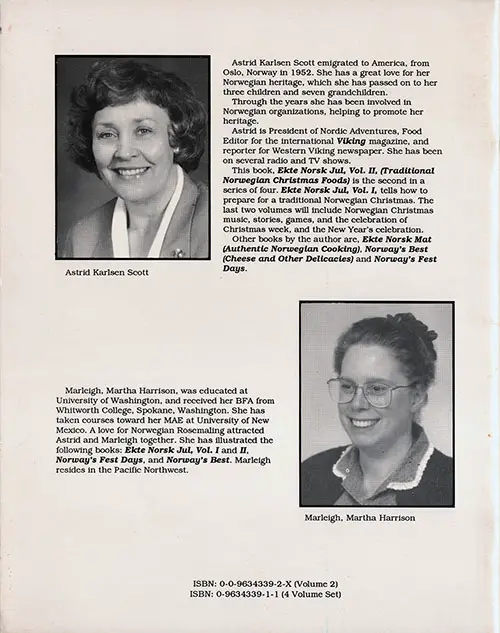 From the Back Cover
Astrid Karlsen Scott emigrated to America, from Oslo, Norway in 1952. She has a great love for her Norwegian heritage, which she has passed on to her three children and seven grandchildren.
Through the years she has been involved in Norwegian organizations, helping to promote her heritage.
Astrid is President of Nordic Adventures, Food Editor for the international Vilcing magazine, and reporter for Western Viking newspaper. She has been on several radio and TV shows.
This book, Ekte Norsk Jul, Vol. II, (Traditional Norwegian Christmas Foods) is the second in a series of four. Ekte Norsk Jul, Vol. I, tells how to prepare for a traditional Norwegian Christmas. The last two volumes will include Norwegian Christmas music, stories, games, and the celebration of Christmas week, and the New Year's celebration.
Other books by the author are, Ekte Norsk Mat (Authentic Norwegian Cooking), Norway's Best (Cheese and Other Delicacies) and Norway's Fest Days.
Marleigh (The Illustrator), Martha Harrison, was educated at University of Washington, and received her BFA from Whitworth College, Spokane, Washington. She has taken courses toward her MAE at University of New Mexico. A love for Norwegian Rosemaling attracted Astrid and Marleigh together. She has illustrated the following books: Ekte Norsk Jul, Vol. I and II, Norway's Fest Days, and Norway's Best. Marleigh resides in the Pacific Northwest.
Contents: 
Breads, Flatbread & Lefse
Meat & Fish
Desserts
Cakes & Cookies
Candy
Beverages
Miscellaneous
Christmas Food Table
Special Helps
Credits
Index
Library of Congress Catalog Listing
LC control no.:
93194878
Type of material:
Book (Print, Microform, Electronic, etc.)
Personal name:
Scott, Astrid Karlsen.
Main title:
Ekte norsk jul / Astrid Karlsen Scott; illustrated by Marleigh.
Published/Created:
Olympia, Wa. : Nordic Adventures, c1992-<c1997 >
Description:
v. <1-3 > : ill. (some col.); 27-28 cm.
ISBN-10:
0963433911 (set)
0963433938 (v. 3)
ISBN-13:
978-0963433923
Incomplete contents:
v. 1. Traditional Norwegian Christmas -- v. 2. Traditional Norwegian Christmas foods -- v. 3. Traditional Norwegian Christmas songs, stories & poems
Notes:
Vol. 3 illustrated by Karen Talbert.
Includes bibliographical references and index.
In English, with captions in Norwegian and English.
Subjects:
Christmas --Norway.
Christmas cooking.
Christmas decorations --Norway.
Norway --Social life and customs.
LC classification:
GT4987.59 .S36 1992
Dewey class no.:
394.2/663/09481
Language code:
engnor
Geographic area code:
e-no---