History Books Collection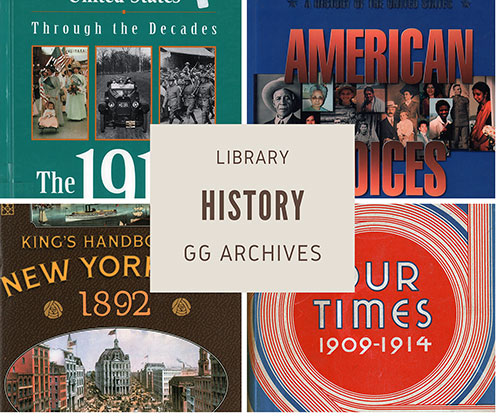 History Books Collection of the GG Archives focuses on American history from the late 1800s through the 1900s. Major topics include the Roaring 20s, The Depression Years, the Glamorous Years, Boston, and Southampton.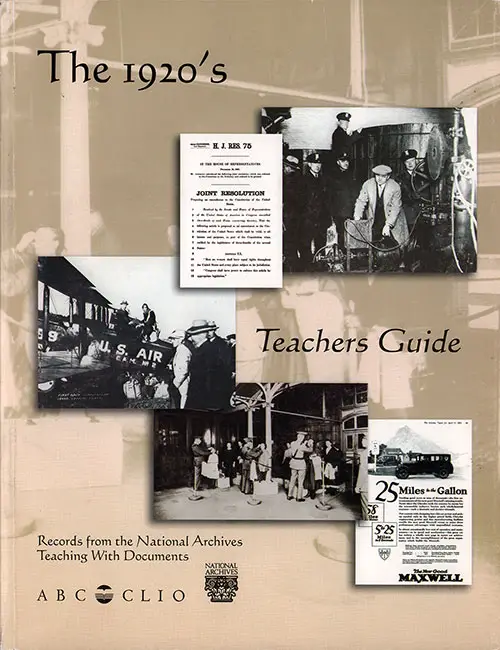 The 1920s Teachers Guide: Records from the National Archives - Teaching with Documents
The 1920s is a teaching unit designed to supplement your students' study of the 1919- 1929 decade. The unit comprises 24 exercises that together form a mosaic of American life during those years.
Each exercise includes reproductions of documents from the National Archives and suggests classroom activities based on these documents. The documents include personal letters, news clippings, photographs, graphs, maps, and telegrams.
Students practice the historian's skills as they complete exercises using these documents to gather information, identify points of view, weigh evidence, form hypotheses, and draw conclusions.
The documents in this unit do not reflect every topic usually included in a history textbook. In some instances, the federal government had no interest in or authority over a given event and therefore compiled no records.
In other cases, documents in the National Archives on several historical topics proved to be limited (Sacco and Vanzetti) or difficult to use in the classroom (Teapot Dome Scandal).
However, the documents included here reflect a wide range of social, political, economic, and cultural themes of the decade, as seen from citizens' points of view who corresponded with the federal government.
The 1920s was a period of heightened racial tension and ethnocentrism. Within this unit are documents that reflect these attitudes. These documents are typical of hundreds within the files of the National Archives.
They were selected, as were all the documents within this unit, as reflections of the time being studied, not as a means of perpetuating these attitudes. As you use these documents in your classroom, we encourage you to help students analyze them objectively.
National Archives education specialist Mary Alexander and director of public programs, Elsie Freeman Finch, developed this publication. We are pleased to issue a revised and updated set of these documentary teaching materials.
The 1920's: Rhetoric or Reality?
Each unit of this series is accompanied by a teacher's edition, which suggests one method—though by no means the only one— of teaching it.
As for the process, each unit, in one way or another, asks the student, through a series of relatively simple questions, to put into use and develop his powers of critical thinking and analysis.
Each asks him to formulate hypotheses frequently in writing and refine the theories in light of subsequent evidence. Each begins with questions about specific evidence and encourages the student to move toward some generalizations which will have relevance and meaning for his approach to the problems and complexities of the world in which he lives.
The 1920's: Rhetoric and Reality: New dimensions in American history by Edmund Traverso. Published by Heath, 1964. Originally Published by the University of California. 184 pages. Discusses the 66th Congress, Butler Act, Eighteenth Amendment, Klansmen, League of Nations, Monroe Doctrine, Nordic Race, Sinclair Lewis, Vanity Fair and More.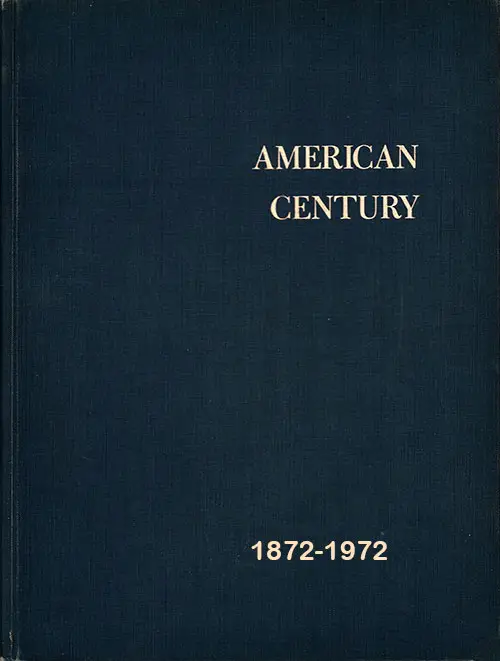 American Century: One Hundred Years of Changing Life Styles in America 1872-1972
In this special edition of American Century, readers have a unique opportunity to review retailing's service to consumers during one
hundred years of changing American e styles.
Each of those one hundred years, from 1872 to 1972, was a seedbed of change and challenge. It was an exhilarating—and occasionally—period for American consumers and those who served exasperating—them.
Some years were kinder than others, yet each held special significance for people, institutions, and the nation.
The contrasts between the 1870s and the 1970s are apparent. The similarities are not so noticeable, but they are important. Consumers still are seeking and expecting better merchandise values and improved services.
Such demands one hundred years ago prompted a twenty-eight-year-old by Aaron Montgomery Ward to develop an entirely new system of meeting the needs of rural Americans.
He adopted a revolutionary policy, "Satisfaction Guaranteed or Your Money Back," to assure consumers that he was trustworthy. He developed among his customers' confidence in his integrity as a merchant and trust in his merchandise.
Today, better educated, more affluent, and more discriminating customers are continuing to upgrade their expectations. By 1980 more than half of all American households will have annual incomes of more than $10,000, compared with 37 percent today.
There will be 33 million college-trained consumers shopping for goods and services compared with 20 million today. Thus, the 1970s will be distinctly different from the 1960s as businesses plan for consumer needs and wants and anticipate their demands.
Ralph K. Andrist, American Century: One Hundred Years of Changing Life Styles in America 1872-1972, New York: American Heritage Press, A Division of McGraw-Hill Book Company, 1972, ISBN 0070017956.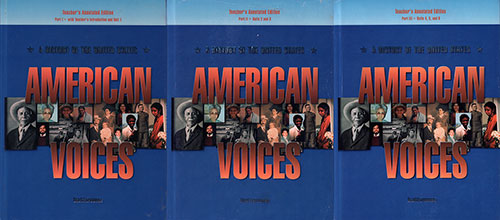 American Voices: A History of The United States in Three Volumes
The Teacher's Annotated Edition of American Voices helps you prepare for daily classes with a minimum of time and effort. The pages that follow describe the features of the Teacher's Edition and the use of a wide variety of other program components tailored to meet the needs of today's diverse students.
The lesson plan, background notes, stories and anecdotes, and optional activities provided for each chapter section give you many opportunities to customize your teaching to meet the needs of today's multicultural classroom.
A special symbol alerts you to notes and graphic organizers that are especially appropriate for use in lectures and other classroom presentations. A brief overview of the organization of this Teacher's Edition appears on page T5. A more detailed description follows.
Unit Organization
The two planning pages that precede each Unit include the following features:
The overview gives the main ideas of the Unit.
Additional Teaching Aids consist of bibliographical references to Literature for the Teacher, Literature for the Students, and Audio-Visual Materials recommended for use with the Unit. (Addresses for suppliers of Audio-Visual material are provided on page T9. Also, see that page for information about Visual Archives of American History, a laser videodisc, with accompanying teacher's guide that correlates the images and video clips with American Voices.)
Teacher Talk gives the ideas of outstanding classroom teachers about how to approach each Unit.
Unit Tests from the Teacher's Resource File are pictured.
At the end of each Unit are the following features:
American Literature provides an excerpt from a significant work representative of the period. Optional lesson plans and other notes are offered to teachers.
Unit Surveys consist of a chapter-by-chapter summary useful for review and reteaching and for students who are less proficient in English.
American Characteristics explore aspects of liberty, reform, equality, optimism, ingenuity, and religion using primary source quotations that give students the raw material to write essays in the Writing Strategies activity.
Writing Strategies teach students to paraphrase, define, analyze, summarize, and interpret with the writing assignment increasing difficulty from Unit to Unit. Teacher's notes are provided to help you work with students in exploring the various characteristics and strategies.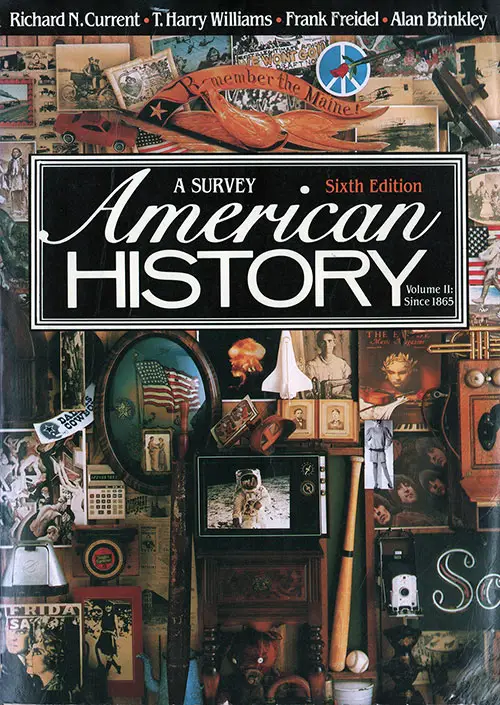 American History, A Survey, Volume II: Since 1865
This book attempts to tell a remarkable story: the story of the American people, from their first settlements in the wilderness many centuries ago to the present day.
It is a story in part of triumph, of the creation with a startling speed of the wealthiest and most powerful society in the history of the world. It is also a story of travail and injustice, the oppression of the powerless by the powerful, the careless exploitation of resources, and the frustrations of international power.
And it is, as well, the story of striving, of a people, imbued with ideals and constantly struggling—sometimes successfully, sometimes not—to shape a nation and a world that would embody their dreams.
Richard N. Current, T. Harry Williams, Frank Freidel, Alan Brinkley, American History, A Survey, Volume II: Since 1865, Sixth Edition © 1983 Alfred A. Knopf, New York, Soft Cover, 1028 Pages, 0394-33080-3, 973. Text consists of the 2d pt. of the 1-vol. 3d ed. published under title: The Essentials of American history. Includes bibliographies and index.
The Bicentennial Almanac: 200 Year of America
You are holding a cherished book—a panorama of American life celebrating the 200th birthday of America. Relive year-by-year and month-by-month the important, the unusual, and the everyday events that shaped our nation's first 200 years.
Many books highlight the outstanding or critical years in American life—1776, 1812, 1861, 1865, 1898, 1917, 1941, 1945, 1950, and others. The Bicentennial Almanac is filled not only with the events of these major years but with the little-known, almost forgotten fragments that form a 200-year diary of America.
The entire volume is enhanced with hundreds of illustrations, including 48 pages of full-color portraits of noted persons and famous scenes of Americans in peace, war, and space.
The Bicentennial almanac : 200 years of America 1776-1976 / editor-in-chief, Calvin D. Linton; introductory text, Walter A. Payne. Published in 1977 under title: The American almanac. Includes index. ISBNs: 0840740417. 0840740433 0840755945.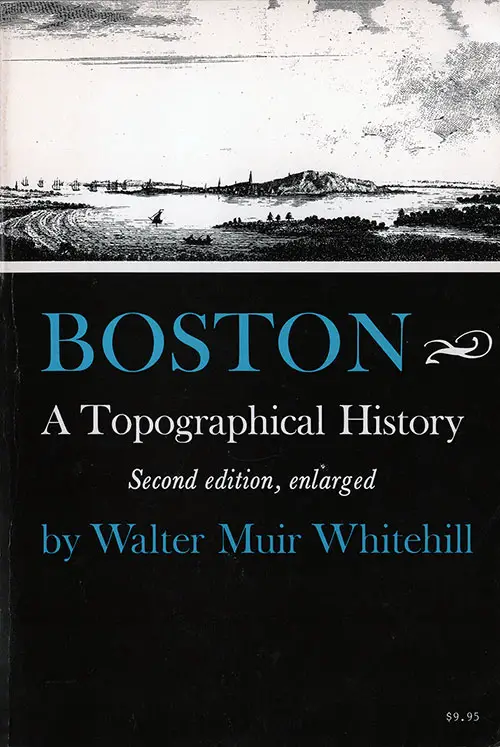 Boston: A Topographical History, Second Edition, Enlarged
In this sophisticated and delightful book, Walter Muir Whitehill follows the course of Boston's history, describing the city's changing face and the society that changed with it through more than three hundred years. Mr. Whitehill and Boston are devoted friends of long-standing, and his regard for the city is as personal as it is informed.
When the first edition was published, the Boston Globe commented, "There have been many books written about Boston, but none with more information so accurately and charmingly written. . . . How Boston has changed in appearance over the years since its founding on a peninsula that was almost an island is covered completely by word and picture." Other reviewers were equally complimentary, and thousands of readers—Bostonians, visitors, scholars—have enjoyed and been informed by Mr. Whitehill's book.
Today the "New Boston" is a reality. For this edition, Mr. Whitehill added a new chapter describing the significant changes in the face of the city since 1958, as well as new pictures. Generously illustrated, written with a knowledge of and affection for a great city visible on every page, this book speaks equally to those who know Boston well and those for whom it will be a new pleasure.
Walter Muir Whitehill, Boston: A Topgraphical History, Second Edition, Enlarged, Cambridge, MA: The Belknap Press of Harvard University Press, 1959/1968.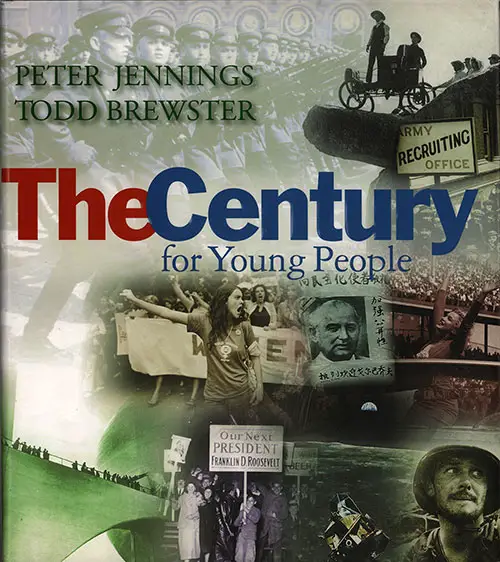 The Century for Young People, 1901-1999
Imagine
Watching the Wright Brothers Rise Into the Sky
Hearing the First Voice Crackle Over the Radio
Landing in a Hail of Bullets on a Normandy Beach
Seeing the Challenger Space Shuttle Explode
Flying Into Combat in Desert Storm
Let your imagination soar as you experience all the drama of the twentieth century through the eyes of the people who lived it. The vivid stories of eyewitnesses at the center of this narrative bring to life the most inspiring, most surprising, and most terrifying events of the past hundred years.
These are the voices of ordinary people—women and men, children and adults—who were a part of history in the making. Their joys and sorrows, their hopes and fears, provide a compelling insider's look at the momentous events that have reshaped the world and transformed the everyday lives of all of us in a century of tremendous changes.
Peter Jennings and Todd Brewster worked with researchers, reporters, and historians to document the most eventful hundred years in human history. And their interviews with the participants in the century's most dramatic moments give young people a uniquely personal perspective.
This lavish chronicle includes more than 200 exquisitely reproduced photographs with astonishing power to delight and horrify you, to entertain and educate you, as the century unfolds before your eyes. This spectacular book is a keepsake for every family's library. It is a riveting read and an essential research volume. It is the story of our time for all time.
Peter Jennings & Todd Brewster, Adapted by Jennifer Armstrong, Photographs Edited by Katherine Bourbeau, The Century for Young People: A Doubleday Book for Young Readers, New York: Random House, Inc., 1999, ISBN 0385327080.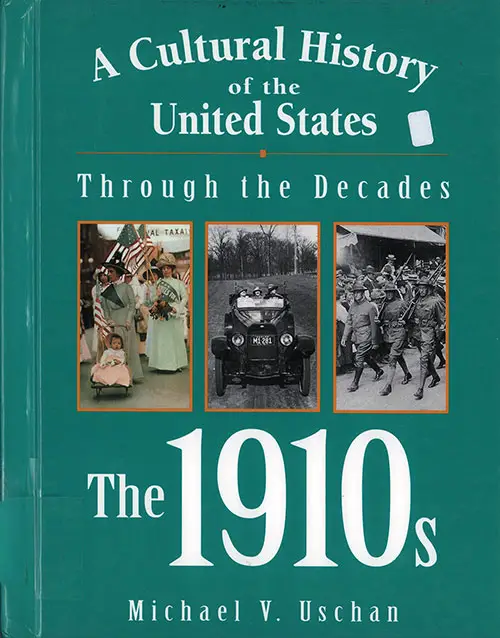 A Cultural History of the United States Through the Decades: The 1910s
These lively, fact-filled books will interest students and give them a solid background in American history. Theme-based chapters place events in a context, providing students with a comprehensive understanding of each decade and its importance.
Enlivened with numerous photographs and sidebars, the books cover technology, significant political and social events, trends, and music. Also included are notes, bibliographies, a chronology of events, and a detailed index.
Introduction: A Time of Change
Chapter One: The Progressive Movement and Woodrow Wilson
Chapter Two: The Fight for Rights
Chapter Three: Popular Culture: Silent Films, Vaudeville, and the Model T
Chapter Four: Edging into World Affairs
Chapter Five: The United States Goes to War
Chapter Six: The United States Helps Win the War
Chapter Seven: The Postwar Period
Epilogue: A Mood of Pessimism
Notes
Chronology
For Further Reading
Works Consulted
Index
Picture Credits
About the Author
Michael V. Uschan, A Cultural History of the United States Through the Decades: The 1910s, San Diego: Lucent Books, Inc., 1999, ISBN 1560065516.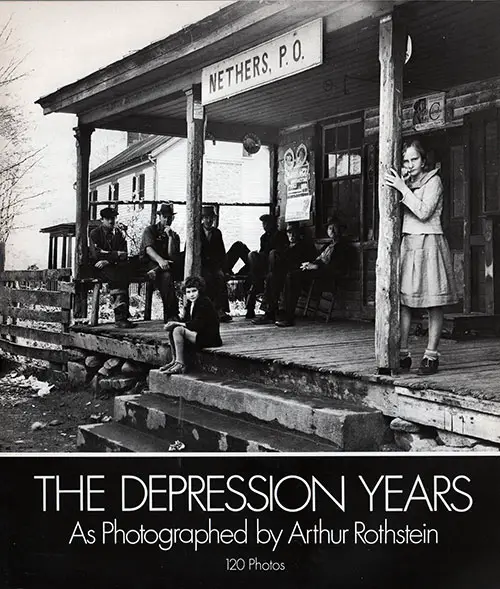 The Depression Years As Photographed by Arthur Rothstein
The Great Depression of the early 1930s not only gave the photographer Arthur Rothstein his quintessential subject matter; it determined his whole career. A native New Yorker, born in 1915, Rothstein was a senior at Columbia preparing for medical school when the problem of tuition became overwhelming, and his future grew doubtful. It was just at that moment, in 1935, that he was summoned to Washington by Roy Stryker.
Through the influence of the New Deal "brain-truster" Rexford Tugwell, Stryker (his former junior colleague in the Columbia economics department) had been made director of the Historical Section of the newly established Resettlement Administration. Called, from 1937 to its demise in 1943, the Farm Security Administration, this agency made loans to farmers, engaged in land renewal, and organized camps for migrant farmworkers.
The Historical Section was to gather photographic documentation of current American agriculture, and Stryker remembered the technical and artistic proficiency of Rothstein, who had long engaged in photography as a hobby and had earlier begun to assemble photographs for a pictorial history of American agriculture by Tugwell and Stryker that was never completed.
Although not a photographer himself, Stryker provided the whole group with stimulus, detailed programs and instructions, and good esthetic advice. Rothstein realized this on his first major assignment in 1935, in the Blue Ridge Mountains about 80 miles from Washington, where he was sent to record for posterity the traditional life patterns of mountaineers who were soon to be evacuated to make room for Shenandoah National Park, Stryker, Rothstein recalls, "made me aware of the fact that it was important, say, to photograph the corner of a cabin showing on an old shoe and a bag of flour; or it was important to get a close-up of a man's face; it was important to show a window stuffed with rags."
On this job, Rothstein had to gain the confidence of the shy inhabitants, learn how they lived, and blend in with their environment; using a small Leica, then only on the market a few years, he developed his "unobtrusive camera" method.
Arthur Rothstein, The Depression Years, © 1978 Dover Publications, Inc.., New York, Soft Cover, 119 Pages, 0-486-23590-4. Outstanding 1930s photos: famous dust storm photo, ragged children, unemployed, etc. 120 photographs. Captions. Part of The Dover pictorial archive series.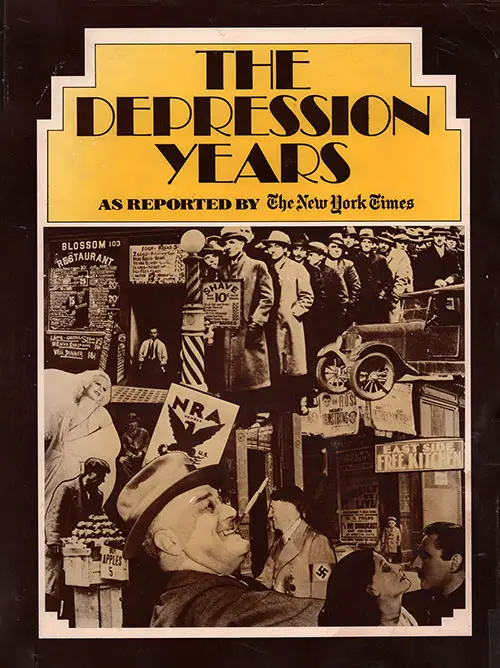 The Depression Years As Reported by The New York Times
This jumbo book contains the primary front pages of The New York Times from 1929 through 1939 and more than 350 illustrations. THE DEPRESSION YEARS is one of the most exciting accounts of American life in the 1930s available anywhere.
Beginning on the crest of a great wave of prosperity and optimism which almost overnight breaks into economic chaos, THE DEPRESSION YEARS ends in a tidal wave of international war and gloom. So vividly do the front pages of The New York Times report the complexity of momentous events in all facets of life — and the rapidity with which they occurred — it's as though an epic newsreel is being screened.
Documenting the all-pervasive problem of the period — the Great Depression — the book records the stock market crash, the loss of great fortunes, the disintegration of traditional economic and trading patterns, unemployment, sudden poverty, Hoovervilles, labor violence, stopgap relief methods, the Bonus March, Hoover's unsuccessful attempts to stabilize a deteriorating economy through the antiquated machinery of limited government, and the agonizing march to semi-recovery via Roosevelt, the New Deal and a looser interpretation of the Constitution.
Also on the march are the "dark forces" whose presence will soon bring death and destruction to almost every corner of the Earth. Stalin fashions an even greater tyranny out of a revolution designed initially to overthrow Czarist tyrants. Mussolini dedicates himself and his people to re-establishing a Roman Imperium. Franco, whose war against the Spanish Republic and his countrymen is the test case of Fascist aggression. Finally, Adolf Hitler, whose appetite for power can find satisfaction only by unleashing the most destructive war in history. All of this is recorded — step-by-step — in THE DEPRESSION YEARS.
Along with the Sino-Japanese conflicts, South -American revolutions, and anti-Semitic programs in Germany, other aspects of life in the 30s are rejected: the excitement of conquering speed and distance as witnessed by the flights of Lindbergh, Coste, Earhart, Post, Howard Hughes, and even the swift stroke of Eleanor Holm of Brooklyn in the Olympic pool; men and women became world-famous — Albert Einstein, Gandhi Will Rogers, Jean Harlow, Edward VIII (The Hide of Windsor) and Mrs. Simpson, Joe Louis, "Wrong-Way" Corrigan, Marian Anderson — and infamous — Bruno Hauptmann, John Dillinger, "Pretty Boy" Floyd, Giuseppe Zangara.
Arleen Keylin, Ed., The Depression Years as Reported by The New York Times, New York: Arno Press, 1976, ISBN 0405095465.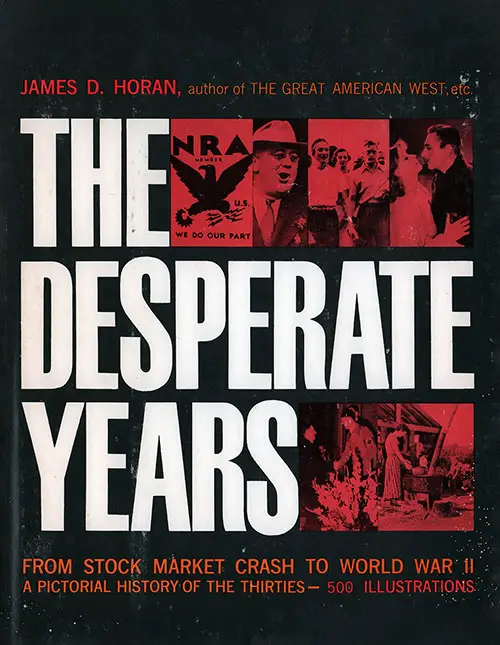 The Desperate Years: From Stock Market Crash to World War II - A Pictorial History of the Thirties
The decade between the stock market crash of 1929 and the military crash of 1939, when the first guns of World War II boomed out, was one of the most crucial, one of the most exciting decades of all time. It was a tense, world-shaking time, marked by significant revolutions in the United States and significant revolutions in almost every society, on every continent.
In the United States, the revolution was essentially a social and economic one. Government officials and famous leaders fell from grace. The stock market crash brought disgrace to people in business and bankers, shattered established traditions and standards, radically altered the way of life. In the wake of all this destruction, there was a chronic fear and a general feeling of insecurity. There was nothing. It seemed, left to believe in.
It was a desperate time, and it brought desperate remedies. The old order changed violently. After the first dull shock, a seething ferment, a curious excitement, and a new vitality accompanied the reconstruction and renaissance as the American people won a New Deal.
It was an immensely dramatic time and, somehow, wonderfully pictorial. From the dark days of breadlines, Hoovervilles, abandoned farms, bonus marchers, apple peddlers, the Bank Holiday, and the devaluation of the dollar, through the fabulous Hundred Days when the FDR administration got recovery on the road with its unique formulas—NRA, CCC, AAA, WPA and all the rest—to the lively, reckless, fright-filled days that heralded World War II, there were superb pictures that told the story.
James D. Horan, The Desperate Years: A Pictorial History of the Thirties, New York: Crown Publishers, Inc., 1962.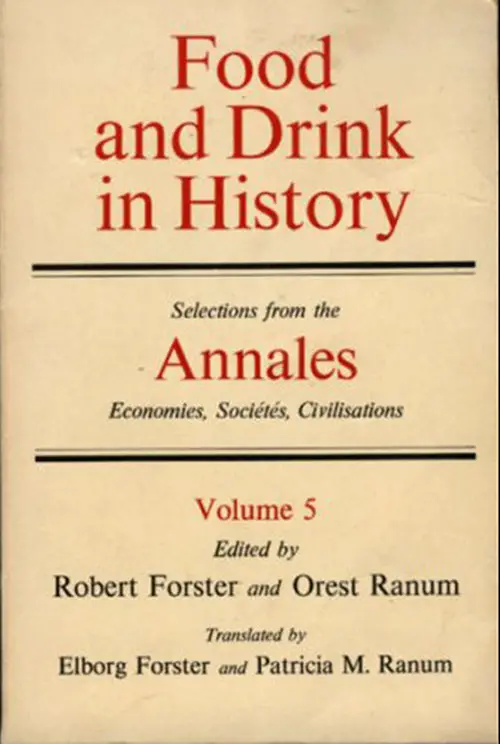 Food and Drink in History : Selections from the Annales, Économies, Sociétes, Civilisations, Volume 5
An academic study in the history of nutrition, the role of the potato in the Eighteenth Century, food supplies in early-modern Rome, water supplies in the Nineteenth-Century, and other French studies of the consumption of food through history. Edited by Robert Forster and Orest Ranum; Translated by Elborg Forster and Patricia M. Ranum. Paperback. 173pp. ISBN: 0-8018-2157-6. DCN: 641'.09. Publisher: The Johns Hopkins University Press, Baltimore, Maryland © 1979. List Price: US$4.95.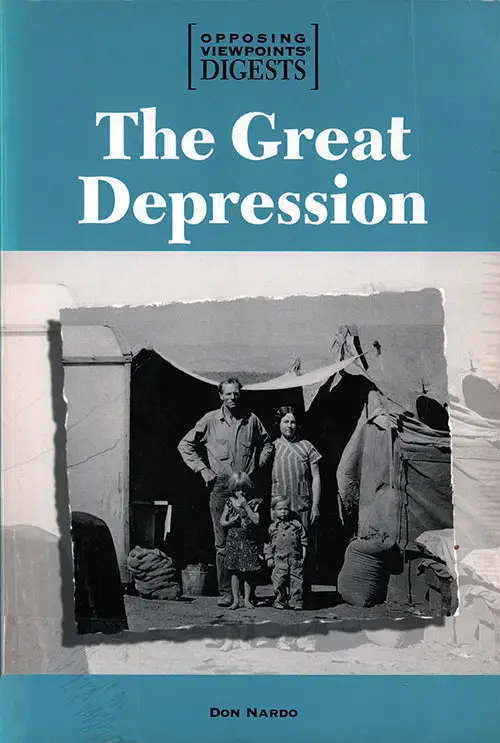 The Great Depression: Opposing Viewpoints Digests
Digests immerse students in contemporary discussions: Why did many colonists oppose a bill of rights? What was the original intent of the New Deal, and on what grounds was it criticized? These arguments provide a foundation for students to assess today's debates on censorship, welfare, and other issues.
For example, The Great Depression: Opposing Viewpoints Digests offers opposing arguments on controversial issues of the time and views and interpretations that interest modern historians. During Franklin D. Roosevelt's administration, a significant debate was whether the president's New Deal programs would lead to a permanent welfare state, creating a citizenry dependent on government money.
The Great Depression covers this issue from both historical and modern perspectives, allowing students to critically evaluate arguments both in the context of their time and through the benefit of historical hindsight.
The Opposing Viewpoints Digests series explores controversial issues in a pro/con format. Each book is written by a single author who uses dozens of primary and secondary source quotations to place each viewpoint in the context of its most prominent supporters and detractors.
Each book also includes source notes, discussion questions, bibliographies, a "facts about" section that presents statistical data, a list of relevant organizations, an appendix of primary source documents, and an index.
The Opposing Viewpoints Digests series features an objective some of the most important controversies of the past and present.
Don Nardo, The Great Depression: Opposing Viewpoints, San Diego: Greenhaven Press, Inc., 1998, ISBN 156510742X.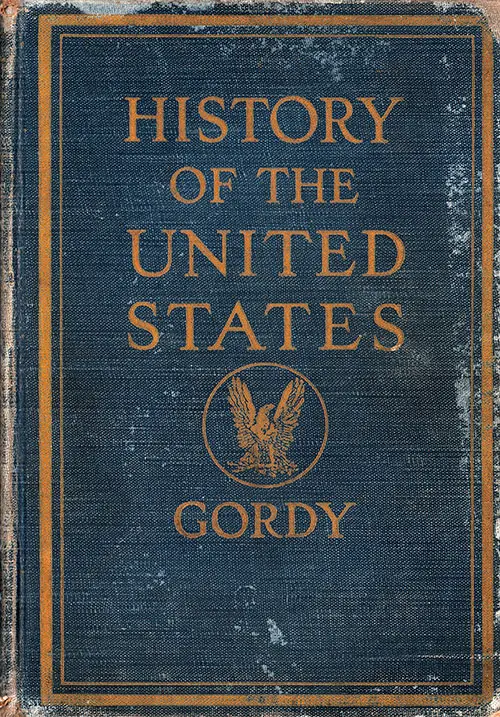 History of the United States
This book has two particular purposes. The first purpose is to help the boys and girls of our schools to discover America as it is today, in the first half of the twentieth century. This is a task of no small magnitude, for we have become great people. During recent decades stupendous changes have been wrought in our economic and political life and our national ideals and institutions.
To aid the pupil in his search for this new America, a special effort has been made to select and organize the events of the last fifty years in such a way that he may apprehend their full effect upon the nation as it has moved toward its present position as the most powerful country in the world.
The events are organized in logical groups or unities, and at the same time, their chronological sequence is in considerable measure preserved. This method of organization, which is followed throughout the book, is of the highest value not only in arousing interest and stimulating thought but also in clarifying the meaning of events in their causal relationships.
Prominence is given to the expansion of our people westward from the earliest settlements along the Atlantic coast to the farthest limits of the free public land. For we must recognize that this westward movement, continuously modifying our economic and political life and making the American type of character distinctive and even unique in the world, has been the most potent force in American life.
Wilber Fiske Gordy, History of the United States, New York: Charles Scribener's Sons, 1922.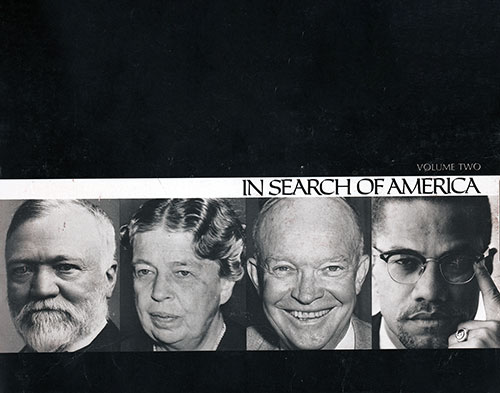 In Search of America: Volume Two - Community / National Identity / Democracy
In Search of America, Volume II is a book about important themes in American history:
The nature of social and political identity
The evolution of democratic political systems in an urban industrial society
The emergence of the American nation as a world power
The development of a mass-production economy
The continued growth of the ideal and practice of social equality
This book is intended, as a textbook, to serve as the core of an introductory college course in American history, but in most ways, it is unlike a conventional text. It uses source materials and interpretive readings much more than historical narratives. Its materials are arranged as problems.
It explores selected themes in depth rather than attempting comprehensive coverage. It concentrates as much on the formulating of ideas as on transmitting information. While the book can also be used effectively as an adjunct to a textbook or other core materials, its readings will prove most effective when discussed in class.
Each of the book's five chapters deals significantly with at least one or more of the selected themes of democracy, growth as a world power, urban-industrial expansion, and equality; chapter introductions suggest these points of emphasis. As defined in its introduction, each of the thirty-six topics in this volume constitutes a historical problem and is designed to be read as a single assignment.
The editors have prepared a separate Guide to Study, which the student will find valuable, especially in-class discussion. The guide provides study questions and exercises that help him analyze the historical problems inherent in the readings and sharpen other skills.
Since In Search of America has been planned to make it possible for students with varying abilities to deal effectively with the same set of historical problems, assignments in the guide suggest three reading options of different length and sophistication for each topic.
In search of America; community, national identity, democracy. Edited by David H. Fowler [and others]. New York, Dryden Press [1972], ISBN 0030741300 (v. 2) Dewey 973. 2 v. illus. 21 x 26 cm.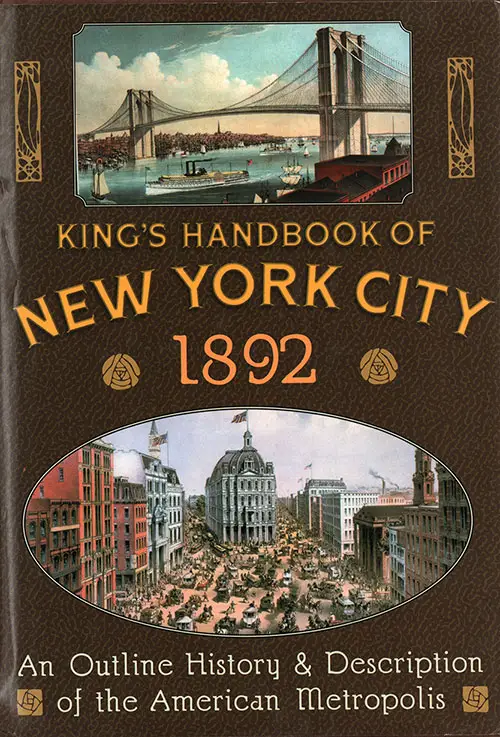 King's Handbook of New York City 1892: An Outline History & Description of the American Metropolis
Never before has anyone put forth an illustrated history and description of New York City in a single volume at all comparable with " King's Handbook." This volume contains precisely 928 pages, more than 850 illustrations, thirty chapters, and an index oí twenty pages with 60 columns, including over 4,600 items and about 20,000 references.
The text furnishes a detailed but condensed history and description of the city and every notable public institution and exciting feature. The illustrations give many fascinating reminders of the past and furnish an extensive series of pictures of the present city, many times beyond that of any volume yet published.
Every plate has been made expressly for this book, and so were nearly all of the original photographs. The whole has been carefully printed on an exceptionally fine quality of paper. Altogether, it is the most handsome, the most thorough, the largest, the most costly, and the most profusely illustrated book of its class ever issued for any city in the world. Moreover, at its retail price of One Dollar, it is the cheapest book of any class ever offered to the public.
The text has been prepared with the utmost care and is the result of the painstaking work of many individuals, chiefly of Moses Foster Sweetser, four chapters; Henri Péne du Bois, six chapters; William Henry Burbank, four chapters; Lyman Horace Weeks, seven chapters; Henry Edward Wallace, two chapters; John Collins Welch, two chapters; and one chapter each from Louis Berg and Charles Putnam Tower.
The manuscript has undergone a thorough revision at the hands of several thousand people, each of whom is an authority on the particular portion submitted to him. The book thus becomes an authentic volume. The text has been amplified, rectified, and verified by Mr. Sweetser, the foremost American in this particular field of literature.
Moses King, King's Handbook of New York City: An Outline History and Description of the American Metropolis, Boston: Moses King, 1892.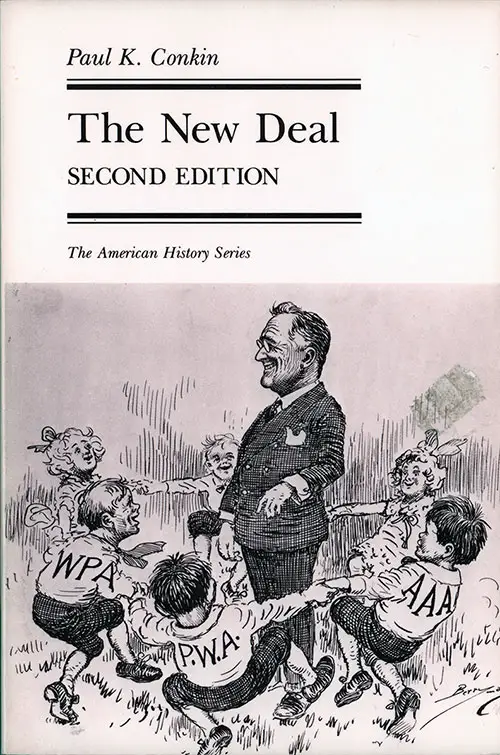 The New Deal
The New Deal was an exceedingly personal enterprise. Its disparate programs were unified only by the personality of Franklin D. Roosevelt. Every characterization, every evaluation of the governmental innovations from 1933 to 1938 terminates and often flounders in this personality.
Characterization is ever hazardous: least so of men who construct a coherent, articulate system of beliefs; most so of men who, like Roosevelt, operate within conventional, unarticulated premises and, in addition, retain a disarming simplicity.
Even in the best of circumstances, biography reflects the catalyzing influence of the biographer and thus usually reveals the often fascinating chemical compound of two interacting personalities.
Contents include a discussion of Roosevelt, the depression in America, the origins of a Welfare State, and the perils of depression era politics. By Paul K. Conkin. Second Edition. Paperback. 114pp. ISBN: 0-88295-722-8. DCN: 973.917. Publisher: Harlan Davidson, Inc., Arlington Heights, Illinois. © 1967, 1975. Part of The American History Series. List Price: US$4.17. Reprint. Originally published: 2nd ed. New York : Crowell, 1975. (Crowell American history series) "A note on New Deal historiography": p. 103-108. Includes index.
O Lutefisk: A Book of Pure Nostalgia
Life in the 1920s & 1930s:
Living Through the Depression Years
Coping With the Drought
Small Town Lifestyles and Pranks,
Author's Original Homespun Poems
Red Stangland, O Lutefisk: A Book of Pure Nostalgia, © 1989 Norse Press, Soux Falls, South Dakota, Soft Cover, 128 Pages, 0-9613274-1-3.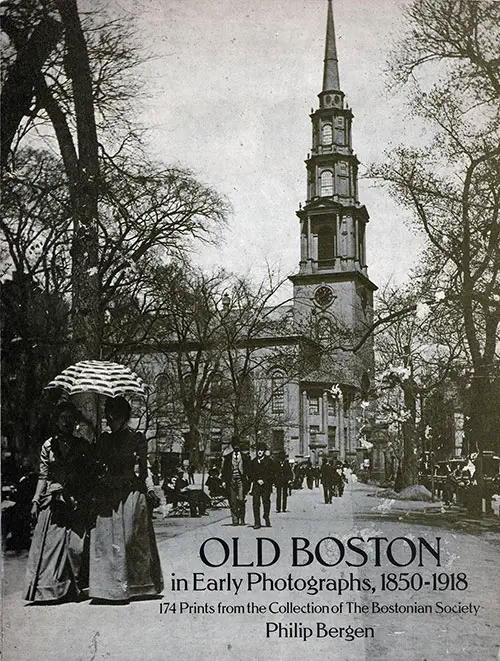 Old Boston in Early Photographs, 1850-1918
Spanning nearly 70 years, the vintage photographs in this rich collection preserve a bygone Boston, the oldest major American city, a cradle of the Revolution, and a locus of American literary and intellectual life.
While twentieth-century skyscrapers and urban renewal havê obliterated many of the city's prominent buildings and locales, this archive of rare prints restores them to our gaze, giving the modem viewer a real sense of life in the Boston of old.
The historical sites now constitute the Freedom Trail; downtown; the docks and the financial district; Retail Row and the waterfront; the South End, Back Bay, Beacon Hill, and more in both long shots and close-ups. Included are these nostalgic and revealing views:
An 1860 panorama of Boston from a balloon
Five views of the lost and much-lamented Scollay Square
India Wharf, ca. 1865
Boston Common in winter, ca. 1895
Back Bay, looking northeast from New Old South Church, ca. 1876
The U.S.S Constitution, Charlestown Navy Yard, ca. 1897
Panoramic view of the city after the Great Fire of 1872, with smoke still hanging over the ruins. 
Readers will also find early photographs of a host of other city landmarks: Old Corner Book Store, King's Chapel, Faneuil Hall, Quincy Market, Old South Meeting House, Hancock Tavern, Bunker Hill Monument, Paul Revere House, Howard Athenaeum, Public Garden and many others. Philip Bergen, Librarian of The Bostonian Society, has contributed an informative introduction to the volume and detailed captions that pinpoint the significance of each site.
Rare vintage views document oldest major American city: Boston Common, Faneuil Hall, Paul Revere's House, Back Bay, Scollay Square, India Wharf, Quincy Market, Public Garden, numerous other sites and locales, many no longer extant. An informative introduction and detailed captions along with a Map.
In the oldest of these pictures are people who could have remembered Washington as President, and children in the later ones could still be alive today. This sense of continuity and community adds a unique dimension of human interest to the prints, whose great detail, historical ambiance, and recreation of the city's past will intrigue Bostonians, tourists, historians, or any lover of vintage photography.
Original Dover (1989) publication in association with The Bostonian Society. 174 photographs. Introduction. Captions. 2 maps. 128pp. 8% * IIS. Paperbound.
Philip Bergen, Old Boston in Early Photographs, 1850-1918, © 1990 Dover Publications, Inc.., New York, Soft Cover, 116 Pages, 0-486-26184-0.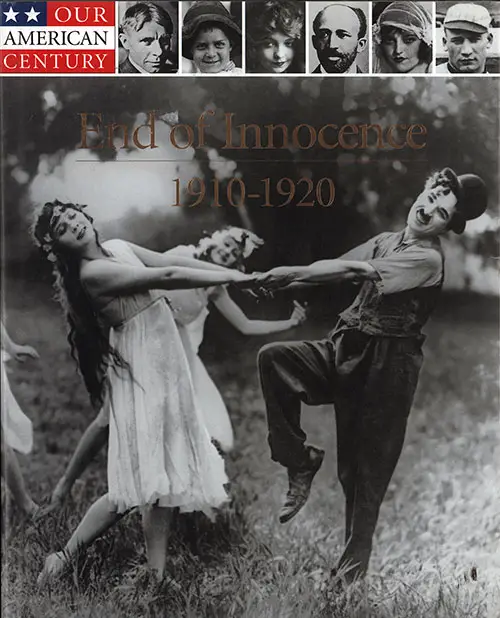 Our American Century: End of Innocence 1910-1920
Charlie Chaplin was just another $125-a- week comic actor with the Keystone Film Company when he was asked to find something humorous to wear for the 1914 movie Kid Auto Races at Venice.
The five-foot-four-inch actor borrowed a pair of trousers from fellow Keystone comedian Fatty Arbuckle, pulled on a too-small coat, put a pair of shoes on the wrong feet, and glued a mustache to his upper lip. Then he set a derby on his head, hooked a cane over his forearm, and stole the show.
The Little Tramp was born.
Three years later, movie audiences recognized the charismatic clown from coast to coast and worldwide, and Chaplin, an orphan who grew up in poverty in London, was Hollywood's biggest star and a millionaire.
End of Innocence tells his story—and those of the other movie queens and kings, inventors and innovators, radicals and dreamers for whom America in the years leading up to World War I was a sure bet for rags-to-
-riches success stories.
Take a ride with Henry Ford, whose Model T made him a billionaire even though it sold in 1916 for less than half of what it cost eight years earlier. Have a look at the first Saturday Evening Post (on sale for a nickel) to feature a cover by Norman Rockwell. And get to know Dolores, Marion Davies, and the other sequined beauties who made Florenz Ziegfeld's Follies the hottest ticket on Broadway.
March with the suffragists who won women the right to vote. Feel the shock of learning that four- and five-year-old children were toiling in our mills and factories. Or that the Titanic had sunk. Or that the White Sox had thrown the World Series. And go over there with the doughboys who fought to make the world safe for democracy.
The editors of Time-Life Books pulled out all the stops to make these stories come alive in End of Innocence. They combed through libraries and museums and consulted archives here and abroad. This book, filled with hundreds of photos and quotations, will take you back to those crucial years when Woodrow Wilson was president, "Alexander's Ragtime Band" was in the air, and America bade a final farewell to the 19th-century world and reluctantly confronted modern times.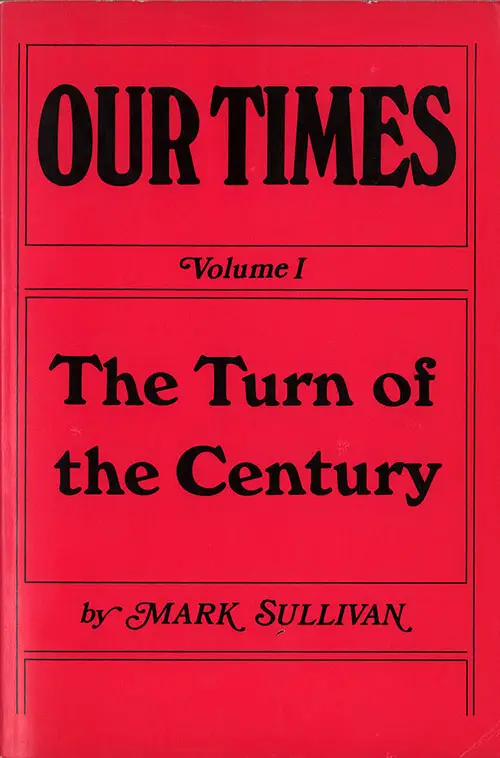 Our Times, Volume 1: The Turn of the Century 1900-1925
Mark Sullivan set out to write a new kind of American history. This history would delineate the culture of the people and show how the average man was affected by the everyday circumstances of his environment. Sullivan's interest in the average American is revealed in the first volume of The Turn of the Century series.
In the opening chapter, Sullivan tries to paint "a faithful and universal picture of the occupations and the interests, fads, and recreations of the American people, in all parts of the country, small town and big, as of the beginning of the century."
He does this by "stringing together" an illuminating selection of items from the American newspapers of January 1, 1900. The result is a vivid example of impressionistic recall and an ingenious way to begin a popular history.
Mark Sullivan, Our Times: The Turn of the Century, 1900-1925, Volume 1, New York, Charles Scribner's Sons, 1971, ISBN 684123541.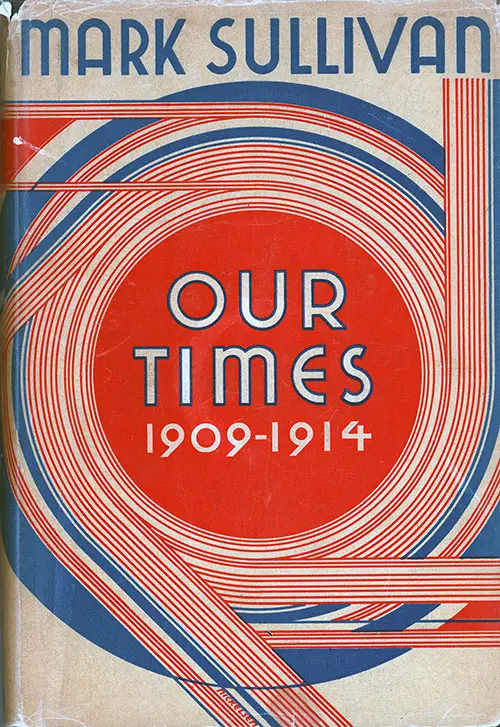 Our Times: The United States 1900-1925 Chapter IV - The War Begins 1909-1914
Mark Sullivan depicts, utilizing a gay and wise text and 250 priceless illustrations, the American people as they were in the last phase of their innocence, just before the war clouds broke in 1914, just before we became the dominant world power.
Here is the America that was torn into two by the split between Taft and Roosevelt, that listened to Elbert Hubbard and "Billy" Sunday, saw Halley's comet, laughed at Mrs. Pankhurst, told Ford jokes, and danced the "two-step," the "grizzly bear" and the "bunny hug." Here are the Americans who were so overwhelmingly shocked when the Titanic sank; and who were also surprised when Jack Johnson defeated Jim Jeffries when Upton Sinclair's "The Brass Check" and Edgar Lee Masters's "Spoon River Anthology" appeared.
Here is the America that witnessed the forced dissolution of the Standard Oil combine, Woodrow Wilson's election, and Lieutenant Becker's electrocution for the murder of Herman Rosenthal. Here are the Americans who went to see Lillian Russell, Hazel Dawn, and Pearl White, who saw the rise of advertising and mass production and Taylorism; to whom cubism was a European folly and "Uncle Joe" Cannon a kind of cigar-smoking Abraham Lincoln.
Mark Sullivan, Our Times: The United States 1900-1925 Chapter IV - The War Begins 1909-1914, New York-London: Charles Scribner's Sons, 1932.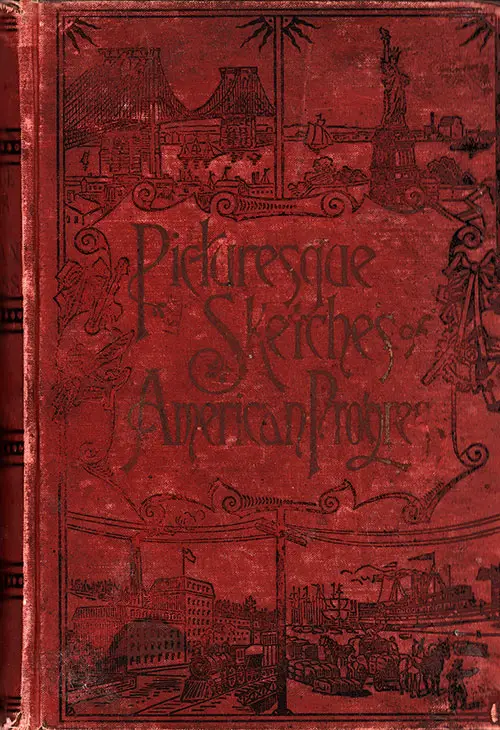 Picturesque Sketches of American Progress Comprising Official Descriptions of Great American Cities
How few realize that the State of Texas is larger than the German Empire or than Austro-Hungary, and that California is half as large again as Italy, or that Florida is larger than England and Wales.
On good authority, it has been stated that the whole quantity of cotton used in the world could be grown on 1,900 square miles or less than one-fourteenth of the State of Texas. Belgium has 482 inhabitants to the square mile, and Great Britain 290, while the United States, exclusive of Alaska, has less than 14.
Should the density of Great Britain ever be attained, there will be upwards of 1,000,000,000 Americans. The United States can hardly realize the remarkable progress made since 1880 in settlement of the new regions thrown open by railways completed since that date. The population of Dakota has quadrupled in five years, and its wheat crop last year was 30,000,000 bushels, twice as great as the whole crop of Egypt.
The growth of American cities seems no less astonishing than that of the States. New York has doubled its population half the time that London has doubled hers (35 years). At the same time, Great Britain and Ireland expend annually on education $33,500,000. The United States expended $93,000,000, which is more than spent by Continental Europe.
Already America makes one-fifth of the iron and one-fourth of the world's steel and is second only to Great Britain in steel. The cotton industries of this country are also increasing nearly three times as fast as those of the rest of the world. From 1860 to 1880, the consumption of cotton by our factories was increased by 140 per cent., while the consumption in Great Britain gained but 25 percent. So, too, the American woolen industry has increased since 1860 six times as fast as that of Great Britain; the consumption of wool by our mills in 1880 being 320,000,000 pounds, against 338,000,000 pounds in the United Kingdom.
This work is arranged in the best and most convenient manner. Each great event in the progress of our country is sketched separately and complete in itself. The reader can pick it up at any moment, read a sketch, and lay it down until a more convenient time.
The sketches of our great cities show their origin, development, and present importance; their great industries, manufacturing, and commercial achievements; their public institutions, the rapid growth of population, etc., enabling the reader to form a correct opinion of each great city, its natural and -acquired advantages, comparative growth, wealth, and characteristics.
The work will have a fascinating interest for all readers, young and old. It will be of inestimable value to every American and to those who would become familiar with the home of their adoption.
J. H. Beale, M.A., Picturesque Sketches of American Progress Comprising Official Descriptions of Great American Cities, New York: The Empire Cooperative Association, 1889.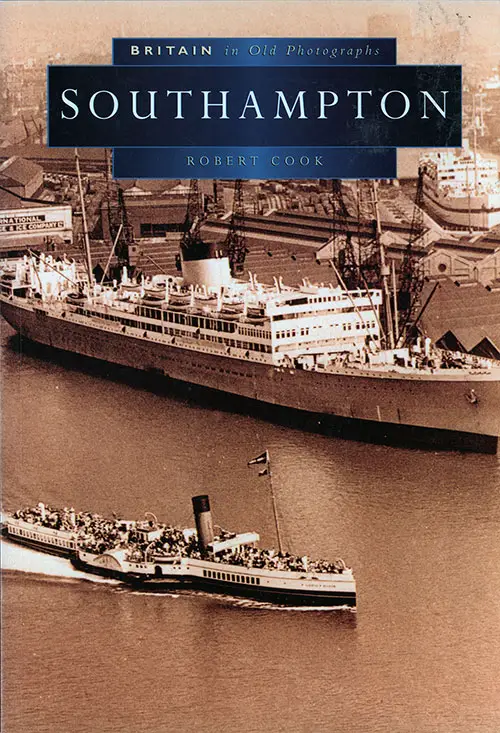 Southampton: Britain in Old Photographs
Once Southampton was a medieval borough and a thriving port. Now it is a glittering city, having risen like the proverbial phoenix from wartime ruins. Sadly the once-great liner traffic did not rise again with it.
Like the rest of Britain, Southampton had to find a new identity. This collection of photographs, enriched by Robert Cook's captions, charts the challenges and changes up to the present day and a world in which there are no easy answers.
Robert Cook, Southampton: Britain in Old Photographs, Gloucestershire UK: Sutton Publishing Ltd., 1996, ISBN 0750913150.