Camp Newspapers of World War I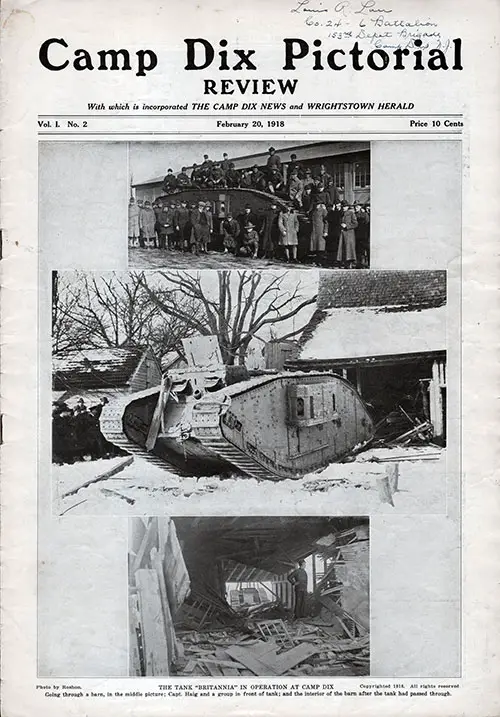 Example of a Camp Newspaper, The Camp Dix Pictorial Review from 20 February 1918. GGA Image ID # 17daf7fb2e
Trench and Camp circulated in thrity-two cantonments. It differed from other "regular" army papers in that it was not the child of any particular contingent, but of a government auxiliary - The Young Men's Christian Association.
It was printed at cities near the various camps, and was usually an eight-page affair. Under it general title of Trench and Camp is some such second title as "Topeka State Joural" edition for Camp Funston, Fort Riley, Kansas, or "The Battle Creek Enquirer," the Evening News edition for Camp Custer, Battle Creek, Michigan.
There was plenty of go to all the editions of Trench and Camp. Its various departments bear such headlines as "The Barrack Wheeze," "Shrapnel," "Over the Top," "Hand-Grenades," "Regimental Rough-Stough," "Artillery Rumblings," "Divisional Din," and "Calvary Clatter." Interspersed with serious articles on "American's Part in the War," and the like, are timely witticisms.
Among the most interesting of the papers published by separate units is the Camp Dodger, the official paper of the Eighty-Eight Division. This was printed at Camp Dodge, Iowa, and boasts that it was the "first National Army newspaper ever published."
In size, its pages are more longitudinous than those of any other army publication, even logner thatn those of the Stars and Stripes, and in addition it prints eight columns a page, to the seven of the the official newspaper of the A.E.F.
The make-up of the Camp Dodger was strikingly professional. The paper was printed with many good pictures and had a regular was and Washington correpsondece. The news of the the camp's life was told in detail, of course with poetry, a sporting page, and a theatrical department complete the list of the sheet's varieties.
Camp Dodger was the pert and apropos title chosen for the eight-page, eight-column newspaper published at Camp Dodge, Des Moines, Iowa. It was the official organ of the Eighty-eigth Division of the U.S.N.A. This compared very favorably with the best of the metropolitan papers and in some ways -- notably in composition, make-up and printing -- it even imporved on them.
Camp Dix Pictorial Review was a sixteen-page illustrated monthly of the 11x15 size, and it absorbed two other camp papers, Camp Dix News and Wrightstown Herald. This magazine was published on fine coated stock, used best of half-tones and was an edition de luxe.
Camp Devens Boston Globe
Camp Grant Chicago Daily News
Embarkation Camp Edition "Going Over" Published Mondays
Going Over, a weekly newspspaer publised for departing sodliers by the International War Work Council of the United States was distributed free to United States soldiers at embarkation camps.