Norwegian-American Studies, Volume 29 - 0877320683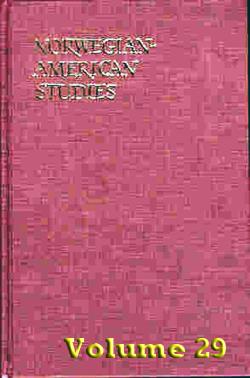 Norwegian-American Historical Association
Volume 29 in this series features articles on Emigration from Norway including: Emigration from the District of Sogn, Emigration from Sunnfjord to America Prior to 1885, Emigration from a Fjord District on Norway's West Coast, Emigration from Dovre, Emigration from Brønnøy and Vik in Helgeland and Emigration from Agder to America, 1890-1915.
Author:
Title: Norwegian-American Historical Association , Norwegian-American Studies, Volume 29
Edition:
Format: Hardcover
Pages: 401
ISBN: 0-87732-068-3
DCN:
Publisher: The Norwegian-American Historical Association
Location: Northfield, Minnesota
Pub. Date: © 1983
Language: English
Subjects:
Description:
Notes: Contains Index to Volumes 1-29
Size:
Dust Jacket: No
List Price:
Synopsis: Extracts from the archives of the Norwegian-American Historical Association relating to Immigration, Norwegians in America and Norwegian-Americans.
Table of Contents
Semmingsen, Ingrid. "Haugeans, Rappites, and the Emigration of 1825," 29:3
Svalestuen. Andres A. "Emigration from the Community of Tinn. 1837-1907: Demographic, Economic, and Social Background,'' 29:43
Simonson, Harold P. ''Angst on the Prairie: Reflections on Immigrants, Rølvaag, and Beret," 29:89
Sunde, Rasmus. "Emigration from the District of Sogn, 1839-1915," 29:111
Dvergsdal, Leiv H. "Emigration from Sunnfjord to America Prior to 1885," 29:127
Anderson, Odin W. "The Lynching of Hans Jakob Olson, 1889: The Story of a Norwegian-American Crime," 29:159
Standal, Ragnar. ''Emigration from a Fjord District on Norway's West Coast, 1852-1915," 29:185
Engen, Arnfinn. "Emigration from Dovre, 1865-1914," 29:210
Arestad, Sverre (ed.), "Sigbjørn Obstfelder and America: Sigbjørn Obstfelder's America Letters to his Brother Herman," 29:253
Skaaren, Kjell Erik. ''Emigration from Brønnøy and Vik in Helgeland," 29:293
Ordahl, Sverre. ''Emigration from Agder to America, 1890-1915," 29: 313
Weinstock, John. ''Sondre Norheim: Folk Hero to Immigrant,'' 29:339
Clausen, C. A. (ed. and tr.), "Some Recent Publications," 29:359