Theodore C. Blegen: A Memoir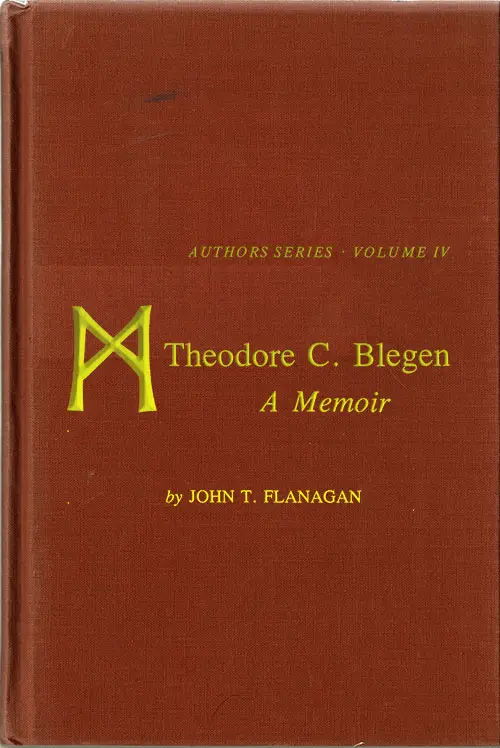 Author: John T. Flanagan
Title: Theodore C. Blegen: A Memoir
Edition: Volume IV, Authors Series of the Norwegian-American Historical Association
Format: Hardcover
Pages: 181
ISBN:
DCN: 973'.072024-b19
Publisher: The Norwegian-American Historical Association
Location: Northfield, Minnesota
Pub. Date: © 1977
Language: English
Subjects:
Description:
Notes:
Size:
Dust Jacket: No
List Price:
Synopsis: Theodore Blegen was a man of letters -- an essayist and critic and historian, who on occasion dabbled in verse and produced a weekly family newsletter for a quarter of a century.  Theodore Blegen did many tasks well and exulted in his own achievements. But whether he was involved in the promotion of a state historical society, in jurisdictional squabbles, in educational theories, in the ferreting out of documentary records, or in solving an enigma which for decades had puzzled runologists and linguists, he was primarily a writer.
Blegen was head of the history department at Hamline University, superintendent of the Minnesota Historical Society, editor of Minnesota History, managing editor of the Norwegian-American Historical Association, and dean of the University of Minnesota graduate school.
Library of Congress Catalog Listing
LC control no.:
78104132
Type of material:
Book (Print, Microform, Electronic, etc.)
Personal name:
Flanagan, John Theodore, 1906-
Main title:
Theodore C. Blegen, a memoir / by John T. Flanagan.
Published/Created:
Northfield, Minn. : Norwegian-American Historical Association, 1977.
Description:
ix, 181 p. : port.; 24 cm.
Notes:
Includes bibliographical references and index.
"Books written or edited by Theodore C. Blegen": p. 175-176.
Subjects:
Blegen, Theodore Christian, 1891-1969.
Historians --United States --Biography.
Series:
Authors series; v. 4
Authors series (Norwegian-American Historical Association); v. 4.
LC classification:
E175.5.B57 F56
Dewey class no.:
973/.072024 B