An Eager Child: Growing Up In Norway - 2012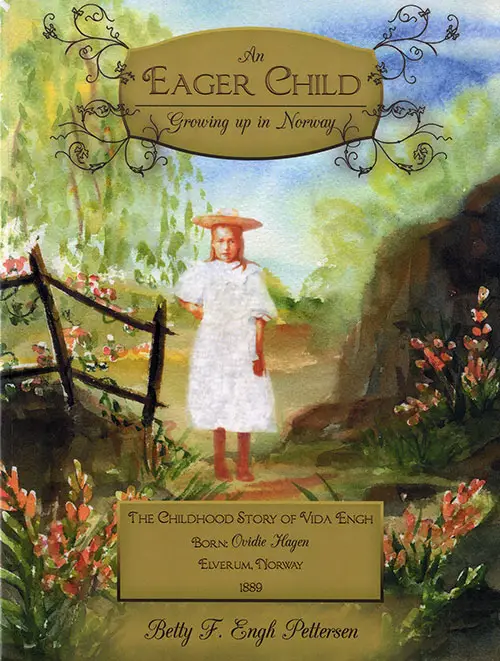 Pettersen, Betty F. Engh, An Eager Child: Growing Up In Norway -- The Childhood Story of Vida Engh Born: Ovidie Hagen in Elverum, Norway, 1889, Illustrated by Elva Hurst. WestBow Press: Bloomington, IN (2012). 85 pages, soft cover. Signed by Author.
Mother lived in the glow of her Life Celebration, periodically reviewing her Memoir, for another year, until passing to her heavenly home exactly on her 101st birthday June 14, 1990.
Vida Engh about whom this book is written lived simply, but with purpose.
Her childhood story of growing up in Norway is, therefore, intentionally set forth as she lived 'simply, but with purpose'.
Recording the facts of a family's past is not only fascinating, it is fraught with opportunity for being amazed about the how of what unfolded in the lives of those before us has, in truth, not only brought us to where we are now, but may still represent an ever-present generic influence. So, for reflection comes this storybook written with a passionate "Takk for alt!" and as a tribute to a strongly rooted and well-grounded Norwegian immigrant mother.
Betty F. Engh Pettersen, Daughter Spring 2012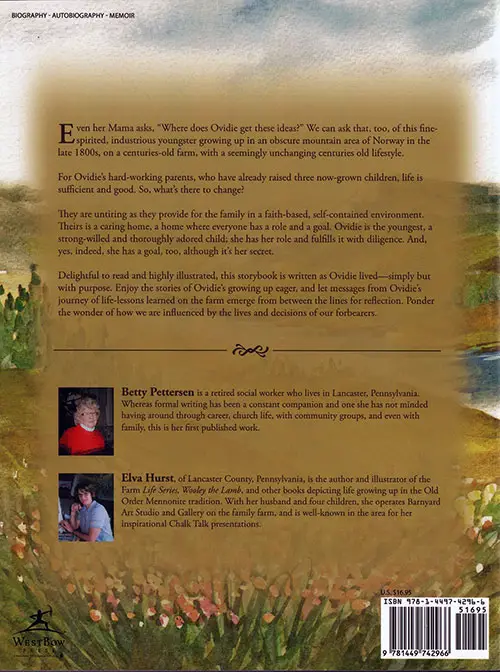 FORWARD
Celebrating Life
We knew to expect a host of people to be with us for the Open House in celebration of our mother's 100th birthday. They came- family from afar, friends from everywhere, church folk, co-workers, neighbors, even members from the Sons of Norway Lodge, some with accordions to sing and play throughout the afternoon; and what's a gala event without reporters with cameras showing up! Here was a celebration of our past and present unfolding like a pageant before us!
We were overcome with gratitude to God and guests for this response and for the blessings of our life-journey represented by each person's presence.
The original version of Memoir Ovidie. The Childhood Story of Vida Engh. Born Ovidie Hagen. Elverum. Norway. June 14. 1889 printed in booklet form and presented to all who came, was well received. Many found places indoors and outdoors to peruse, read and respond to the little book that provided a story line of our mother's courageous goal-directed journey to this point of celebration.
CONTENTS
Preface Forward Country House Family
Family And Farm Names
New Baby Girl
Learning To Bake
Skis for Ovidie
Morning—Den Nye Dagen
Bows and Collars and Sunday Clothes
Mama's Mission
Papa's Work
Dressmaker
Secret Shared
Shoemakers shoes
School
Bjarne's Accordian Mama sews on Sunday
Up to the Hytte To the little Sommer Hoset (Summer House)
Sverre's Accordian Now
Confirmation
Julekake—Traditional Christmas Bread
Christmas
Aksel's Plan
Changes
Mama's Cow
Mama is ready
Leaving Home
Afterward