The Spell of Norway - Will S. Monroe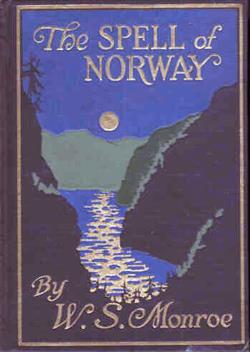 Will S. Monroe, The Spell of Norway, © 1908, 1923 L.C. Page & Company, Inc., Boston, Hardcover, 332 Pages.
Publishers Note:
This book was originally published under the title, "In Viking Land," and under that title has been recognized not only as a concise and authoritative account of the history and people of Norway, but as a book fascinating in style and unusual in charm and appeal.
It is for this reason that, in issuing this new edition in response to public demand, the publishers and selected the more appropriate title, "The Spell of Norway," and included the book in the popular Spell Series of books of travel and description.
Library of Congress Catalog Listing
LC control no.:
24003008
Type of material:
Book (Print, Microform, Electronic, etc.)
Personal name:
Monroe, W. S. (Will Seymour), 1863-1939.
Main title:
The spell of Norway, by Will S. Monroe
Published/Created:
Boston, L. C. Page & company (incl.) 1923
Description:
xxiv, 332 p. col. front., plates (2 col.) ports., fold. map 21 cm.
Notes:
Illustrated lining papers.
Frontispiece and colored plates accompanied by guard sheets with descriptive letterpress.
"This book was originally published [in 1908] under the title 'In viking land'."
Bibliography: p.3l4-3l5.
Subjects:
Norway --Description and travel.
Norway --History.
Series:
The spell series.
LC classification:
DL418 .M75
Other system no.:
(OCoLC)3610763
Quality code:
premarc