Norwegian Wood: A Tradition of Building - 0847809552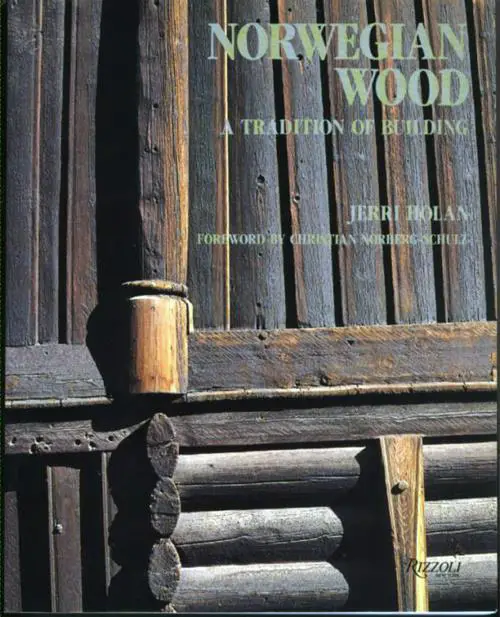 Jerri Holan, Norwegian Wood: A Tradition of Building, © 1990, Rizzoli International Publications, Inc., New York, Soft cover, 208 Pages, 0-8478-0955-2, 721'.0448'09485. 
Norway belongs to a Nordic "wood culture," in contrast to the "stone cultres" of Mediterranean countries. In the North, we have since time immemorial grown up surround by wooden walls, we have as children played on wooden floors, and we have known the exciting mystery of the forest.
In the "rose-painted" Norwegian stue (dwelling house), the summer survived through the winter, and snow and cold became part of the total world of outside and inside, memory and expectation. We could also say that the build establishes and expresses a friendship between man and his environment.
This friendship determined structures that were in tune with nature and place, in contrast to the ruthless exploitation of the natural resources of modern times. What was produced, thus, became profoundly meaningful,; it was the fruit of the land and expressed man's toil. As the "treasury" of the farm, the articulate and ornate façade of the Norwegian loft (storehouse) particularly well illustrates this deeper meaning of "Norwegian wood."
Contents: 
Site - Farms, Churches
Buildings - Farms, Churches
Details - Log Detailing, Stave Detailing
Library of Congress Catalog Listing
LC control no.:
88004692
Type of material:
Book (Print, Microform, Electronic, etc.)
Personal name:
Holan, Jerri.
Main title:
Norwegian wood : a tradition of building / Jerri Holan; foreword by Christian Norberg-Schulz.
Published/Created:
New York : Rizzoli, 1990.
Description:
208 p. : ill. (some col.); 26 cm.
ISBN:
0847809544 : $40.00
0847809552 (pbk.) : $25.00
Notes:
Includes bibliographical references (p. 204-206) and index.
Subjects:
Building, Wooden --Norway.
Architecture --Norway.
LC classification:
NA1261 .H65 1989
Dewey class no.:
721/.0448/09485
Geographic area code:
e-no---