Living in Norway - Sølvi Dos Santos - 2080135457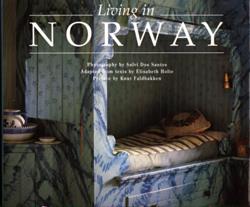 Sølvi Dos Santos, Photographer, Living in Norway, Adapted from texts by Elisabeth Holte, © 1993 Flammarion, Paris, Hardcover, 232 Pages, 2-08013-545-7. 
From the Publisher
Life in Norway, based on tradition and simplicity, on quality and authenticity, parallels today's trends. Ecologically conscious, Norwegians are experts at living off the land's bounty and are envied by many other European countries. Increasingly numerous visitors travel north, and most of them choose Norway as their destination.
Nature is so powerful here that it dictates the Norwegian way of life. This is why Sølvi Dos Santos and Elisabeth Holte have chosen the rhythm of the seasons to reveal the country's diversity and richness. We are invited into Norwegian homes at the most pleasant time of year and we discover the charming hotels, traditional restaurants, and delightful house-museums that are all listed in the Visitor's Guide at the end of this book.
In the winter, residents unite in the warmth of farms located in the grand valleys at the interior of the country, which reveal the splendor of their rose-painting decorations, their traditional built-in beds, and their large ballrooms. Spring is celebrated all along the breath-taking western fjords covered with blossoming fruit trees and in white-painted manor houses.
In summertime, Norwegians spread out to the southern coasts with their small houses built just next to the water's edge, or travel to the north of the Arctic Circle where the Midnight Sun lights up continuous outdoor life. Autumn brings Norwegians back to hunting pavilions nestled deep within the forests to the fireside, and to wild berry collecting.
Edvard Grieg's voice mixes with those of Henrik Ibsen, Edvard Munch, Knut Hamsen, Sigrid Undset, Tarjei Vesaas, and Liv Ullmann to affirm the Norwegian's deep love for their homes and their regions.
As Knut Faldbakken explains in his preface: "The art of that people, our original traditions, have always existed side by side with more sophisticated currents, demanded their due respect and flaunted their quality with a vitality and a self-awareness which is still found today in the countless villages and hamlets tucked away in remote corners of our country."
These representatives of Norway's distinctive culture invite you to discover a fascinating country, considered to be the best kept secret in Europe. Stunning color photography and lively, insightful texts capture the real essence of this beautiful country.
In this huge country of contrast and change, Norwegians bring the intimate lifestyle of their comfortable homes into harmony with Nature's majestic grandiosity in a natural and unpretentiously graceful way. For them, nothing counts as much as life in the fresh air and the warmth of their homes, the passage from one to the other constituting an exceptional lifestyle that this book invites you to discover.
This is a lifestyle marked by a love for natural materials, by the genius of Viking carpenters, and by a powerful tradition that can be brilliantly allied with the contemporary. Colour reveals and illuminates the smallest decorative elements, it literally bursts from walls, furniture, panelling and objects, all of which are harmonized or contrasted with particular aesthetic talent in the houses presented to us here...
Grieg's and Munch's houses, Lofoten island's fisherman's cabins, and hunting pavilions--stopping places for royal families--homes of the descendants of great explorers, artisan's homes, and the country inns hidden deep in the valleys.
These remarkable houses share a magnificent folk art tradition that distinguishes them from those of their Scandinavian neighbours. Living in Norway offers a privileged journey throughout this unique country.
Two extremely talented Norwegians will be your guides: thanks to them, the visitor will no longer feel like a tourist, but like a native, and will discover with amazement the beauty and exoticism of this little-known country.

Contents: 
Northern Lights
Winter
Spring
Summer
Autumn
Visitor's Guide.
Book Series Description
The Living in... series takes you on an armchair visit of the houses, gardens, museums and palaces of the world's most beautiful countries and cities. From Norway to Istanbul, from Portugal to London, discover the neglected treasures and hidden delights of regions which still harbor secrets to enchant even the most world-weary traveler. And for those inspired to visit, each volume includes an exclusive traveler's guide.
About the Authors
Sølvi Dos Santos conceived this book and is also responsible for its splendid photography. Born in Oslo, she lived in most of Norway's different regions before moving to Paris. A photographer specializing in interior design, she has contributed to such prestigious magazines as Vogue Decoration, House & Garden, Architectural Digest, and Schoner Wohnen.
In her remarkable photographs, taken especially for this book during different seasons over a two-year period, the country's extraordinary lights and colours, its transparent air and limpid waters, burst from the page. These photographs also highlight the decors and furnishings of daily life.
Elisabeth Holte has been the diplomatic correspondant for the important Norwegian newspaper Aftenposten since 1970. She was the permanent correspondant for this newspaper for several years in New York and Paris, and has covered many stories in eastern and western Europe, Africa, the United States, and South America.
She is currently a permanent correspondant for the Aftenposten in Stockholm, covering Sweden, Finland, and the Baltic countries. She has also contributed to prestigious interior design magazines such as Vogue Decoration and Architectural Digest.
Library of Congress Catalog Listing
LC control no.:
2008530254
Type of material:
Book (Print, Microform, Electronic, etc.)
Personal name:
Santos, Sølvi¸lvi Dos.
Main title:
Living in Norway / photography by Sølvi Dos Santos; adapted from texts by Elisabeth Holte; preface by Knut Faldbakken.
Published/Created:
Paris : Flammarion, c1993.
Related names:
Holte, Elisabeth.
Description:
232 p. : ill. (some col.); 26 cm.
ISBN-10:
2080135457
ISBN-13:
978-2080135452
Notes:
Includes bibliographical references (p. 229) and index.
Subjects:
Norway --Social life and customs --Pictorial works.
Norway --Social life and customs.
Norway --Description and travel.
LC classification:
DL431 .S28 1993
Dewey class no.:
914.81
Other system no.:
(OCoLC)ocm28480479
Geographic area code:
e-no---
Quality code:
lccopycat