Chamonix to Lillehammer: The Glory of the Olympic Winter Games

- 1994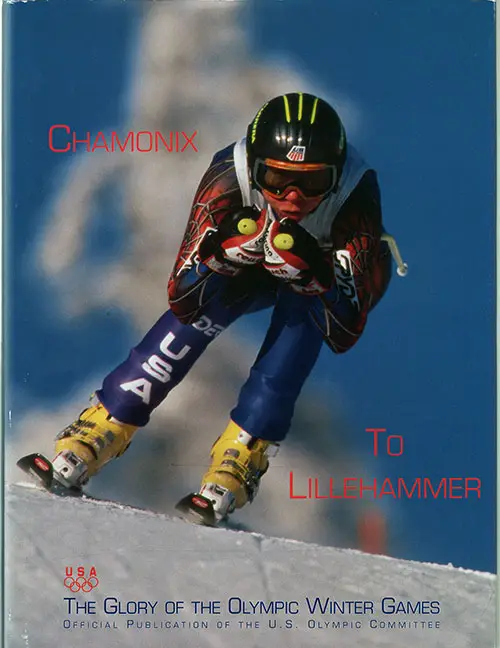 U.S. Olympic Committee, Chamonix to Lillehammer: The Glory of the Olympic Winter Games, © 1994 U.S. Olympic Committee, Published by Mikko Laitinen Commemorative Publications, Salt Lake City, Utah, Hardcover, 256 Pages, ISBN-10: 0-918883-06-7; ISBN-13: 978-0918883063
Contents: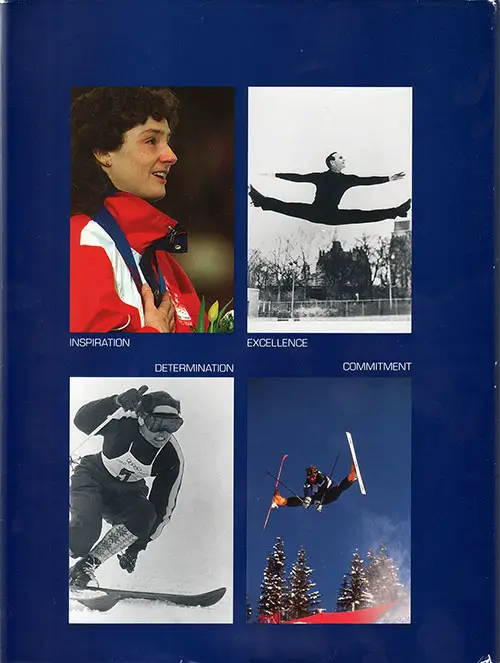 Lillehammer Games

ALPINE SKIING
BIATHLON
BOBSLED
FIGURE SKATING
FREESTYLE SKIING
ICE HOCKEY
LUGE
NORDIC SKIING
SPEED SKATING

Other Olympic Winter Games

Chamonix. .. Lords of Winter Reign
ST. Moritz. .. Weather Permitting
Lake Placid...Sporting Relief
Garmisch-Partenkirchen. .. Adolf's Spectacle
132 St. Moritz...Upstaged by the Old Guard
Oslo...Home Sweet Home
Cortina d'Ampezzo.. Guess Who's Coming to Italy
150 Squaw Valley. . .The Proletarian Games
Innsbruck.. .The Computer Games
Grenoble...The Italian Invasion
Sapporo. .. A Bow to Amateurs
Innsbruck...Ups and Downs
Lake Placid...God Bless America
Sarajevo. .. Faded Memories
Calgary. .. living on Chinook Time
Albertville. .. Middle Age Spread

Results
Index
Bibliography
U.S. Olympic Committee Report
Greetings from U.S. Olympic Committee
The United States Olympic Committee salutes the outstanding performance of our U.S. athletes at the 1994 Olympic Winter Games in Norway. The 1994 U.S. Olympic Team won six gold medals and 13 medals overall, the finest showing ever by the USA in the Olympic Winter Games. As we strive to be the best in every phase of Olympic competition, the USOC pledges its continued support to U.S. athletes and delegation members.
The '94 Games, which were the most widely watched Olympics (winter or summer) in history, generated numerous stories and Olympic memories that reached millions of Americans daily. With this type of support and interest from the American public, the U.S. Olympic Movement's future looks bright.
As we focus on the 1996 Centennial Olympic Games in Atlanta, we encourage the participation of all Americans, who strive to live the Olympic Dream. This is the reason we need to emphasize the importance of a quality education and the pursuit of excellence for the next generation of young inspired athletes, who will representthe U.S. in future international competitions.
With continued support and generosity from more than one million Americans throughout the country, we hope to enhance the U.S. Olympic Movement and show the world that the Olympic spirit is alive in our minds and hearts.
As the president of the United States Olympic Committee, I wish future and past Olympians all the success life has to offer and may they always remember to keep the torch burning in the true spirit of Olympic competition.
Sincerely,

LeRoy T. Walker President
United States Olympic Committee
A stretch of the imagination can take one to far-away places: American ski jumper Jim Holland in pursuit of the Olympic Dream in Lillehammer, iallsport / bilowi