Colonel Heg and His Boys: A Norwegian Regiment in the American Civil War - 0877320918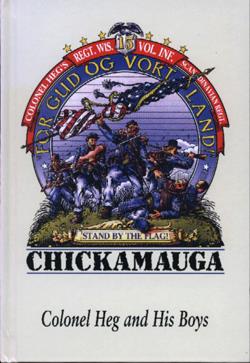 Ager, Waldemar, Colonel Heg and His Boys: A Norwegian Regiment in the American Civil War. © 2000 Norwegian-American Historical Association, Hardcover, 262 Pages, 0-87732-091-8.  Translated by Della Kittleson Catuna and Clarence A. Clausen with an introduction by Harry T. Cleven.  Includes list of Officers and Men in the 15th Wisconsin Volunteer Regiment commanded by Col. Oberst Hans C. Heg. Originally published 1916
Synopsis
A Chronicle of the experiences of the 15th Wisconsin Regiment -- where nearly everyone was a recent Norwegian Immigrant to Wisconsin. The book is a primarily a collection of letters written by the soldiers to their loved ones back home in Wisconsin. Their outlook on life could be summed up using common "Scandi-hoovian" saying of 'It Could Be Worse."
Table of Contents
The Norwegian Regiment in the American Civil War
by Waldemar Ager
Observations from the Civil War
by Ben (Bersven) Nelson
The Norwegian Regiment at Chickamauga
by Waldemar Ager
Letters Written at the Front
From Morten J. Nordre's Diary
Letters from Colonel Heg and Others
Andersonville and Other Southern Prisons
An address by Ole Steensland
The Battle of Murfreesboro or Stone's River
by Waldemar Ager
The Battle of Chattanooga
by Waldemar Ager
Losses in the Norwegian Regiment in the Civil War
by Waldemar Ager
Incidental Observations
by Waldemar Ager
Additional Letters
Colonel Hans C. Heg
by Waldemar Ager
Colonel Ole C. Johnson
by Waldemar Ager
The Last Reunion
by Waldemar Ager
Hospital Memories
by "a Veteran"
Crossing the Tennessee River
by Waldemar Ager
A Poem about "The Fifteenth"
Library of Congress Catalog Listing
LC control no.:
2002276916
Type of material:
Book (Print, Microform, Electronic, etc.)
Personal name:
Ager, Waldemar, 1869-1941.
Uniform title:
Oberst Heg og hans gutter. English
Main title:
Colonel Heg and his boys : a Norwegian regiment in the American Civil War / by Waldemar Ager; translated by Della Kittleson Catuna and Clarence A. Clausen; with an introduction by Harry T. Cleven.
Published/Created:
Northfield, Minn. : Norwegian-American Historical Association, 2000.
Related names:
Norwegian-American Historical Association.
Description:
xxi, 262 p. : ill.; 24 cm.
ISBN-10:
0877320918
ISBN-13:
978-0877320913
Contents:
Machine generated contents note: The Norwegian Regiment in the American Civil War -- by Waldemar Ager 3 -- Observations from the Civil War -- by Ben (Bersven) Nelson 11 -- The Norwegian Regiment at Chickamauga -- by Waldemar Ager 54 -- Letters Written at the Front 63 -- From Morten J. Nordre's Diary 136 -- Letters from Colonel Heg and Others 142 -- Andersonville and Other Southern Prisons -- An address by Ole Steensland 147 -- The Battle of Murfreesboro or Stone's River -- by Waldemar Ager 158 -- The Battle of Chattanooga -- by Waldemar Ager 176 -- Losses in the Norwegian Regiment in the Civil War -- by Waldemar Ager 179 -- Incidental Observations -- by Waldemar Ager 184 -- Additional Letters 191 -- Colonel Hans C. Heg -- by Waldemar Ager 199 -- Colonel Ole C. Johnson -- by Waldemar Ager 205 -- The Last Reunion -- by Waldemar Ager 207 -- Hospital Memories -- by "a Veteran" 210 -- Crossing the Tennessee River -- by Waldemar Ager 211 -- A Poem about "The Fifteenth" 213.
Notes:
Includes complete list of soldiers, but the bibliography in the original edition has been omitted.
Includes index.
Subjects:
Heg, Hans Christian, 1829-1863.
United States. Army. Wisconsin Infantry Regiment, 15th (1862-1865)
Norwegian Americans --Biography.
Soldiers --Wisconsin --Biography.
Wisconsin --History --Civil War, 1861-1865 --Regimental histories.
United States --History --Civil War, 1861-1865 --Regimental histories.
United States --History --Civil War, 1861-1865 --Participation, Norwegian American.
United States --History --Civil War, 1861-1865 --Personal narratives.
Series:
Travel and description series; v. 13
Publications of the Norwegian-American Historical Association. Travel and description series; v. 13.
LC classification:
E537.5 15th .A3513 2000
Language code:
eng nor
Other system no.:
(DLC) 2002276916
(DLC)3216
(OCoLC)ocm45834365
Geographic area code:
n-us--- n-us-wi
Quality code:
lccopycat