All Hands Magazine - Battle Wagon - October 1967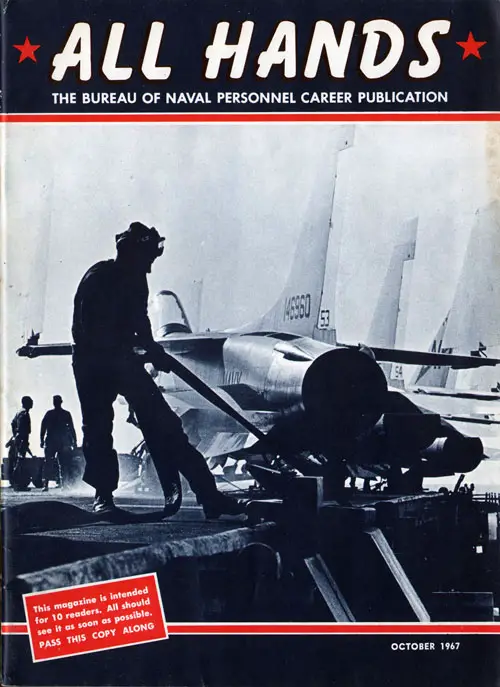 ALL HANDS: THE BUREAU OF NAVAL PERSONNEL CAREER PUBLICATION
OCTOBER 1967 Nav-Pers-O NUMBER 609
VICE ADMIRAL BENEDICT J. SEMMES, Jr., USN
The Chief of Naval Personnel
REAR ADMIRAL BERNARD M. STREAN, USN
The Deputy Chief of Naval Personnel
CAPTAIN JAMES G. ANDREWS, USN
Assistant Chief for Morale Services
TABLE OF CONTENTS
Features
Our Number One Mover: The MSTS Story 2
Here's MTMTS—Managing Traffic from Coast to Coast 4
A Historic Ceremony: Shipping Over 8
Battle Wagon: A new Chapter 10
UDT Meets UOU 13
Small Ships, Big Men . . . Reservists on Minesweepers 14
You Don't See Many Like the AHLC Twins 16
'Intercept Hot Cargo Below Chu Lai' 18
Riding a Dragon is Never Dull 20
Gaeta Welcomes Sixth Fleet 22
All-Navy Cartoon Kings 24
Tops in Navy Sports—All-Navy and Regional Champs 26
Building a Church 34
Award to Chaplains 35
Centerspread 32
Federal Benefits Based on Type of Discharge
Bulletin Board
Here's Opportunity for HANDScers Who Want to Specialize 36
On the Subject of Junior Officer Retention 37
A Look at an In-Port Liberty Program, Columbus Style 43
Special Report: Publications Available at GPO 44
Want to Know Something About Anything? Try Here
Departments
Today's Navy 52
Letters to the Editor 58
Taffrail Talk 64
John A. Oudine, Editor
Associate Editors
G. Vern Blasdell, News
Don Addor, Layout & Art
Ann Hanabury, Research
Gerald Wolff, Reserve
FRONT COVER: BIRDMAN—A covey of F-B Crusaders lines the flight deck of USS Bon Homme Richard (CVA 31) as a crewman fuels one of the aircraft before an airstrike when the carrier was on station in the South China Sea.—Photo by Robert D. Moeser, JOC, USN.
INSIDE FRONT COVER: THROUGH THE SURF—Navy Boatswain's Mate Third Class Richard A. Williams, a member of UDT wades through the surf while making beach reconnaissance of enemy area in Vietnam.—Photo by J. Means, PH1, USN.
CREDIT: All photographs published in ALL HMOS Magazine are official Department of Defense photos unless otherwise designated.
ALL HANDS The Bureau of Naval Personnel Career Publication, is published monthly by the Bureau of Naval Personnel for the information and interest of the naval service as a whole. Issuance of this publication approved in accordance with Department of the Navy Publications and Printing Regulations, NAVEXOS P-35.
Opinions expressed are not necessarily those of the Navy Department. Reference to regulations, orders and directives is for information only and does not by publication herein constitute authority for action. All original material may be reprinted as desired if proper credit is given ALL HANDS. Original articles and information of general interest may be forwarded addressed to the Editor, ALL HANDS, Pers 015, BuPers, Navy Department, Washington, D.C. 20370 (see page 64).
DISTRIBUTION: By Section B-3203 of the Bureau of Naval Personnel Manual, the Bureau directs that appropriate steps be taken to insure distribution on the basis of one copy for each 10 officers and enlisted personnel.
The Bureau invites requests for additional copies as necessary to comply with the basic directives.
The Bureau should be kept informed of changes in the number of copies required.
The Bureau should also be advised if the full number of copies is not received regularly.
Normally copies for Navy activities are distributed only to those on the Standard Navy Distribution List in the expectation that such activities will make further distribution as necessary; where special circumstances warrant sending direct to sub-activities the Bureau should be informed.
Distribution to Marine Corps personnel is effected by the Commandant U.S. Marine Corps. Requests from Marine Activities should be addressed to the Commandant.
PERSONAL COPIES: This magazine is for sale by Superintendent of Documents, U.S. Government Printing Office, Washington, D.C. 20402. The rate for ALL HANDS is 25 cents per copy; subscription price $2.50 a year, domestic (including FPO and APO address for overseas mail); $3.50 foreign. Remittances should be made to the Superintendent of Documents. Subscriptions are accepted for one, two or three years.