All Hands Magazine - First Line - July 1947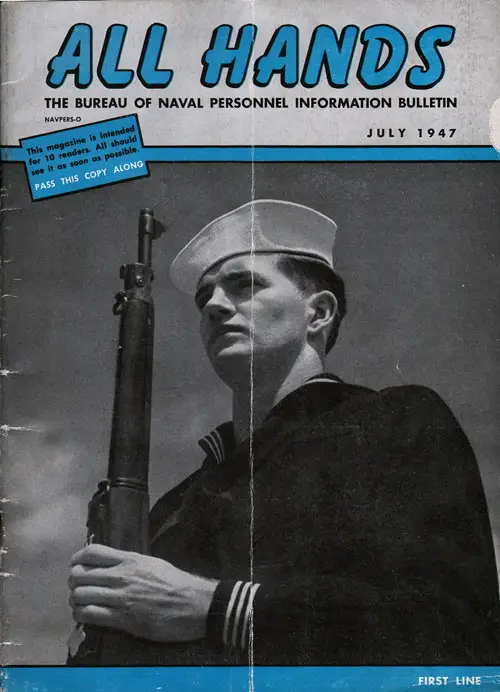 THE BUREAU OF NAVAL PERSONNEL INFORMATION BULLETIN
JULY 1947 NAVPERS-O NUMBER 365
REAR ADMIRAL THOMAS L. SPRAGUE, USN
The Chief of Naval Personnel
REAR ADMIRAL JOHN W. ROPER, USN
The Deputy Chief of Naval Personnel
TABLE OF CONTENTS
All Eyes on Sports 2
All-Navy Sports Summary 7
The Word 8
Legislative Roundup 9
The Navy Looks Ahead 10
Scope Schools 13
Sub Savvy 14
Salute to Progress 15
Books: Sports and Adventure 18
High Speed Lifesaving 19
Speedy, Scrappy Tin Cans 23
Special Section:

Decorations Regulations 27
Wearing of Decorations 34
Table of Decorations 37

Letters to the Editor 38
Canned Planes 41
Bulletin Board:

GI Benefits for Regulars 42
NSLI Policies Discussed 44
Defense, Victory Medals Issued 48
Survey of All Hands Readers 49
Naval Justice Legislation 50
New Discharge Certificates 52
Seabee Projects Listed 55

Alnavs, NavActs in Brief 57
Decorations and Citations 58
Fantail Forum 64
FRONT COVER: Symbolic of today's Navy—first line of defense—is Frank Pederson, of Bound Brook, N. J. Photo taken for ALL HANDS by Walter G. Seewald.
INSIDE FRONT COVER : A U. S. destroyer noses under a heavy sea during some rough weather in the unpacific Pacific.
CREDITS: All photographs published in ALL HANDS are official U. S. Navy photographs unless otherwise designated. P. 3, lower, by Edmund P. Doles, SPX3JO. P.11, upper right, and inside back cover, Press Association.