All Hands Magazine - Today's Navy - October 1953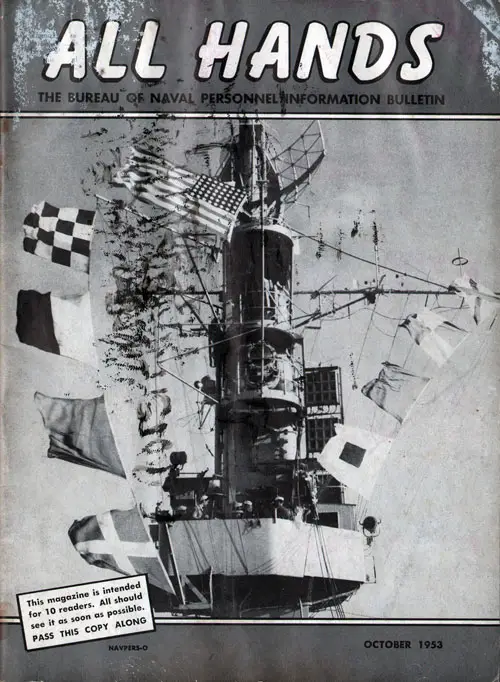 ALL HANDS : THE BUREAU OF NAVAL PERSONNEL INFORMATION BULLETIN
OCTOBER 1953 Navpers-0 NUMBER 440
VICE ADMIRAL JAMES L. HOLLOWAY, Jr., USN
The Chief of Naval Personnel
REAR ADMIRAL MURR E. ARNOLD, USN
The Deputy Chief of Naval Personnel
CAPTAIN WREFORD G. CHAPPLE, USN
Assistant Chief for Morale Services
FRONT COVER: STIFF BREEZE whips signal flags and ensign on island of USS Bairoko (CVE 115) as the carrier pulls out of port. Photo by David Strickler, J03, USN.
TABLE OF CONTENTS
'SAR' Men—St. Bernards of the Sea
The Word
Ceremonial Guard Wins in a Walk
Liberty in Venice
Air Traffic Cops in Amphib Assaults
Water Wings Add Zip to Navy Craft
EMs Break Records at Officer Candidate School
Reefers Feed the Fleet on the Run
"Dear Admiral: In Answer to Your Letter ..."
Servicescope: News of Other Services
Letters to the Editor
Navy and Marine Prisoners of War Return to Free Life
Today's Navy
Bulletin Board
Combat Pay Authorized for Navy Units
Diving Courses for EMs and Officers
Uniform Allowances for Reserve Officers
Living Conditions at Key West, Bainbridge and Memphis
Absentee Voting for Servicemen in Six States
Directives in Brief
Decorations and Citations
Book Reviews
Book Supplement: Birth of a Navy
Taffrail Talk
Editing Staff
LCDR F. C. Huntley, USNR, Editor
John A. Oudine, Managing Editor
Associate Editors

LT A. P. Miller, J., USNR, News
David Rosenberg, Art
Elsa Arthur, Research
French Crawford Smith, Layout
G. Vern Blasdell, Reserve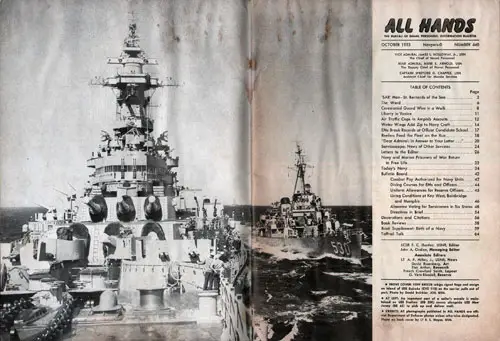 INSIDE FRONT COVER: An important part of a sailor's morale is maintained as USS Trathen (DD 530) comes alongside USS New Jersey (BB 62) to pick up and deliver mail.
CREDITS: All photographs published in ALL HANDS are official Department of Defense photos unless otherwise designated. Photo on back cover by LT E. L. Hayes, USN.