All Hands Magazine - Joint Operation - May 1946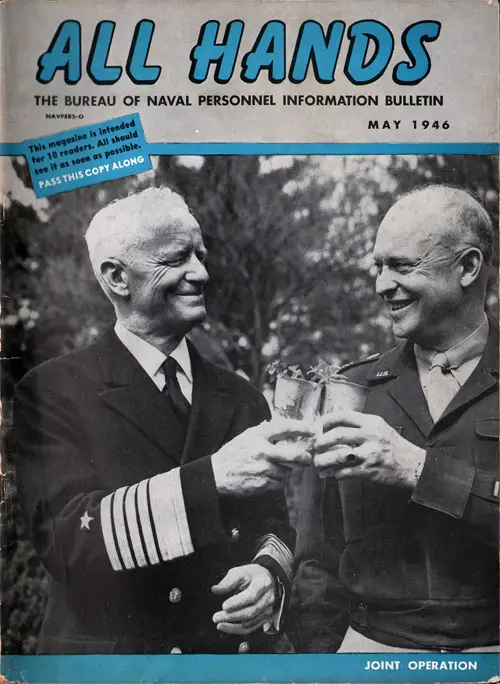 THE BUREAU OF NAVAL PERSONNEL INFORMATION BULLETIN
MAY 1946 NAVPERS-O NUMBER 350
VICE ADMIRAL LOUIS E. DENFELD, USN
The Chief of Naval Personnel
REAR ADMIRAL THOMAS L. SPRAGUE, USN
The Deputy Chief of Naval Personnel
TABLE OF CONTENTS
Buck Rogers Navy 2
Drydock Fishing 6
'Without Trace' 8
The Navy's Victory in Europe 11
Anti-Sub 15
Combat in Color 22
Flattop in the Arctic 25
The Pickets Paid Off 28
Baffin' the Breeze on the 7 Seas 32
Books: Meaning of Atom Energy Today 34
The Submarine Reserve 35
THE WORD 36
Letters to the Editor 38
The Month's News 40
Decorations and Citations 57
VD—The Disease Remains a Menace 60
THE BULLETIN BOARD 63
Demobilization Quota Plan 63
Transportation of Dependents 64
Reserve Activation 66
Marine Nimitze Training 66
Postgraduate Officer Training 70
Voting Information 75
Alnays, NavActs in Brief 78
All Thumbs 79
Fantail Forum 80
FRONT COVER: Fleet Admiral Chester W. Nimiiz and General of the Army Dwight D. Eisenhower toast each other after receiving honorary degrees of Doctor of Laws from the University of Richmond at Richmond, Va.
INSIDE FRONT COVER : Beyond the USS Missouri's 16 inch guns lies the ancient city of Istanbul, Turkey. The Mighty Mo arrived at the Turkish port bearing the body of Mehmet Munir Ertegun, the late Turkish ambassador to the U. S.
Credits: Front cover and inside front cover, Press Association, Inc.; inside back cover, Acme. On pp. 40-41; upper left, Press Association, Inc.; upper right, Acme; lower left, Acme, lower right, official U. S. Navy photograph.