All Hands Magazine: IWO D-Plus-Four - April 1945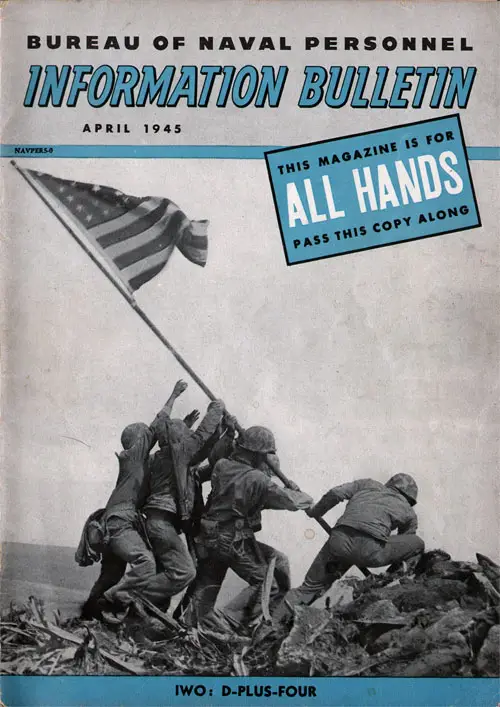 ALL HANDS MAGAZINE
BUREAU OF NAVAL PERSONNEL INFORMATION BULLETIN
APRIL 1945 NAVPERS-O NUMBER 337
VICE ADMIRAL RANDALL JACOBS, USN
The Chief of Naval Personnel
REAR ADMIRAL L. E. DENFELD, USN
The Assistant Chief of Naval Personnel
Table of Contents
Mission to Arabia
Battle for Iwo
Inside Japan
Secretary's Report
"Amphibious Medicine"
Bottled Blood
It Could Be a Trap
Cradles for Ships
Along the Road to Tokyo
Dialing U.S.A.
Fleet Admiral King Reports
They Never Gave Up
Prisoners Freed in the Philippines
Magazine Digest
Letters to the Editor
Editorial
The Month's News:
The War
Navy News
Ships and Stations
Report from Home
Decorations and Citations
New Books in Ships' Libraries
What's Your Naval I.Q 7
Recreation Services and Equipment
The Month's Always in Brief
The Bulletin Board
Index
This magazine is published monthly in Washington, D. C., by the Bureau of Naval Personnel for the information and interest of the naval service as a whole. By BuPers Circular Letter 162-43, distribution is to be effected to allow all hands easy access to each issue (see page 80). All activities should keep the Bureau informed of how many copies are required. All original material herein may be reprinted as desired.
For sale by Superintendent of Documents, U. S. Government Printing Office, Washington 25, D. C.: 15 cents per copy; subscription price $1.50 a year, domestic (including FPO or APO addresses for overseas mail); $2.25, foreign. Remittance should be made direct to the Superintendent of Documents. Subscriptions are accepted for one year only.
THIS MONTH'S COVERS
FRONT COVER (and above): Marines of 28th Regiment, 5th Division, raise the Stars and Stripes on the summit of Iwo's bloody Mt. Suribachi. For the story behind the picture, see page 6. (Photograph from Press Association, Inc.)
INSIDE FRONT COVER: Helldiver bombers and Avenger torpedo planes huddle on the deck of a first-line carrier as aviation machinist's mates check them for the next day's operations. (Official U. S. Navy photograph.)
OPPOSITE PAGE: In Lapog Bay, Luzon, P. I., a near-miss splashes off the bow of a Jap merchantman already burning from a direct hit by carrier-based planes. (Official U. S. Navy photograph.)
BACK COVER: Based on a poster produced by Training Activity, BuPers.
DISTRIBUTION OF THE INFORMATION BULLETIN
By BuPers Circular Letter No. 162-43 (appearing as 43-1362 in the cumulative edition of Navy Department Bulletin), the Bureau directed that appropriate steps be taken to insure that all hands have quick and convenient access to the BuPers INFORMATION BULLETIN, and indicated that distribution should be effected based on one copy for every ten officers and enlisted personnel to accomplish the directive.
In most instances, the circulation of the INFORMATION BULLETIN has been increased in accordance with complement and on-board count statistics in the Bureau, based on one copy for every ten officers and enlisted personnel. Because infra-activity shifts affect the Bureau statistics, and because the organization of some activities may require more copies than normally indicated to effect thorough distribution to all hands, the Bureau invites requests for additional copies as necessary to comply with the primary directive. This magazine is intended for all hands, and commanding officers should take the steps required to make it available accordingly.
The Bureau should be kept informed of changes in the numbers of copies required: requests received by the 20th of the month can affect the next issue.
The Bureau should also be advised if the total number of copies are not received regularly. Normally copies for Navy and Coast Guard activities are distributed only to those on the Standard Navy Distribution List in the expectation that such activities will make the further distribution as necessary; where exceptional circumstances warrant seeding direct to sub-activities, the Bureau should be informed.
Distribution to Marine Corps personnel is effected by the Commandant, U. S. Marine Coos. on the present basis of four copies per unit, down to and including the company. Requests from Marine Corps activities should be addressed to the Commandant.
FOR PERSONAL COPIES, SEE PAGE I.
INDEX FOR APRIL 1945 ISSUE
Academy Prep School exams scheduled
Advancement in Armed Guard
AFRS shortwave broadcasts
Air priorities for personnel on leave
'Amphibious Medicine,' from 1944 SecNav report
Arabia, King of, travels on U. S. destroyer to meet F. D. R.
Armed Guard, rules for advancement in
Aviation training courses: new editions available
B-29s raid Jap cities
Bells, how they started
Belts to carry name, number
Binders for NCB, cost of
Blood, bottled, flown to Pacific
Brig, no loss of longevity time while confined in
BuPers awards commendations for suggestions
Burma: Mandalay captured
Cameras, sale of as surplus property
Carrier attacks on Jap fleets
Carter, Rear Adm. William J, becomes chief of BuS&A
Clipsheet planned for ship and station papers
Coast Guard casualties
Coast Guard. date, of the founding of
Color-perception requirements for V-12
Combat operations, report on by Fleet Admiral King
CPO gloves
Destroyer, U. S., carries King Ibn Saud of Arabia to meeting with F. D. R.
Disabled men to be retained
Disability pension
Discharge from Navy for Waves
Drydocks, floating, repair Navy ships
Ex-apprentice distinguishing mark
Fixed-text message service, changes in Forwarding of requests
Forrestal, Secretary, annual report to President Founding of naval services
Gloves, CPO, Government property, rules on bringing or mailing to U. S., Gray uniform to stay, Guerrillas in the Philippines, House trailers, transportation of
Household goods, transportation of Harder, USS, rescues Navy flyer
Helena, USS, awarded Navy Unit Commendation
History of naval services
Ibn Saud, King of Arabia, travels on U. S. destroyer to meet F. D. R
ID card not to be used as liberty pass
Identification marks required on belts
Insignia:
Ex-apprentice distinguishing mark
Flight surgeon, how worn
Parachutist, how worn
Pin-on device for Waves' cap
Pin-on devices. when worn
Storekeeper (V) specialty mark
Submarine, how worn
Invasion of Normandy, report on by Fleet Admiral King
Iwo Jima:
Captured
Pictures of battle
Story of flag-raising
Japan, OWI report on the home front
Jap fleet, carrier attacks on
Khaki uniforms allowed for interim
King Fleet Admiral, annual report
Leave, air priorities for personnel on
Liberty: m cards not to be used as pass
Longevity in brig
Maps, road, available
Marianas operations, report on by Fleet Admiral King
Marine Corps, date of the founding of
Marines capture Iwo
Math. requirement for V-7
Medicine, amphibious; SecNav's report on
Messages, fixed-text, changes in service
Music: orchestration hits offered
Naval operations, report on by Fleet Admiral King
Navy, date of the founding of
Navy Nurse Corp promotions by alnav
Navy Show Contest
News broadcasts by shortwave: schedule
Nimitz, Fleet Admiral, sees Japan still strong
Normandy invasion, report on by Fleet Admiral King
Nurses promoted by alnav
Officer-candidate requirements for Waves
Orchestration kits offered
OW! reports on Japanese home front
Pacific offensive, chart of from report by Fleet Admiral King
Papers, ship, and station. clip sheet service for
Philippines:
Guerrillas (photographs)
Invasions of Mindanao, Palawan, Panay
Naval personnel liberated
Reoccupation, report on by Fleet Admiral King

 

Pin-on device, when worn on collars
Pin-on insignia for Waves' caps
Pontoon drydocks, sale of as surplus property
Prison, loss of longevity time in
Prisoners freed in Philippines
Publication, rules on for naval personnel
Quarters, rules on allowance for
Qualification jacket, officers to keep on release
Radio broadcasts by shortwave: AFRS schedules
Rationing: veterans get extra gas for job interviews
Release of officers, rules tightened on
Report of SecNav to President for the fiscal year 1944
Requests, forwarding of
Rhine crossed by Yanks
Road maps available
Rotation plan: wounded from overseas get break in
Sale of writing by naval personnel
Saluting of warrants
Scripts, show, prizes for
Seabees grow hair in Africa
SecNav report to President on 1944 fiscal year
Ships' Editorial Association announced
Shin's service items limited overseas
Shirts with work uniform
SHORPUBINT. meaning of
Shortwave broadcasts, AFRS: chart and schedules
Show-script contest
Smith, Vice Adm. William W., becomes ComSerForPac
Souvenirs, rules on
Specialist U rating
Storekeeper (V) specialty mark authorized
Sub. use Harder, rescues Navy flyer
Suggestions to BuPers win commendations
Supply Corps V-7, math. requirements for
Suribachi. Mt., story of flag-raising
Surplus property. disposal
Transfer to regular Navy offered radio technicians
Transportation of household goods
Uniforms, khaki and gray
Tinian Jack. origin of name
United Nations conference, U. S. delegates named to
V-7, math. requirements for
V-12, color-perception requirements for
Personnel for 1 July 1945 program
V-Disc releases
Veterans benefits:
Gas for job interviews
Guidance Centers at colleges
Jobs with Navy
Priorities for building

 

War Bonds, cashing of
Warrants, saluting of
Waves:
discharges from Navy
not assigned as torpedomen
officer-candidate requirements
Workman. Chaplain Robert D., named rear admiral and Chief of Chaplains
Wounded from overseas get break in rotation plan
Writing for publication, rules on

PASS THIS COPY ALONG - IT IS FOR 10 READERS