All Hands Magazine - Rough Duty - June 1949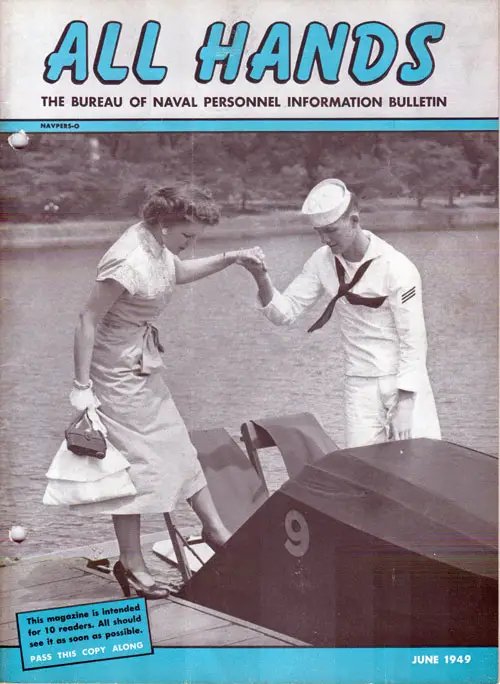 THE BUREAU OF NAVAL PERSONNEL INFORMATION BULLETIN
JUNE 1949 Navpers-O NUMBER 388
REAR ADMIRAL THOMAS L. SPRAGUE, USN
The Chief of Naval Personnel
REAR ADMIRAL JOHN W. ROPER, USN
The Deputy Chief of Naval Personnel
Editor: LCDR George Dennis, Jr., USN
TABLE OF CONTENTS
Rough Duty 2
Off-Duty Work Produces Top-Notch EM Club 5
The Word 6
Super Plane Becomes Super Salesman 8
World's Sea Lanes Are Our Life Lines 10
Your Good Health Is Their Business 13
Hear Those Bells—They Tell a Briny Story 17
Training Reserve Sonarmen and ASW Personnel 19
Sailors Learn How to Be Good JOs 23
Back on Duty 24
Letters to the Editor 26
Outlying Air Station Has Wild West Tang 30
Navy Sports Roundup 39
Servicescope: News of Other Armed Services 42
Bulletin Board 44
Legislative Roundup 44
Single Medical Service Proposed 46
Pay Grade 1-A Waiting List 49
New Surgical Techniques 50
Summary of Uniform Regulations 52
Directives in Brief 56
Equal Treatment, Opportunity 57
Books: Hand-Picked Volumes 58
Book Supplement: Attack of the Horse Marines 59
Taffrail Talk 64
FRONT COVER: Typical of happy hours ashore for Navy men is this photograph of Carl G. Totem, SN, USN, of Encienitas, Calif., helping Miss Helen Pippin of El Dorado, Ark., into a paddle boat in the Tidal Basin, Washington, D. C.— ALL HANDS photo by Kenneth E. Rolph, PH3, USN.
INSIDE FRONT COVER : As the skeleton crew of 650 stands in ranks, a 25-minute ceremony formalizes the entrance of the battleship USS Iowa into the mothball fleet (See p. 18). Iowa was decommissioned at San Francisco Naval Shipyard, Hunters Point.—San Francisco Chronicle photo by Barney Peterson.
CREDITS: All photographs published in All Hands are official U. S. Navy photos unless otherwise designated: pp. 32-33, upper left, ARC; lower right, AP.