All Hands Magazine - Navy Ambassadors of Goodwill - July 1949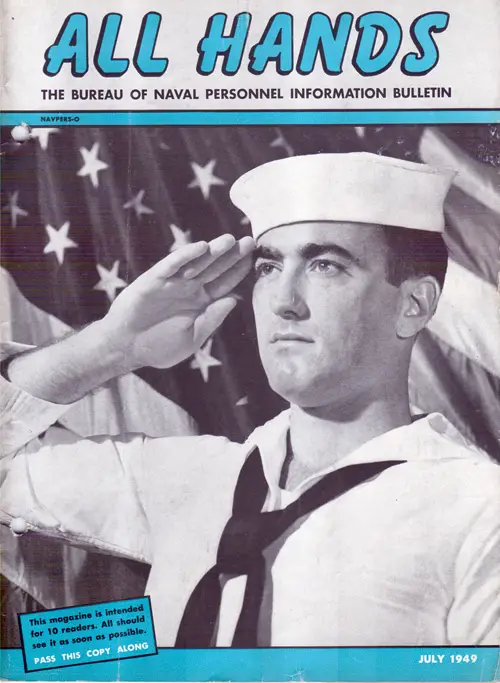 ALL HANDS
THE BUREAU OF NAVAL PERSONNEL INFORMATION BULLETIN
JULY 1949 Navpers-O NUMBER 389
REAR ADMIRAL THOMAS L. SPRAGUE, USN
The Chief of Naval Personnel
REAR ADMIRAL JOHN W. ROPER, USN
The Deputy Chief of Naval Personnel
Editor: LCDR George Dennis, Jr., USN
TABLE OF CONTENTS
Salvage Saga 2
The Word 4
Ambassadors of Goodwill 6
Sky-Going Viking 9
They Speed the Word Around the Ship 10
Shipboard Teamwork 13
Strong Navy Means Freedom of the Seas 14
All-Navy Boxing and Sports Roundup 16
Veteran of 3 Wars Gets GI Training 21
Letters to the Editor 23
NAVAL COURTESY ASHORE AND AFLOAT 27
Decorations and Citations 39
Today's Navy 40
Servicescope: News of Other Armed Services 44
Bulletin Board 46
The Story of Navy Manpower 47
School Required for Advancement 48
Postgraduate Training 50
Legislative Roundup 53
Directives in Brief 56
Books: Lives and Legends Lead List 58
Book Supplement: Expendables of 1898 59
Taffrail Talk 64
FRONT COVER: This Independence Day, more than ever, the world's freedom-loving people look to the U.S. for leadership and example. Here William J. Winters, Jr., YN1, USN, faces the music and salutes as the national anthem is played aboard a naval station. See special section on Naval Courtesy Ashore and Afloat, beginning on p. 27.—All Hands photo by Walter G. Seewald.
INSIDE FRONT COVER: A group of marines of the marine detachment on board USS Albany (CA 123) listen to a lecture by MSgt W. G. Ferrgino, USMC, beneath the guns of turret three.
CREDITS: All photographs published in All Hands are official U.S. Navy photos unless otherwise designated.