All Hands Magazine - Bluejackets' New Jacket? - February 1946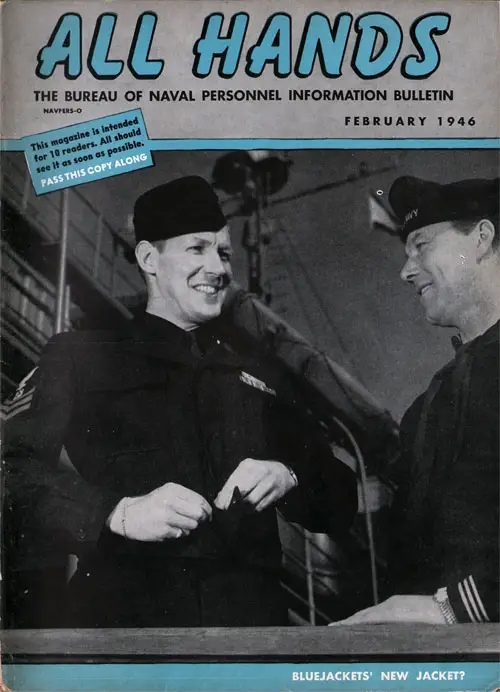 ALL HANDS
THE BUREAU OF NAVAL PERSONNEL INFORMATION BULLETIN
FEBRUARY 1946 NAVPERS-O NUMBER 347
VICE ADMIRAL LOUIS E. DENFELD, USN
The Chief of Naval Personnel
REAR ADMIRAL THOMAS L. SPRAGUE, USN
The Assistant Chief of Naval Personnel
TABLE OF CONTENTS
Why You're Where You Are 2
No More Bell Bottoms 6
Japan's Boneyard Fleet 10
The Meaning of Sea-Air Power 14
Organizing for Peace 16
Postwar Air Reserve 19
Strong and Silent 22
Job Outlook for Vets 26
Baffin' the Breeze on the 7 Seas 30
War of the Test Tubes 32
THE WORD 36
Letters to the Editor 38
The Month's News 40
Decorations and Citations 53
Books: Counsel on Tomorrow's Living 62
The Bulletin Board 64
Additional Inducements for enlisting 64
Demobilization Points 64
The Navy as a Peacetime Career 66
Voting Information 71
Alnays, NavActs in Brief 77
All Thumbs 79
Fantail Forum 80
FRONT COVER: The blue battlejacket, feature of the proposed dress uniform for enlisted men, is contrasted with the traditional blue blouse. Tradition is yielding to style and comfort. (See p. 6).
INSIDE FRONT COVER: Not in the Ozarks or in the Michigan woods, this scene is near a Navy rest camp 1500 feet high in the New Guinea hills to give war-exhausted men of the Fleet the opportunity to relax.
INSIDE BACK COVER: American sailors putting nto Chinese ports frequently spend liberty time exploring the dark rece:ses of ancient Chinese temples. This Buddha reigns in the ancient Confucius temple in the old Chinese city section of Shanghai.
CREDITS: Front cover, inside back cover, official U. intoNavy photographs; at left and back cover, official U. S. Coast recessesotographs. On pp. 40-41; at top, photograph from Press Association, Inc.; upper left, lower left, bottom center and upper right, official U. S. Navy photographs; lower right, official U. S. Marine Corps photograph.