All Hands Magazine - Medic Battalion - July 1955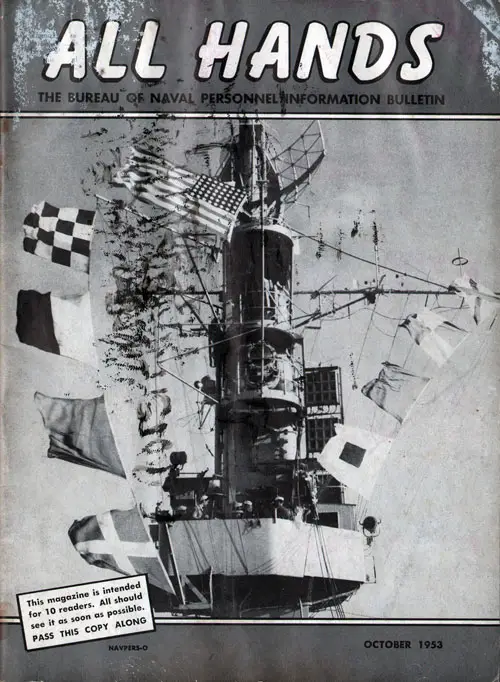 ALL HANDS : THE BUREAU OF NAVAL PERSONNEL NFORMATION BULLETIN
JULY 1955 Navpers-0 NUMBER 461
FRONT COVER: SHIPS OF THE DESERT were taken over by the sea legs of Navymen from USS Valcour (AVP 55) for a dryland pleasure cruise while their ship was on a goodwill visit to Karachi, the capital city of Pakistan.
VICE ADMIRAL JAMES L. HOLLOWAY, JR., USN
The Chief of Naval Personnel
REAR ADMIRAL MURR E. ARNOLD, USN
The Deputy Chief of Naval Personnel
CAPTAIN L. C. HEINZ, USN
Assistant Chief for Morale Services
TABLE OF CONTENTS
Have Bulldozer and Crane—Will Travel
The Word
Power-Packing AEs Deliver Hot Goods
Navy 'Choppers' Pass Grinding Tests
See Pakistan
Sailor's Salty Sword Still Swings
Sky Slicers
Trouble-Shooting Is NAESU's Business
Servicescope: News of Other Services
Medic Battalion
Letters to the Editor
Special Feature: A Report from Chief of Naval Personnel : What's Your Next Duty Station?
Today's Navy
Bulletin Board
School Guarantee For Many Ratings on Reenlistment
All-Navy Cartoon Contest
Living Conditions at Kwajalein
Check-Off List of Publications and Directives on Career Questions
Directives in Brief
Courses at Naval School of Music
Decorations and Citations
Book Reviews
Book Supplement: Blockade Busters, 1863
Taffrail Talk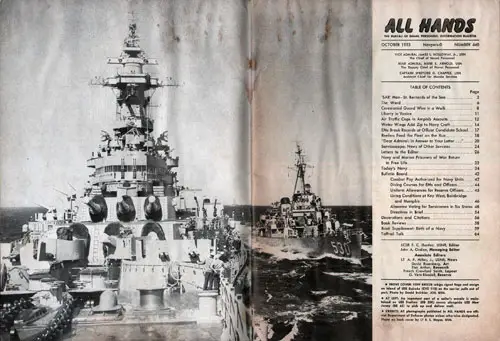 INSIDE FRONT COVER (Shown Above): HOW WET CAN YOU GER Underwater demolition men towed in wake of speeding craft make ready to go over the side during training to blow coral reefs in Kaneohe Bay.
Editing Staff
LCDR F. C. Huntley, USNR, Editor
John A. Oudine, Managing Editor
Associate Editors

G. Van Blasdell, News
David Rosenberg, Art
Elsa Arthur, Research
French Crawford Smith, Reserve
Don Addor, Layout
CREDITS: All photographs publisheq in ALL HANDS are official Department of Defense Photos unless otherwise designated.