All Hands Magazine - Flags of the Free - October 1945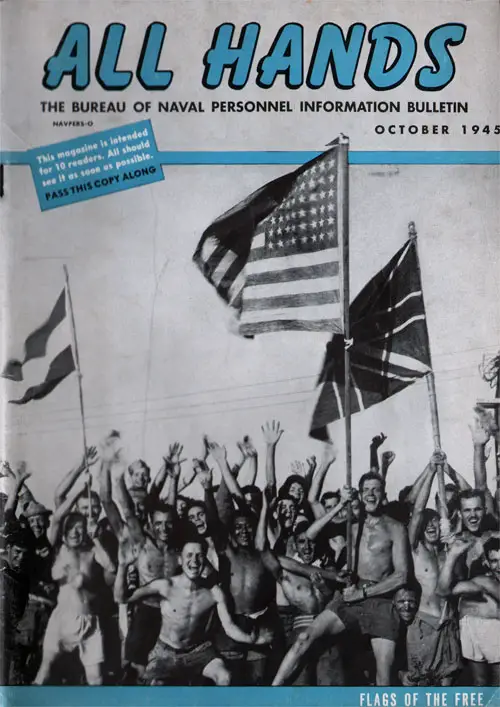 FRONT COVER: The flags of the United States, Great Britain and the Netherlands are waved by wildly cheering Allied prisoners of war from atop the stockade of Aomori internment camp near Yokohama, as U. S. Navy rescuers approach with food, clothing, medical supplies—and freedom! This is the Navy's Picture of the Month as selected by the Navy Photographic Institute.
ALL HANDS
THE BUREAU OF NAVAL PERSONNEL INFORMATION BULLETIN
OCTOBER 1945 NAVPERS-O NUMBER 343
TABLE OF CONTENTS
Navy's Plans Take Shape 2
This Way Out 8
Underwater Demolition 12
U. S. Aid for Veterans 16
Century of Service 20
Lone Wolf Prowlers 24
Baffin' the Breeze on the 7 Seas 20
Global Navy 30
New Books in Ship's Libraries. 35
Shipping of Personal Property 36
Letters to the Editor 38
The Month's News 40
Decorations and Citations 57
What's Your Naval 1.Q.? 65
The Bulletin Board 66
Demobilization Plans 66
Officer TransFer to USN. 70
Month's Alnavs in Brief. 78
All Thumbs' 79
Fantail Forum 80
VICE ADMIRAL LOUIS E. DENFELD, USN
The Chief of Naval Personnel
REAR ADMIRAL WILLIAM M. FECHTELER, USN
The Assistant Chief of Naval Personnel
INSIDE FRONT COVER : "It is for us the living, rather, to be dedicated here to the unfinished work which they who fought here have thus far so nobly advanced. It is rather for us to be here dedicated to the great task remaining before us—that from these honored dead we take increased devotion to that cause for which they gave the last full measure of devotion . . ."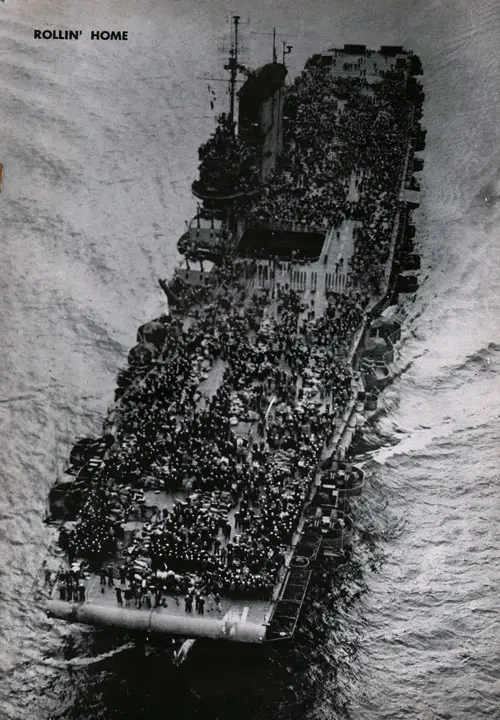 INSIDE BACK COVER: From overhead the USS Saratoga looked like this as she steamed through San Francisco's Golden Gate last month with her flight deck lammed with cheering Navy veterans from the Pacific—pert of 3,800 homeward bound.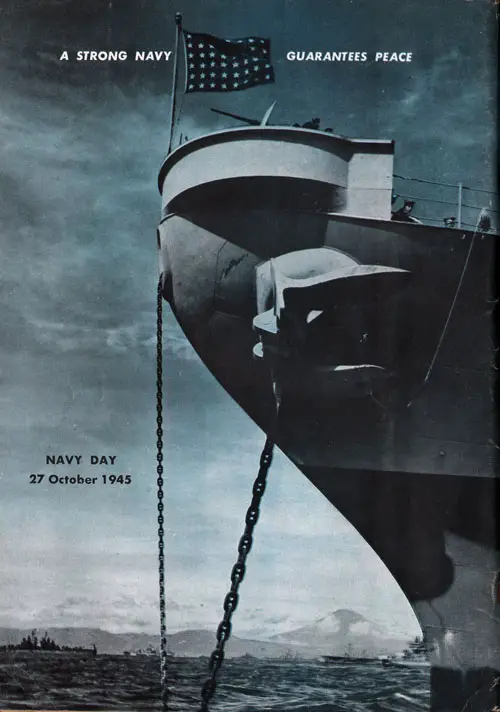 OUTSIDE BACK COVER: Union Jack flies at the bow of the USS Missouri at anchor in Tokyo Bay. In the background Fujiyama towers over other Fleet units.
CREDITS: Front cover and outside back cover, Official U. S Navy photographs; Inside Front Cover, Official U. S. Coast Guard photograph: inside back cover photograph from Press Association, Inc.
PASS THIS COPY ALONG - IT IS FOR 10 READERS