All Hands Magazine - Desert Storm Special Issue - 1991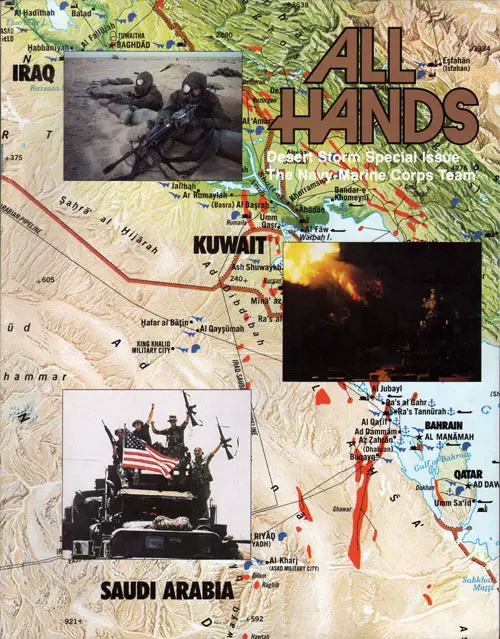 ALL HANDS MAGAZINE OF THE U.S. NAVY
SPECIAL ISSUE - NUMBER 892
68th YEAR OF PUBLICATION
This magazine is dedicated to the men and women of the Navy and Marine Corps who served during Operations Desert Shield and Desert Storm, to the millions of patriotic Americans across the nation who supported them and to those who remain on station today defending freedom.
Contents
The Gulf war
Victory through versatility
Historic presence
Sailors at the "tip of the spear"
Desert Shield sealift
Bringing beans and bullets
Severing Saddam's lifeline
Interception controls the flow
The air war's hard rain
Desert Storm's nasty weather
Victory at sea
Seapower team plays a vital role
Mother of all surrenders
Marines lead the ground assault
Greater "gators"
Amphibs kept Saddam guessing
Flexible response
Operations a continent away
Combat damage control
Controlling chaos saves the ship
Weapons of war
Giving the coalition the edge
Seabee spirit
They "can do," and did
Combat logistics
The power behind the punch
The total force
Reserves hit the ground running
Navy medicine
The best prepared for the worst
Homefront support
Americans help win the war
Return to freedom
Desert Storm POWs return
Home at last
Warriors return to families
People:
Storm's thunder and lightning
Shield/Storm chronology
From invasion to liberation
Map courtesy of National Geographic Society
Front cover: Top: photo by PH1(AC) Scott M. Allen. Center: photo by PH2 Robert M. Clare. Lower: photo by Master Sgt. Bill Thompson, USAF.
Back cover: Photos by PH1(AC) Scott M. Allen
Inside Back: Photo by PH1 Bruce Morris
Navy Executives and Senior Staff Members
Secretary of the Navy
H. Lawrence Garrett Ill
Chief of Naval Operations
ADM Frank B. Kelso II
Chief of Information
RADM Brent Baker
CO Navy Internal Relations Activity
CDR Connie L. Haney
X0 Navy Internal Relations Activity
LCDR Pamela A. Moulder
Director, Print Media Division
LTJG John M. Wallach
All Hands Special Issue Editor
JOCS Robert C. Rucker
All Hands Special Issue Asst. Editor
J02(SW) Joe Bartlett
All Hands Special Issue Photo Editor
PH1(AC) Scott M. Allen
All Hands Special Issue Staff
LCDR Cynthia Leon
CWO2 Carl L. Henderson
J01 Andrew Wellman
J01 Barbara Shupe
SGT Christopher Lawson, USMC
J02 Paul A. Mikec
J02 Celeste Barrett Rubanick
J02 Ronold Henning
J03(DV) Robert Palomares
All Hands Magazine Staff
Marie G. Johnston, Editor
Jan Kemp Brandon
J01 Lee Bosco
J01 Chris Price
J01 Sherri E. Bashore
J02 Andrew I. Karalis
Pat A. Swift
Production Associates
Michael David Tuffli
Leroy E. Jewell
DM3 Keith Wilson
William E. Beamon
Significant Contributors
LCDR Rudolph W. Brewington
J01 Melissa Wood Lefler
J01(AW) J. D. Dimattio
SK1 Jeff Bryan
J01(SW) Joe Galowicz
This special issue of All Hands was compiled from reports by on-scene Navy and Marine Corps personnel, official briefings and DoD media pool reports.
All Hands (USPS 372-970; ISSN 00025577) (Number 892) is published by Navy Internal Relations Activity: 601 N. Fairfax St., Suite 230, Alexandria, VA 22314-2007. Postage paid at Alexandria, VA 22314, and additional mailing offices.
Editorial Offices: Send correspondence to: NIRA, Print Media, ATTN: Editor, 601 N. Fairfax St., Suite 230, Alexandria, VA 22314-2007.
Phone (703) 2746208 (AV 284-4455) for editorial; (703) 274-5953 (AV 284-4315) for distribution. Authorization:
The Secretary of the Navy has determined that this publication is necessary in the transaction of business required by law of the Department of the Navy. Funds for printing have been approved by the Navy Publications and Printing Policy Committee.