All Hands Magazine - New Wooden Ships - February 1954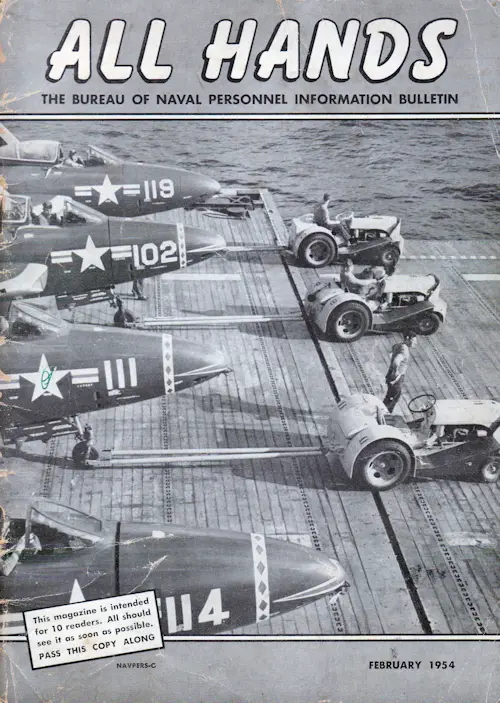 FEBRUARY 1954
Navpers-O NUMBER 444
VICE ADMIRAL JAMES L. HOLLOWAY, Jr., USN
The Chief of Naval Personnel
REAR ADMIRAL MURR E. ARNOLD, USN
The Deputy Chief of Naval Personnel
CAPTAIN WREFORD O. CHAPPLE, USN
Assistant Chief for Morale Services
TABLE OF CONTENTS
Navy Photogs Have All-Seeing Eyes 2
Nihoa: The Ferryboat that Went to War 7
The Word 8
New Wooden Ships Join 'Sweep Fleet' 10
Travel with Safety—The Best Passenger A Car Ever Had 14
Hong Kong Holiday 17
NEL Puts Electrons to Work for Navy 18
Seabees Do It Again 21
News of Other Navies 22
Letters to the Editor 24
Special Feature:

Making 'Road Maps' for the High Seas 30
Symbols and Abbreviations for Nautical Charts 32

Today's Navy 36
Bulletin Board 44

Here's Summary to Help You in Making Out Income Tax Reports 44
Directives in Brief 48
Round-Up on Licenses and Deadlines for Navymen Who Drive Cars 50

Book Reviews 58
Book Supplement: Escape Out of the North 59
Taffrail Talk 64
All Hands Magazine Editors
LCDR F. C. Huntley, USNR, Editor
John A. Oudine, Managing Editor
Associate Editors

LT A. P. Miller, Jr., USNR, News
David Rosenberg, Art
Elsa Arthur, Research
French Crawford Smith, Layout
G. Vern Blasdell, Reserve
FRONT COVER: GET ON YOUR MARK'—Plane captains and tractor drivers wait their turn to jockey 'Cougars' into launching position on flight deck of USS Oriskany (CVA 34).
AT LEFT (Not Shown): DESTROYER USS Floyd B. Parks (DD 884) ties up alongside auxiliary vessel for transfer of stores.
CREDITS: All photographs published in ALL HANDS are official Department of Defense photos unless otherwise designated.