All Hands Magazine -The Navy and Atomic Warfare - December 1950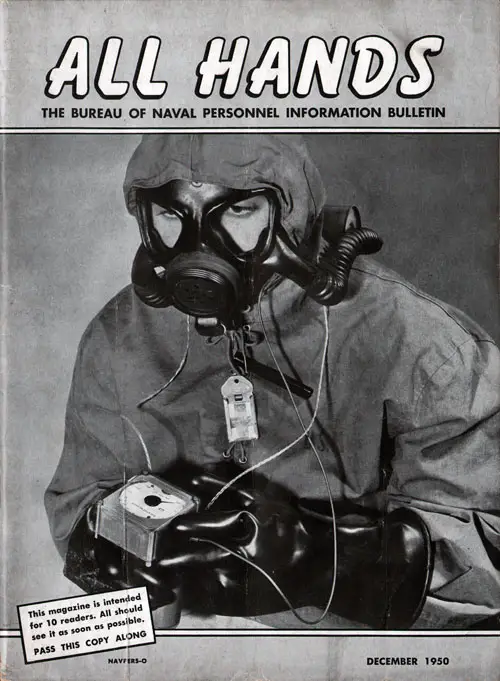 ALL HANDS: THE BUREAU OF NAVAL PERSONNEL INFORMATION BULLETIN
DECEMBER 1950 Navpers-0 NUMBER 406
VICE ADMIRAL JOHN W. ROPER, USN
The Chief of Naval Personnel
REAR ADMIRAL FREDERICK W. McMAHON, USN
The Deputy Chief of Naval Personnel
Editor: LCDR George Dennis, Jr., USN
TABLE OF CONTENTS
SPECIAL FEATURE - The Navy and Atomic Warfare:

Battling the Atomic Bomb 2
'We Are Not Helpless' 9

Today's Navy 32
Sports and Recreation Roundup 38
Salvos and Heroes 40
The Word 42
Bulletin Board 44
Sea and Foreign Service Pay 44
Interservice Photo Contest 45
Certain POls Advanced to Chief 45
Housing Shortage Areas Listed 47
Statement on Recall of Reservists 50
How Selective Recall Works 54
Directives in Brief 57
Servicescope: News of Other Services 58
Letters to the Editor 60
Taffrail Talk 64
FRONT COVER: A member of a survey team checking the level of radiation on a ship after an imaginary atomic bomb burst, T. R. Patrick, DC3, USN, holds one of the Navy's latest radiac instruments. See page 2.— Photo for All Hands Magazine by Walter G. Seewald.
INSIDE FRONT COVER : Washing down fore and aft—where possible—cools off ships exposed to an underwater atomic bomb burst. Dust-like radioactivity that settled on USS New York (BB 34) at Bikini was removed in this fashion.
CREDITS: All photographs published in All Hands are official Department of Defense photos unless otherwise designated.