All Hands Magazine - Supply Problem - January 1945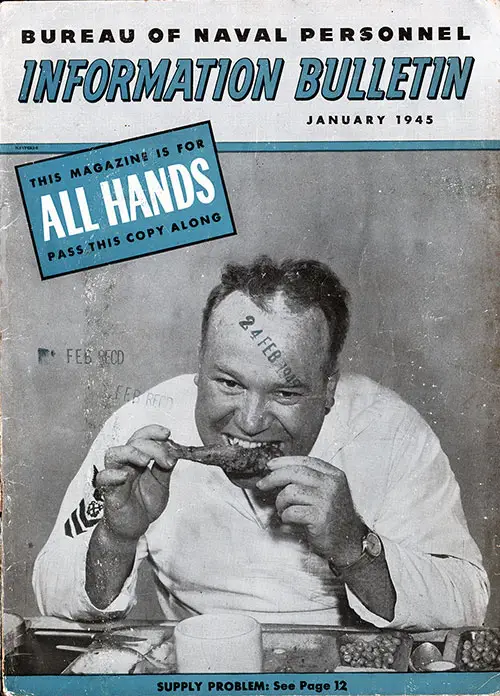 Bureau of Naval Personnel
January 1945 NAVPERS-0 Number 334
Vice Admiral Randall Jacobs, USN
The Chief of Naval Personnel
Rear Admiral L. E. Denfeld, USN
The Assistant Chief of Naval Personnel
Front Cover
Aboard one of the Navy's new battleships, a BMIc takes appropriate action on the subject at hand: a fried-chicken Sunday dinner.
Table of Contents
They Ran. But Won
Reducing the Human Cost of War
Navy Rehabilitation Program Refits Disabled Men For Further Military Duty or Return to Private Life as Strong, Useful, Self-Sustaining Citizens

Patterns of Destruction
Supply
Arctic Victory
School Credit for Navy Work
Navy Mail
Special Section: Home-Front Review
What the Folks Back Home Were Doing During 1944
What's in Store for '45?
War Production Hit New Peak in 1944
Veterans Got Many New Benefits in '44
Periscope Photographs
Legislative Matters of Naval Interest
Closeup of Small Boat and Her Skipper
New Books in Ships' Libraries
Letters to the Editor
Editorial
The Month's News
The War at Sea: Communiques
Decorations and Citations reported in January 1945 include: Unit Citation Awarded to Four Subs, Two LCTs and Marine Division; Sub CO Wins 3 Navy Crosses; Gold Star in Lieu of Second Navy Cross; Navy Cross; Gold Star in Lieu of Third Distinguished Service Medal; Gold Star in Lieu of Second Distinguished Service Medal; Distinguished Service Medal; Gold Star in Lieu of Third Legion of Merit; Gold Star in Lieu of Second Legion of Merit; Legion of Merit; Gold Star in Lieu of Second Silver Star Medal; Silver Star Medal; Gold Star in Lieu of Second Distinguished Flying Cross; Distinguished Flying Cross; and Navy and Marine Corps Medal.
Other USN Service Awards – 1945-01
In addition to the decorations and citations awarded to United States Navy personnel, other awards were given or received to personnel of other armed services or allied armed forces during 1944.
Publisher Information
This magazine is published monthly in Washington, D. C., by the Bureau of Naval Personnel for the information and interest of the naval service as a whole. By BuPers Circular Letter 162-43, distribution is to be effected to allow all hands easy access to each issue (see page 80 ).
All activities should keep the Bureau informed of how many copies are required. All original material herein may be reprinted as desired.
For sale by Superintendent of Documents, U. S. Government Printing Office, Washington 25, D. C.: 15 cents per copy; subscription price $1.50 a year, domestic (including FPO or APO addresses for overseas mail); $2.25, foreign. Remittance should be made direct to the Superintendent of Documents.
Pass this copy along. It is for ten readers.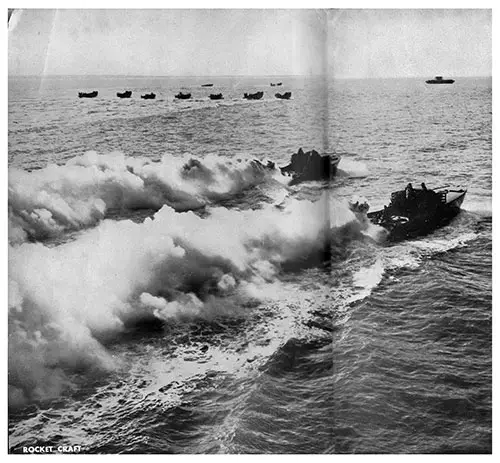 Inside Front Cover: (Shown Above): Small craft armed with rockets, which give them the firepower of much larger vessels, practice for coming assaults on enemy-held beaches (Official U.S. Navy Photograph).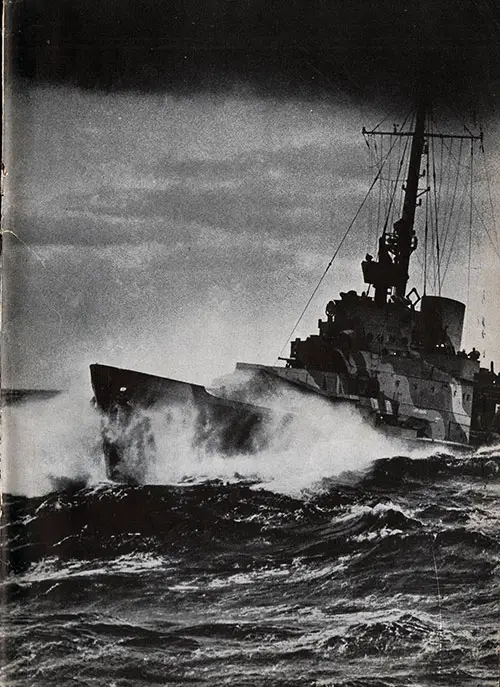 Inside Back Cover (Shown Above): A Coast Guard combat cutter knifes through the dark, gale-ruffled North Atlantic while patrolling her beat on the supply route to Europe (Official U.S Coast Guard Photograph).
Distribution of The Information Bulletin
By BuPers Circular Letter No. 162-43 (appearing as 43-1362 in the cumulative edition of Nay Department Bulletin), the Bureau directed that appropriate steps be taken to ensure that all hands have quick and convenient access to the BuPers Information Bulletin, and indicated the distribution should be effected based on one copy for every ten officers and enlisted personnel to accomplish the directive.

In most instances, the circulation of the Information Bulletin has been increased in accordance with complement and on-board count statistics in the Bureau, based on one copy for every ten officers and enlisted personnel. Because infra-activity shifts affect the Bureau statistics, and because the organization of some activities may require more copies than normally indicated to effect thorough distribution to all hands, the Bureau invites requests for additional copies as necessary to comply with the primary directive. This magazine is intended for all hands, and commanding officers should take the required steps to make it available accordingly.
The Bureau should be kept informed of changes in the numbers of copies required: the next issue can effect requests received by the 20th of the month.
The Bureau should also be advised if the total number of copies are not received regularly.
Normally copies for Navy and Coast Guard activities are distributed only to those on the Standard Navy Distribution List in the expectation that such activities will make the further distribution as necessary; exceptional circumstances warrant sending direct to sub-activities. The Bureau should be informed.
Distribution to Marine Corps personnel is made by the Commandant, U. S. Marine Corps, on the present basis of four copies per unit, down to and including the company. Requests from Marine Corps activities should be addressed to the Commandant.

INDEX FOR JANUARY 1945 ISSUE
Accreditation, scholastic, for service training
Advancement in rating: complement rating groups (ltr ed)
Agnew, R. Adm. W. J. C.: appt. asst chief BuMed
Air Groups: return home
Air Transport Service: the first plane takes a rest.
Allowances: MAQ in New Hebrides (ltr ed)
American Defense Serv. Med.: eligibility (ltr ed)
Anchor Watch: the origin of term
Beards: regulations concerning (ltr ed)
Boatswain: addressing unofficially (ltr ed)
BuMed: new assistant chief appt
BuS&A: organization, functions
Cameras: owning aboard ships (ltr ed)
Campaign medals: engagement star for Africa (ltr ed)
Casualties, care of: evacuation by air school est.
Coast Guard: cutters fight Germans in Arctic
College credit for service training
Commendation ribbon: eligibility (ltr ed)
Commission pennant: the origin of term
Complement by rating groups
Composite Squadron: return home
Decorations and medals:
American Defense Service Medal, eligibility for
Army Distinguished Unit Badge for naval units in Philippine defense engagement star for Africa (ltr ed) for father's service (ltr ed)
Navy Unit Commendation authorized
Purple Heart rules for accidents replacement of
Deep-Sea Diving: commissions for stevedore supervisors de Florez, Capt. Luis: wins Collier Trophy.
Demolition Duty: officer volunteers asked
Dependents, allotments, and allowances: travel (Itr ed)
Discharge (honorable) emblems: rules for wearing
Discharges:
for reenlistment in MM (ltr ed)
for reenlistment in MC, Army (ltr ed)
to work on a farm (ltr ed)
Distinguished Unit Badge (Army): list eligible units
Employers: men in service keep contacts
Fleet Admiral: rank est., given to 3
4th Marine Division: wins presidential unit citation
Gasoline ration rules (ltr ed)
Guarditsh, USS: wins presidential unit citation.
Home Front doings of 1944
Income Taxes: booklet available
Insurance, U. S. Government: change in beneficiary. For misconduct death.
Insurance, Nat'l Ser. Life: allotments for wife (ltr ed) change in beneficiary for misconduct death
Japanese Language School: applications asked eligibility
King, Fleet Adm. Ernest J.: new rank
LCT(5)30: wins presidential unit citation
LCT(6)540: wins presidential unit citation
Leahy, Fleet Adm William D.: given a new rank
Leave extensions: answers to requests paid by govt.
Mail: how delivered at home & abroad
Marshall, Gen. George C.: continued as chief staff
Merchant Marine: discharge for midshipmen appt. (ltr ed)
Mercy, use: evacuates wounded from Leyte
Military courtesy: addressing boatswain (ltr ed)
Minecraft insignia: authorized for shoulder
Navy Relief Fund: contributions to
New Year's Resolution: editorial
Nimitz, Fleet Adm. Chester W.: new rank
Nobel Prize winners: announced
Nurse Corps: est. flying nurses
Optimism: Pres., SecNav caution about
Oriental Language School: applications asked, eligibility
Patrol Bombing Squadrons: return home
Patrol vessels: restored to owners
Pearl Harbor Court of Inquiry: report classified secret
Pearl Harbor Day: Nimitz, Adm., tells of ships sunk
Per Diem: policy clarified
Philippines: Battle of: Samar CVE action two airstrikes at Manila
Photography: aboard ship unofficially (ltr ed)
Prisoners of War: work for private companies
Production, war, review of 1944
Purple Heart: for accidents (ltr ed)
Rasher, USS: wins presidential unit citation
Rationing rules, gasoline
Recreation Equipment: how obtained (chart).
Rehabilitation Program: vocational medical care outlined
Reserve Officers: board to consider transfers to Reg Navy
Review of the year: AP reports predicts veterans' benefits, war production
Saratoga, USS: engagement stars, history
Academic credit for service training
Scouting Squadron; formation, history.
Selective Service: redraft group
Shark repellent: a device for survival; Ship losses (Jay.): carriers in Pearl Harbor attack sunk two subs sunk by one plane
Silversides, USS: wins presidential unit citation
Smith, Maj. Gen. Julian C.: heads Dept. of Pacific.
Stettinius, Edward R.: named Secretary of State
Submarine insignia: eligibility for an officer (ltr ed)
Supply Corps: a story BuS&A and its operation
Survival (at sea): shark repellent device.
Tang, USS 39 wins presidential unit citation
Terminal leave: employment of; officers on
Transfers: to another branch service (ltr ed)
Training Course notes
Uniforms, Nurse Corps: get beige; stocking, etc.
Uniforms officer: spurs not worn (ltred)
Uniforms, Women's Reserve: garrison caps authorized
V-5; reopened, requirements
V-7: reopen, requirements
V-12 programs: reopen, requirements; sea duty requirement (ltr ed)
V-12 Program (medical): physical requirements (ltr ed); applications for (ltr ed)
V-Discs: list
Veterans: have 90 days get old jobs back; review of benefits planned
Victory Medal: replacement (ltr ed)
V-Mail, how it works
War Bonds: 6th Drive results
Navy Pier exhibit
Women's Reserve, enlisted: redistribution planned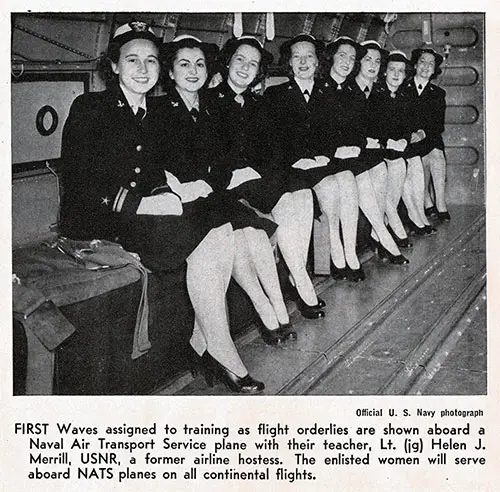 First Waves assigned to training as flight orderlies are shown aboard a Naval Air Transport Service plane with their teacher, Lt. Jg. Helen J. Merrill, USNR, a former airline hostess. The enlisted women will serve aboard NATS planes on all continental flights. (Official U. S. Navy Photograph)