All Hands Magazine - View from GITMO - June 1977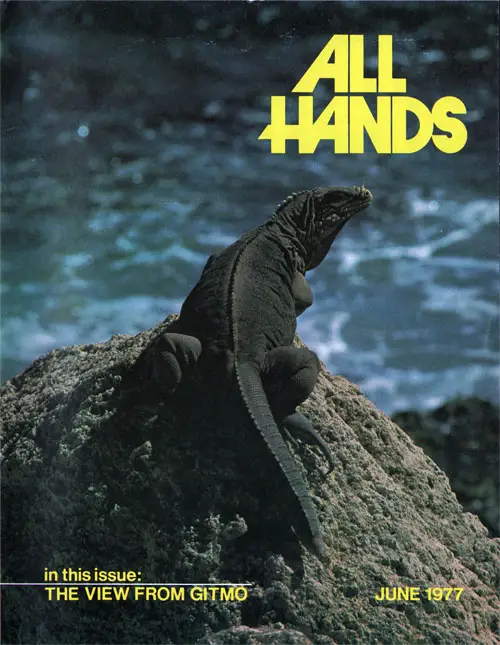 ALL HANDS MAGAZINE OF THE U.S. NAVY-54th YEAR OF PUBLICATION
JUNE 1977 NUMBER 725
Table of Contents
Features
4 THE COLLECTORS
Spies don't wear identification tags
9 FLEET HOME TOWN NEWS CENTER
Getting the news to the folks back home
12 GITMO--AN ISLAND ON AN ISLAND
Duty there isn't all roses, still...
18 LIFE ON THE ROCK
Interview with Guantanamo Base Commander
20 GETTING A HEAD START THROUGH NJROTC
High School students with a 'Go Navy' spirit
32 SCUBA DIVING...THE SEA FLOOR COMES ALIVE
A whole new world awaits the sport diver
38 SHAKE, RATTLE, ROLL
'Sloppy' flying pays off at Pax River
44 MY COMPLIMENTS TO THE COOK
'Take a piece of lettuce and two slices of bread...'
Departments
2 Currents
26 Bearings
42 Rights and Benefits
48 Mail Buoy
Covers:
Front: Photo by PH 1 Terry Mitchell
Inside Front: The 200th birthday of the Nation's flag occurs on June 14, dating from the original resolution adopting the flag on June 14, 1777. (Photo by PH1 Terry Mitchell) Back: PH2 Outwater went beneath the sea's surface to capture the beauty off the San Diego coast..
Chief of Naval Operations: Admiral James L. Holloway ()( Stall. LT Bill Ray
Chief of Information Rear Admiral David M. Cooney Lieutenant Commander D. McCurrach John F. Coleman JOl John Yonemura JOl Jerry Atchison
Dir. Pont Media Div. (NIRA). Lieutenant John Alexander J01 (SS) Peter Sandberg
Editor E.L. Fast PHI Terry Mitchell
Production Editor Michael Tuftli J02 Dan Wheeler J02 Davids Matthews JOSN Francis Bir Edward Jenkins
Layout Editor: Elaine McNeil
Art Editor.
Currents
Navy Tracks Giant Iceberg Moving Toward South Atlantic
The Navy Fleet Weather Facility (FLEWEAFAC), Suitland, Md., is tracking a gigantic iceberg nearly the size of Rhode Island that may drift out of Antarctic waters toward South America and into the South Atlantic. The iceberg, one of the largest ever recorded, is 45 miles long and 25 miles wide. Navy weathermen have been tracking this iceberg since 1971.
FLEWEAFAC provides sea ice analyses and weather forcasts in the polar regions for the Department of Defense and other U.S. agencies.
Aircraft Carrier Roosevelt Completes Last Deployment
The Navy aircraft carrier that was the first to launch a jet-powered aircraft from her flight deck more than 25 years ago, recently returned from her last deployment. USS Franklin D. Roosevelt (CV 42) entered her Mayport, Fla., homeport following a final Mediterranean cruise.
President Jimmy Carter extended his personal congratulations to the FDR in a letter to the ship's commanding officer, Captain Richard Bordone: "As one who served at sea and who understands the relationship between a Navyman and his ship, I realize that such an occasion may be sentimental -- But let it not be sad.
As each officer and man departs to his new duty, let him carry the spirit of the Roosevelt with him. In this way, the great traditions of the Navy may be enriched while new ships and squadrons are strengthened by good people looking to the future." The ship also received congratulatory messages from Secretary of the Navy W. Graham Claytor, Jr., and Chief of Naval Operations Admiral James L. Holloway III. Franklin D. Roosevelt will be decommissioned Oct. 1, 1977.
"Space A" Passengers To Pay Tax on MAC Flights
Persons traveling Space Available ("Space A") on Military Airlift Command (MAC) chartered international flights departing CONUS or flying between Alaska or Hawaii and the mainland will have to pay a fee of $5 as of May 1. As a result of a General Accounting Office study, MAC has been directed by the Department of Defense to collect the airport and airway revenue act tax from "Space A" passengers. The tax was previously absorbed by MAC. The $5 fee will cover payment of the tax and the expenses incurred by MAC in its collection. The fee will not be collected from MAC passengers traveling on official business.
Medical Facility's Water To Be Heated By Solar Energy
The first solar energy water heating system in any Naval Medical Facility will be installed this summer in the new Naval Medical/Dental Facility at Cecil Field, Fla. The system, which consists of solar collectors, water pumps and storage tanks, will be in operation by fall. The clinic's existing heating system will serve as a backup.
United States and Soviet Union To Conduct Joint Oceanographic Study
Oceanographers from the United States and the Soviet Union presently are planning a series of joint oceanographic studies called "Polymode." The two countries will study mesoscale eddies (the oceanic equivalent of high and low pressure systems in the atmosphere) in the Atlantic Ocean.
Soviet and American scientists will combine resources to distribute a vast array of bottom-moored and floating oceanographic sensors that will measure current velocity, water temperature and other physical characteristics of the ocean's atmosphere. Data collected from the study will be shared by Soviet and U.S. scientists. Polymode will give scientists a better understanding of the effects the ocean's atmosphere has on such phenomenon as the sound wave propagation of sonar.
The study is being conducted under the auspices of a US/ USSR bilateral agreement on cooperation in oceanographic study.
Naval Research Laboratory X-Ray Detector To Be Launched Into Earth Orbit
Scientists at the Naval Research Laboratory have developed a massive X-Ray detector that will be part of the first High Energy Astronomy Observatory (HEAO) satellite. One of four experiments included in the HEAO instrument payload, the 1,000-pound NRL X-Ray survey array will be the largest space instrument ever flown on any satellite.
The array has a sensitivity nearly 100 times greater than any previous spacecraft instrumentation and will map the entire sky within the first six months of operations. HEAO will allow the NRL X-Ray detector to study neutron stars, black holes, quasars, radio galaxies and other celestial phenomena without the interference of the earth's atmosphere.
X-Ray astronomy already has detected galaxy clusters out to three billion light years from earth. The NRL X-Ray detector onboard HEAO may extend the reach of observations of clusters of galaxies beyond the range of earthbound telescopes and provide new clues on the evolution of galaxies.
Tightened Screening Procedures Announced For Overseas Assignment
The Bureau of Naval Personnel has tightened screening procedures for overseas duty assignment. All personnel contemplating overseas assignment, and all personnel involved in the assignment process, must follow the new screening procedures. These now include the special requirement for command endorsement for duty at overseas shore activities and non-rotated afloat staffs and ships.
These strengthened procedures will minimize the possibility of unqualified personnel being assigned to overseas duty, with consequent personal embarrassment, excessive costs for early return to CONUS, and reduced readiness caused by unplanned gapping of billets. Details are contained in BuPers Note 1300 of 8 April.
Receipts Required For Repayment of Lodging Expenses
Navy personnel traveling anywhere on official business and civilian employees of the Navy traveling in CONUS on official business are now required (effective January 1) to provide receipts for lodging expenses to be repaid by the Navy. A statement of lodging signed by the claimant must be provided when receipts aren't available. The statement must contain locations, dates, names of establishments and amounts spent.