All Hands Magazine - USS Enterprise - March 1963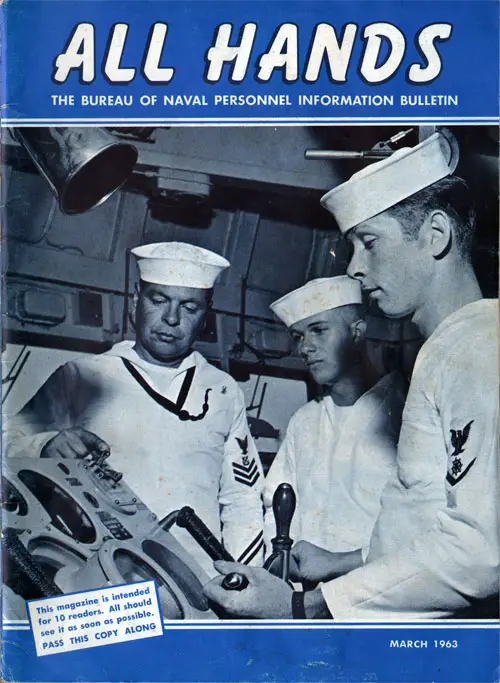 ALL HANDS: THE BUREAU OF NAVAL PERSONNEL INFORMATION BULLETIN
MARCH 1963 Nav-Pers-O NUMBER 554
VICE ADMIRAL W. R. SMEDBERG III, USN
The Chief of Naval Personnel
REAR ADMIRAL A. S. HEYWARD, Jr., USN
The Deputy Chief of Naval Personnel
CAPTAIN J. L. COUNIHAN, USN
Assistant Chief for Morale Services
TABLE OF CONTENTS
'Mack' Joins the Cruiser Forces 2
Trail Support 6
Breaking the Ice 9
Degaussing Duty 10
British-U. S. Exercises Feature Cross-Decking 14
Flood Victims Rescued in Morocco 16
The Lively Voyage of a Navy Reefer 18
Letters to the Editor 22
Special Feature - Damage Control Parties: They Win Battles in Peace and War 28
Centerspread—Pointers on Damage Control 32
Drydock in the Caribbean 35
Today's Navy 36
USS Buck Has Lots of Dash 42
Servicescope: News of Other Services 44
The Word 46
Bulletin Board 48
Candidates Selected under LDO and Integration Programs 48
Codes Give Clues on Navy Advancement 50
Income Tax Tips 52
More Than 68,000 Navymen Get Pro-Pay 55
Norfolk ASW Tactical School 56
San Diego ASW School 57
Officer Correspondence Courses 58
Directives in Brief 59
Special Supplement—Report on the Navy from CNO 60
Taffrail Talk 64
John A. Oudine, Editor
Associate Editors
G. Vern Blasdell, News
Jerry Wolff, Research
Don Addor, Layout & Art
French Crawford Smith, Reserve
FRONT COVER: BRIDGE WORK—Quartermaster mans the ship's wheel as a bo'sun's mate explains gear to new man on ship cruising through Pacific waters. Sorry, neither men, ship nor photographer were identified.
INSIDE FRONT COVER: PLENTY TO SMILE ABOUT—Wives, children and friends of crew members of the Seventh Fleet flagship USS Providence ICLG 61 wait on pier for ship to dock as men on board USS Topeka (CLG 8) look on.
CREDIT: All photographs published in ALL HANDS are official Department of Defense photos unless otherwise designated.