All Hands Magazine - 1,500,000th Good-By - March 1946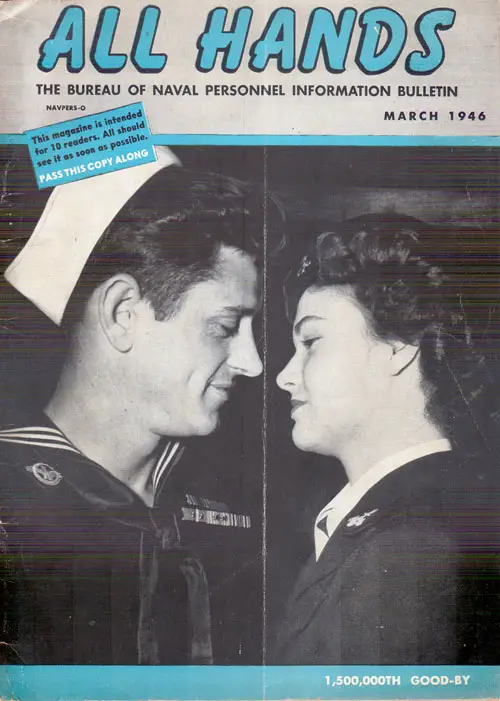 ALL Hands
THE BUREAU OF NAVAL PERSONNEL INFORMATION BULLETIN
MARCH 1946 NAVPERS-O NUMBER 348

VICE ADMIRAL LOUIS E. DENFELD, USN
The Chief of Naval Personnel
REAR ADMIRAL THOMAS L. SPRAGUE, USN
The Deputy Chief of Naval Personnel
TABLE OF CONTENTS
Facing the Atomic Age 2
Navy's Postwar Fleets 6
Big Boom at Bikini 8
Looking Ahead on Rates 13
The Navy's Civilians 16
'Build Ye . . . ' 21
Duty Done—PTs Retire 24
Key to Our Security 28
Spare-Time Hobby Shops 30
Baffin' the Breeze on the 7 Seas 32
Books: Battle Action Accounts 34
Tracking the Typhoons 35
THE WORD 36
Letters to the Editor 38
The Month's News 40
Decorations and Citations 56
The Bulletin Board 66
Demobilization Points Drop 66
Benefits for Reenlistments 67
Navy Now Pays 'Shore Loss' Claims 68
Voting Information 72
Alnays, NavActs in Brief 78
All Thumbs 79
Fantail Forum 80
FRONT COVER: Halfway point in demobilization was reached with the discharge of Eugene L. Smith, FC2c, at the Shoemaker, Calif., separation center. Smith, 1,500,-000th man discharged since V-J day, is shown making his adieux.
INSIDE FRONT COVER: Enjoying liberty in Shanghai, a group of men off the cruisers Denver and Cleveland hitched a ride in an ox-drawn cart for a jaunt through the old Chinese port city.
INSIDE BACK COVER: A modern note is injected into a familiar old scene as a Coast Guard helicopter hovers over a lighthouse on the northeast coast.
CREDITS: Front cover and at left, official U. S. Navy photographs; inside back cover, official U. S. Coast Guard photograph. On pp. 40-41: Inside Front Cover, photograph from Press Association, Inc.; upper right, official U. S. Navy photograph; lower right, official U. S. Army Signal Corps photograph.