All Hands Magazine - Bikini Exodus - April 1946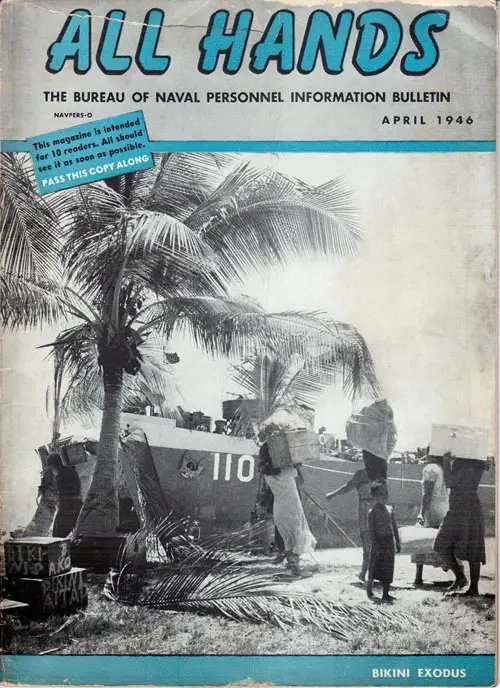 THE BUREAU OF NAVAL PERSONNEL INFORMATION BULLETIN
APRIL 1946 NAVPERS-O NUMBER 349
VICE ADMIRAL LOUIS E. DENFELD, USN
The Chief of Naval Personnel
REAR ADMIRAL THOMAS L. SPRAGUE, USN
The Deputy Chief of Naval Personnel
TABLE OF CONTENTS
Eyes North 2
Higher Pay on Its Way? 8
'Shaking Down' to Rio 10
Backstage at Bikini 14
Navigating by Loran 18
Atom ABCs 21
Baffin' the Breeze on the 7 Seas 28
Speeding the Words of War 30
Rendezvous With a Bomb 34
Letters to the Editor 38
The Month's News 40
Decorations and Citations 55
Books: Working of Jap Mind 62
The Enlisted Reserve 63
THE WORD 64
The Bulletin Board 66
Discharge Scores Drop 66
Mail Service Headaches 68
Transportation for Dependents 70
Retirement Boards Set Up 72
Officer Strength Increase 74
Family Allowance and USN(T)s 76
All Thumbs 79
Fantail Forum 80
FRONT COVER: Natives of Bikini Atoll leave their village homes, carrying household goods, to board LSTs as preparations are made for the first peacetime test of the atom bomb at the Pacific island.
INSIDE FRONT COVER: Basking on Hoover Beach near Apra Harbor, the port of embarkation from Guam. When sun gets too hot, men can retreat under the sunshade pavilion. Separatees pass hours here while awaiting transportation home.
INSIDE BACK OVER: It's snowjackets for bluejackets of the USS Juneau as they stand at attention during commissioning ceremonies at the New York Naval Shipyard 16 February. The new 6000-ton light cruiser replaces her namesake, sunk off Guadalcanal in 1942.
CREDITS: Front cover and inside back cover, Press Association, Inc.; at left, official U. S. Navy photograph. On pp. 40.41: upper left, Press Association, Inc.; upper right, official U. S. Navy photograph; lower left, Acme; lower right, Press Association, Inc.