Cunard Line History and Ephemera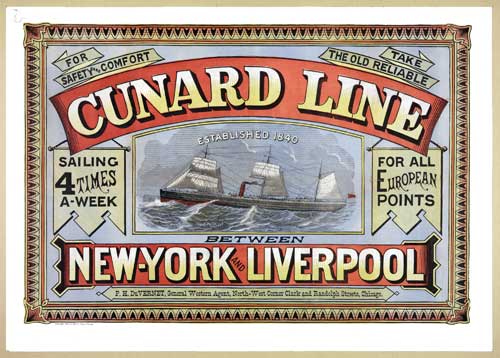 The Gjenvick-Gjønvik Archives has extensive holdings in Cunard Line Ephemera from the 1880s through 1954. The Collections are organized by Passenger Lists, Steamship Tickets, Brochures, Menus, Periodicals, Books, Photographs and Miscellaneous.
Primary Cunard Line Steamship Company Ephemera Collections
Cunard Passenger Lists
Vintage Brochures
Vintage Brochures - Legacy System
Cunard Vintage Menus
Miscellaneous Historical Documents from the Cunard Line
Abstract of Log
Letters Written by Passengers on Board Cunard Steamships
Ship Histories
Other Cunard Line Historical Documents
External Sites
We recommend viewing Chicago Film Archives' promotional film produced by the Cunard Line during the 1920s that begins with the RMS Berengaria leaving New York harbor on route to Cherbourg or Southampton with the return trip to New York on the SS Maurentania. The film highlights the features of the ship as well as ship entertainment. 
Other Cunard Line Ephemera Not Digitized
1900-03-20 Certificate of Discharge for a Seaman aboard the Lucania
1910s Poster - Cunard Line Royal Mail Steamers From Liverpool to New York and Boston via Queenstown - 5 1/3 Days across the Atlantic.
1912-06-29 Letter written during the voyage on the RMS Caronia giving a great slice of life on board ship and a recap of how the passengers met.
1912 Photograph of the RMS Laconia at Riverside Docking Area, Liverpool.
1912 Photograph of the RMS Laconia in Open Sea.
1912 Photograph of the RMS Laconia from the Frank Braynard Collection
1913 Letter written on board the RMS Franconia during voyage about activities and observations made about the ship.
1913-07-02 Itinerary and Souvenir Program, Tour B Conducted by E. W. Van Deusen, RMS Carpathia Voyage from 2 July to 23 August 1913
1913-07-29 Abstract of Log, RMS Laconia, Boston to Liverpool in 6 Days, 22 Hours, 42 Minutes. Reverse side is Photograph of RMS Laconia.
1920s (Undated) Handwritten letter (partial) from passenger aboard the Cunard Berengaria (in service at Cunard 1921-1938
1920-04-15 Ricevuta Vaglia - Currency Exchange Receipt Text in Italian.
1920s Fold Out Maps: Ports of Call: Maps of Approaches to North Atlantic Ports - Cunard Line. Includes Quebec - Montreal & St. Lawrence River; New York and Hudson River Approaches; English Channel and Southampton; English Channel - Cherbourg & Le Havre; Liverpool & The River Mersey; and South Coast of Eire and Cobh.
1922-08-24 Program of Concert: In aid of the Seaman's Charities of New York and Liverpool, RMS Scythia
1923-06-17 Abstract of Log of the Cunard RMS Andania, Voyage 12, Captain E. T. Britten, R.D., R.N.R. From London, Southampton and Cherbourg To Quebec and Montreal. Voyage June 7-17. Illustration of RMS Andania on Reverse Side.
1925 ca. Atlas of the World: Cunard Line, Anchor Line 36 pages of mostly maps with a hand-written notation of "around 1933-34 - another estimate of the time this was printed.
1926: Atlas: Cunard and Anchor Lines - Atlas of the World. 36 Pages.
1927-01-23 Abstract of Log, RMS Laconia II, Liverpool to New York via Queenstown. Recap of voyage January 15-23 of 7 Days, 14 Hours, 39 Minutes. Captain E. T. Britten, R.D., R.N.R. Illustration of RMS Laconia II on reverse side.
1928-10-07 Abstract of Log, RMS Ausonia, Southampton to Quebec and Montreal via Queenstown, Captain G. R. Dolphin, R.D., R.N.R. Voyage from September 29-October 7: 6 Days, 10 Hours, 36 Minutes, 2,296 Miles. Photograph of RMS Ausonia on Reverse Side.
1929-07-16 Landing Arrangements at Cherbourg & Southampton, RMS Berengaria, New York to Cherbourg and Southampton.
1929-07-19 Entertainment Program: In aid of British and American Seamen's Institutions, RMS Berengaria. Includes a complete listing of the institutions which benefit.
1929-07-22 Abstract of Log, RMS Berengaria, 5 Days, 18 Hours, 47 Minutes New York to Southampton via Cherbourg. Photograph of RMS Berengaria on reverse side.
1929-09 Program of Events, Monday through Thursday, RMS Aquitania. Typo in omission on complete date.
1930-07-12 Immigration Control Card, Form B 46, Tourist Third Cabin Passenger Barah Smith, SS Ascania, From Cherbourg to Quebec and US.
1930-09-15 Abstract of Log, RMS Lancastria, Southampton to New York via Havre, Captain B. B. Oram, R.D., R.N.R. Voyage from September 6 - 15, 1930 covering 3,152 Miles. Length of Passage: 8 Days, 10 Hours, 36 Minutes. Photograph of the RMS Lancastria on reverse side.
1931-01-10 Program of Events, RMS Scythia, Listing of Social Events from Monday, January 12th through Saturday, January 17th on a voyage from Liverpool to New York via Belfast and Halifax. Captain G. Gibbons, R.D., R.N.R. Includes Deck Sports Program on back cover.
1932-09-02 List of Passengers - Weekend Cruise, RMS Berengaria, New York to Halifax and returning to New York on 6 September. Captain E. T. Britten, R.D., R.N.R.
1934-02 Postcard: The Queen Mary No. 534 The World's Largest Liner with London skyline in background - Valentine's Post Card Printed in Great Britain.
1954-06-17 Postcard: Illustration of Cunard RMS Queen Mary