1893 Cunard Passenger's Log Book - Directory
The Cunard Passenger Log Book is a very interesting pamphlet issued by the Cunard Steamship Company and containing besides a brief history of the Cunard Line many interesting features. Among these are portraits of the three founders oi the line, Samuel Cunard. George Burns and David Mac Ivor, and of the present chairman of the company. Lord Inverclyde, a son of George Burns, as well as five half-tone illustrations of the Campania, Etruria. Aurania, Servia and Ultonia. and interior views showing the first, second and third-class accommodations of different steamers. Illustrations of the muster drill, fire drill and boat drill of the Cunard service and diagrams exhibiting the comparative size of the company's ships from their first steamer. "Britannia" of 1840. with a gross tonnage of 1.154 tons to the Campania and Lucania of 1893, each of which has a gross ton nage of 12,950 tons, are also given.
Cunard Passenger's Log Book from 1893 that provides a short history of the Cunard Steamship Company and a description of the Royal Mail Steamers RMS Campania and RMS Lucania. Comprehensive text. List of Cunard services. History of the Line, with illustration of the Campania. Construction and Launch of the Campania, Fleet list. Blank pages for passengers log. Specially prepared ads. Rates for All Classes, Superb color Graphics on covers, with illustration of the liner.
Cunard Passenger's Log Book
A SHORT HISTORY OF THE CUNARD
STEAMSHIP COMPANY AND A DESCRIPTION OF THE ROYAL MAIL STEAMERS
CAMPANIA AND LUCANIA
With Numerous Illustrations
AND CHART FOR RECORDING DAILY RUNS
-GLASGOW
DAVID BRYCE AND SON
1893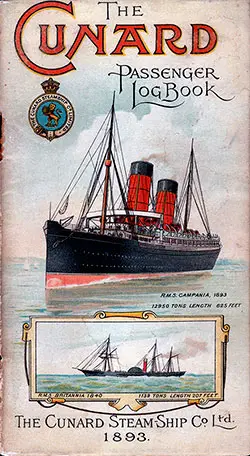 CONTENTS.
List of Photographs and Illustrations
RMS "Campania,"
Ribs And Bow Framing
Bow View Before Launch
Stern View Before Launch Showing Propellers
Launch
Boilers
Triple Expansion Engines
Starting Gear Of Engines
Electric Light Dynamo And Engine
Deck View, With Navigating Appliances
Captain's Bridge, Wheelhouse, Telegraphs, Etc.
Windlass, Capstan, Etc.
Interior Of Light Tower
Crow's Nest
Steam Pipe And Whistle
Ventilators & Lifeboats
Electric Light On Promenade. Deck
Grand Stairway
Promenade Deck Right Side
Promenade Deck Left Side
Dining Room
General View
Corner In Dining Room
Drawing Room
Forward End
Side View
Smoking Room
Library
Pantry
Ladies' Bath Room
Bake House, Saloon Cooking Galley
Children's Dining Saloon, Second Class
Barber's Shop
Dispensary
Writing Table In Library
Parlour And Bed Room
Officers' Mess Room
Ladies' Saloon, 2nd Class
Chart Of Course
These illustrations are mostly reproduced from photographs taken by Messrs. T. tit R. Annan & Sons, Glasgow. Those of the Lifeboats and Vista on Promenade Deck, by permission of the Photographers, Messrs. Maclure, Macdonald & Co., Glasgow.
Information on Brochure
Title: The Cunard Passenger Log Book: A Short History of the Cunard Steamship Company and A Description of the Royal Mail Steamers Campania and Lucania with Numerous Illustrations and Chart for Recording Dialy Runs.
Published: David Bryce and Son, Glasgow 1893
Dimensions: 9.5 x 17.2 cm
Number of Pages: 96