All Hands Magazine - Destroyers in the 70's - September 1973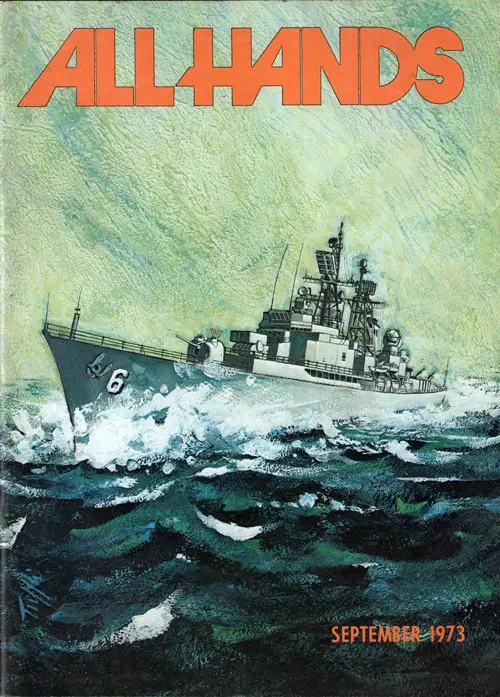 Front Cover: Cutting through the Waters of Narragansett Bay, R. I., the Guided Missile Frigate USS Farragut (DLG 6) Heads for Duty on the Open Seas. Illustration by Staff Artist Michael D. Tuffli. Bock Cover Photo Taken on the Flight Deck of the USS Forrestal (CVA 59) by PH3 W. R. Curtsinger.
ALL-HANDS
THE BUREAU OF NAVAL PERSONNEL
E-L CAREER PUBLICATION
B E R6
80
SEPTEMBER 1973 N
VICE ADMIRAL DAVID H. BAGLEY, USN
The Chief of Naval Personnel
REAR ADMIRAL WILLIAM R. FLANAGAN, USN
The Deputy Chief of Naval Personnel
COMMANDER RUSSELL F. HARNEY, USN
Spec. Asst. Liaison & Public Affairs
TABLE OF CONTENTS
Features
Destroyers in the 70's - A Flag Officer's Perspective
Tending the Fleet—USS Puget Sound (AD 38)
Meet Tom Hart: Newest Member of the Atlantic Fleet
A Veteran Recruits: Gary Go Navy!
DD's: A Thumbnail History
Helicopter Squadron One: 25 Years of Service
The History and tradition of the Naval Reserve
Typical Woman Navy Officer?
From the Archives of ALL HANDS Humor: Old Jokes You May Have Missed
Navy Photography Schools, NAS Pensacola
ALL HANDS' Photography Contest
Royal Navy Photographer: From Cosford to Pensacola
Navy News Briefs
2nd 1st, Chief PO Candidates in PEP Administratively Advanced, Initial selection to Master-at-Arms (MA) Rating, NAVCRUITCOM names Recruiter of the Year, Boot Camp Schedule lengthened to 9 weeks, Female members "Proof of Dependency" for husbands no longer needed, Reservists get drill day PX privileges, Chief of Naval Material, NADC Warminster win safety awards, Memorial to USS Mackinac (A 40)
Bulletin Board
A Report on Credit Unions
New Barracks: From Open Bays to Private Baths
Aloha Ahoy All-Hawaii Recruit Company
"Koa Ikaika" Marine Maneuvers on Molokai
Sea, Sand and Fire
USS Westchester County (LST 1167)
Way Back When--The Evolution of Nautical Terms
Departments
From the Desk of MCPON
Films in the Fleet
On the Scientific Front
Taffrail Talk
John A. Oudine, Editor
Associate Editors
John Coleman, News
Ann Hanabury, Research
Michael Tuffli, Art
E. L. Fast, Layout
Gerald Wolff, Reserve
•
• AT LEFT: WATCHING THE WATCH-1M3 John Cochrain went through a Navy Class "C" school to learn to be a watch repairman; his duties include the ship's clocks and navigational chronometers which he keeps in perfect working order aboard USS Puget Sound (AD 38). Photo by PH2 Rodger C Anderson